architecture - engineering - construction

Auburn® custom & pre-engineered skylights
May 1, 2017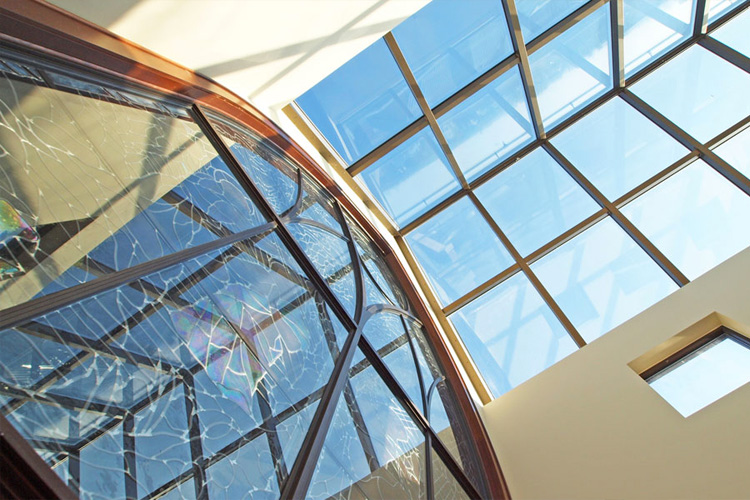 Auburn® skylights are designed and engineered for long-term performance, and make a great daylighting choice if you're looking for the durability and longevity of glass, or simply enjoy dramatic views of the sky. They're available in custom and pre-engineered configurations, and also offer mixed glazing options as they can also incorporate polycarbonate multi-wall and acrylic glazing as well as Guardian 275® translucent panels.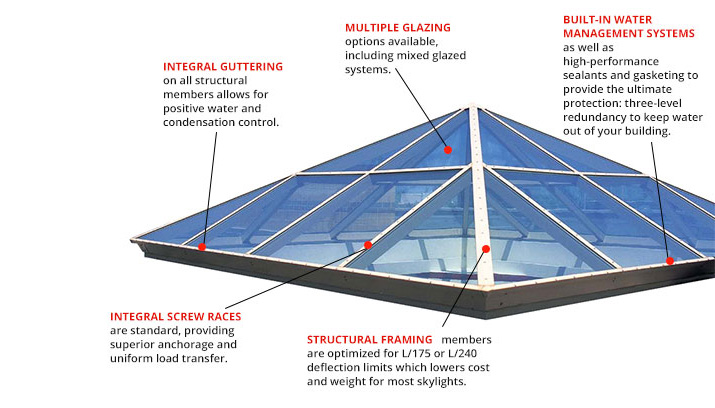 Auburn® systems aren't designed to span the largest openings; they're optimized for small and medium projects and are engineered to save time, money, and weight in your next daylighting project. Auburn® engineered skylights feature high-performance sealants, built-in water management, and time-proven EPDM gasketing to provide the ultimate protection: three-level redundancy to keep water out of your building. In addition, they are available in a wide variety of configurations, along with numerous glass and finish options.
New single slope skylights with thermal strut technology!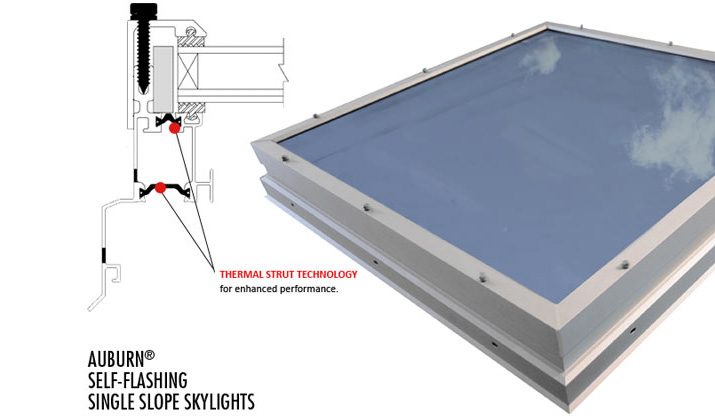 For smaller openings and standard sizes, consider our newly updated Auburn® Self-flashing Single Slope skylights, available in sizes up to 25 square feet, with pre-assembled options available for ease of installation and quick lead times. These new single slope skylights feature thermal strut technology in the framing, allowing for a versatile combination of strength and high thermal performance, including improved condensation resistance and U-factors over traditional aluminum framed systems.
No matter which option is right for you – custom or pre-engineered – Auburn® skylights are a smart choice to solve your daylighting challenges. Other benefits include:
Low initial cost and long-term energy savings.
Possible LEED® credit opportunities for both new construction and existing buildings.
High-performance gaskets and sealants provide peace of mind and long-term performance.
Auburn® Engineered custom systems feature universal "slope adapters" fit all standard rafters, creating precise slope control.
Auburn® Engineered custom systems come standard with tubular rafters that frequently eliminate the need for support tubes.
Guaranteed against defective materials and construction for one year from date of purchase (exclusions apply – see final warranty for details).
Company: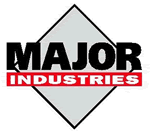 Major Industries Inc.
Product: Auburn® Engineered Glass, Polycarbonate Multi-wall and Acrylic Skylights
Source: http://majorskylights.com/products/skylights/auburn/
---
Tags:
Warwick Hotel Rittenhouse Square boasts unique, stylish lobby entrance with revolving door (April 24, 2017), 2017 COTE Top Ten - Setting the standard in design and sustainability (April 20, 2017), KINETICWALL wins 2017 Architizer A+ Award (April 19, 2017), Bicycle security solutions (April 14, 2017), Striking the Right Color Balance in ALR Screens (April 10, 2017), Guard Houses (April 3, 2017), New AIA Certified Course on Resilient Design (March 6, 2017), Global changes in construction: Kalwall's insights from BAU (March 1, 2017), Ventilation for you the music fan: Brilliant audio performance concealed behind your fan grille (February 27, 2017), Choosing the right finish for coastal projects (February 24, 2017)
Use of louvers-between-glass can contribute up to 31 LEED certification credits (April 5, 2017), Railing Infill Face-Off: Cable vs. Glass (March 10, 2017), High-Function Custom Bullet Resistant Solutions for Banks (February 17, 2017), Architectural Glass Takes on a New Shape (December 23, 2016), Case study: Otterbein University's STEAM Innovation Center featuring Extech's Lightwall 3000 series curtain wall system (December 15, 2016), Kalwall Featured in Major Award-Winning College Project (November 28, 2016), Rigorous Testing Standards Ensure Effective Security (November 16, 2016), 5 Crazy Modern Glass Wall Partition Ideas for a Loft Apartment (October 17, 2016), Glass Shower & Tub Enclosures by Fleurco (September 2, 2016), Armortex Waterjet Cutting (August 24, 2016)
KINETICWALL wins 2017 Architizer A+ Award (April 19, 2017), Use of louvers-between-glass can contribute up to 31 LEED certification credits (April 5, 2017), The Original Orange Elevator Smoke Curtain (March 28, 2017), Sun Control Sunshades (January 5, 2017), Ruskin's Zone Control Solutions Brochure (October 5, 2016), Free Webinar Louver Selection & Application Using Ruskin's LEADS Software, 2nd Wednesday of every month (August 1, 2016), Green Building Tips: How To Create Eco-Friendly Landscaping (April 25, 2016), Earn LEED Points With Florence Mailboxes (November 18, 2015), LEED-ing The Way in Sustainable Building (November 6, 2015), Stadium Design Sustainability (November 4, 2015)
High-Function Custom Bullet Resistant Solutions for Banks (February 17, 2017), Sun Control Sunshades (January 5, 2017), Case study: Otterbein University's STEAM Innovation Center featuring Extech's Lightwall 3000 series curtain wall system (December 15, 2016), Solutions for the entire building façade (December 9, 2016), Kalwall Featured in Major Award-Winning College Project (November 28, 2016), Major announces new Auburn® skylight option (November 25, 2016), Rigorous Testing Standards Ensure Effective Security (November 16, 2016), Ace Hotel New Orleans restores historic Art Deco exterior and updates performance with Winco Windows finished by Linetec (October 14, 2016), Isabel Bader Center (August 17, 2016), Peace-of-Mind for Rural Utility Offices - Bulletproof barrier security tips & news (August 8, 2016)