architecture - engineering - construction

Benefits of Decorative Metal Ceilings
July 22, 2016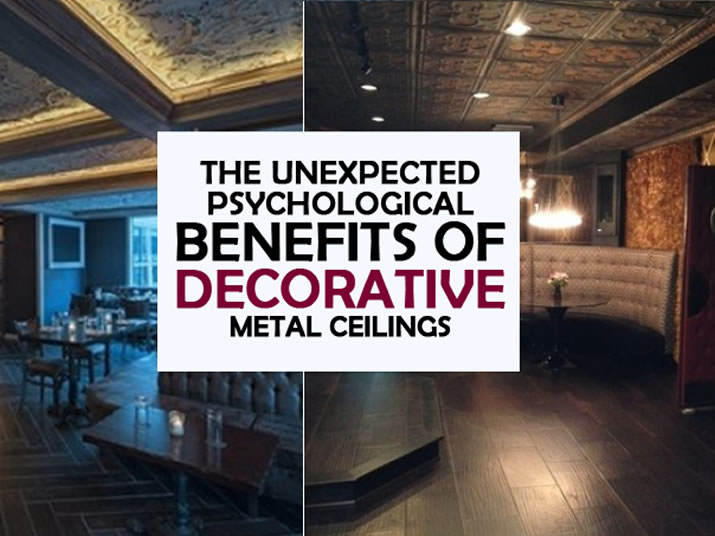 Whenever you walk into a room, your mood can be affected tremendously. Think about that nightclub restaurant you went to in the past. When you walk in there, you develop this mysterious vibe that compliments the area and creates an effective mood for the whole crowd. The same principles can be applied when shopping for ceilings for your home. Color and lighting can really help set a variety of moods for the rooms in your house. A common trend in decorative metal ceilings is the incorporation of metal tiles. Let's us look into some of the benefits associated with decorative metal ceilings.
Calming Nature
With a plethora of design of options, you can instill a feeling throughout any part of your house. Designs range from suns, flowers, abstract shapes, and anything in-between. The choice of metal is also something to consider. For example, choosing a copper ceiling will make your room brighter and almost majestic, as opposed to silver, which may make the room darker and not as vibrant. The choice is up to you, but rest assured, there is bound to be an option that fits your needs.
Temperature Control
Because of metal's great insulating capabilities, a metal ceiling can help make a room more toasty. This also helps you to cut down on your heat bill, since the metal can utilize the heat more effectively.
Ability To Block Sound
Metal's ability to block sound can help you create a nice, quiet, and peaceful room in your house, where the sounds going in other rooms are muffled and don't disturb you. This could be perfect in a library room, where you need to focus on reading your favorite novel!
Set The Mood Right With Metal Ceilings
Metal ceilings are very unique in style and produce a host of benefits that you may not have been aware of. If you're in the market to remodel a room in your house, why not consider installing metal ceilings? You, your family, and your guests will fall in love with your home!
Company: Metal Ceiling Express
Source: http://www.metalceilingexpress.com/blog/benefits-of-decorative-metal-ceilings/
---
Tags:
Restaurant Ceiling Tiles (July 1, 2016), Where Champions Train: Kalwall® Lights Up Broncos' Indoor Facility (May 16, 2016), Guardian 275® translucent skylights provide a wide range of color, thermal performance and specialty application options (April 6, 2016), Decorative Panels & Screens (April 4, 2016), 2015 NJ DISCA Excellence in Construction Awards – Tin Ceiling Project (January 8, 2016)
Designer John Gidding on Finding Color Inspiration (July 18, 2016), Restaurant Ceiling Tiles (July 1, 2016), Sotheby's 2016 Designer Showhouse + Auction (June 8, 2016), The Sir John A MacDonald Building (June 3, 2016), How to "Future-Proof" Your Bathroom (May 13, 2016), Custom shade brackets solve big headache (May 11, 2016), Custom Pocket Headboxes (April 20, 2016), Decorative Panels & Screens (April 4, 2016), Consider Glass Flooring Systems for Dramatic Design (April 1, 2016), Cabinets without keys: combine flexibility, simplicity and security without sacrificing style, performance and profit (March 25, 2016)
Structural steel services for the building and construction sector (July 20, 2016), Slip Resistant Aluminum Flooring in Bubble Capsule (June 22, 2016), Sotheby's 2016 Designer Showhouse + Auction (June 8, 2016), Wood grain finishes for aluminum (May 27, 2016), Slip Resistant Aluminum Grating Utilized on ASLA Green Roof (May 23, 2016), Creative Bike Racks That Make Your Space Stand Out (March 14, 2016), Video of Extech's newest kinetic wall (March 1, 2016), Advanced Arch Grilles brings Artistry to historical projects (October 28, 2015), Please be Seated: New York City expands its CityBench program and grows 'Street Seat' parklets in Brooklyn (October 23, 2015), 304 vs. 316 Stainless Steel: What's the Difference? (September 2, 2015)