architecture - engineering - construction

Benefits of Precast Concrete Bollards
July 10, 2015
Impact protection and premium design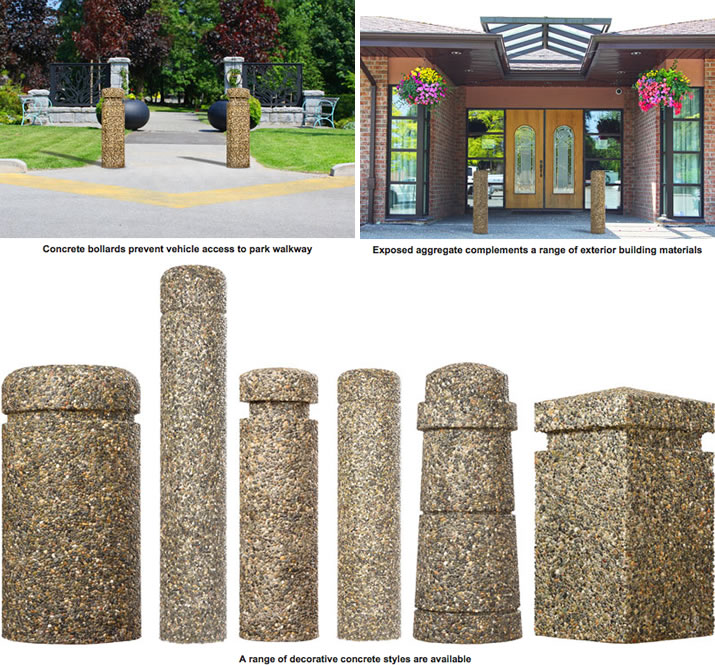 When it comes to outdoor site furnishings, and bollards in particular, concrete helps ensure site and pedestrian safety—while enhancing the aesthetic designs of surrounding areas.
Concrete is an excellent building material used for almost all major buildings and urban infrastructure projects. There are few modern buildings that don't use concrete for at least their foundation. Concrete is naturally resistant to fire and has high thermal mass, vibration absorption, wind and blast resistance and exceptional durability. Concrete can also be easily improved with steel reinforcement and additional surface finishing—both of which can be achieved in manufacturing precast concrete products.
Precast concrete
The manufacturing of precast concrete allows for more control in enhancing and maintaining consistent quality across a range of products. Casting facilities have the benefit of a clean manufacturing environment to minimize impurities. Precast products also use molds, which ensure uniformity across individual items and allow for a high degree of planning and predictability in determining concrete mixes and volumes.
For cast-in-place concrete projects, formwork is often the most costly input, as it requires abundant resources for labor and materials. Relying on offsite manufacturers is an effective way to reduce costs while ensuring quality and performance-specific characteristics. Precast concrete products are shipped ready for use and typically require much less time and labor to install. Precast products are used for a range of applications—including architectural site furnishings, structural building materials, surface pavers and housings for utility conduits and waste management.
Concrete reinforcement
On its own, concrete has exceptional compressive strength but is weak in tension and shear strength—especially when subject to significant forces over time.
Steel is an ideal material for reinforcing concrete, and is economical and readily available across North America. It offers high tension and shear strength and behaves similar to concrete when exposed to environmental variations such as temperature and humidity. It can also be bent, cut or bound into different shapes to accommodate any concrete form—and assembled rapidly into formwork and molds. Together, concrete and steel can be used to build structures with incredible strength and durability, and they require minimal maintenance once installed.
Different types of reinforcement can be used for different concrete applications. The most common reinforcing material is steel rebar, which contains deformations, or ribs, that interlock and bond with concrete as it cures. Rebar is a versatile material that can be easily bent, cut or spliced together, and different types are available, each with specific properties incorporated for strength, weldability and corrosion resistance.
It's worth noting that steel is generally protected from corrosion by the high PH levels of surrounding concrete. However, lowered PH levels or the presence of excessive marine or de-icing salts can permeate concrete, which can cause integral steel to corrode. When embedded steel begins to rust, it expands significantly, causing concrete to crack, spall or break away. At the time of installation, minor surface corrosion won't affect the structural integrity of rebar (and may actually be desired in encouraging better bonding) as the isolation from external environments halts oxidation. To prevent further corrosion, however, manufacturers can 1) ensure enough concrete has been applied to surround and protect integral steel or 2) use corrosion-resistant materials—either coated with epoxy or made from stainless or galvanized steel.
A common means to increasing the structural integrity of load-bearing concrete structures is to apply tension to reinforcing bars prior to pouring concrete. The bars are kept under tension until the concrete is allowed to cure sufficiently before they are released. The pre-stressed reinforcement ensures a more resilient final product in carrying heavy loads.
Strategies for steel reinforcement can vary and formal projects require that qualified design professionals take into consideration a structure's intended use, location, span lengths and expected loads. Designs also require that accurate parameters be specified for material quantities, grades, sizes and placement within a larger project. Precast concrete offers an ideal production format for predetermining load designs and ensuring consistent application across a range of products while avoiding onsite formwork.
Surface finishing
Precast concrete can be designed with a range of colors, textures and finishes that would otherwise be difficult to achieve using cast-in-place methods. These finishes are achieved by using different concrete mixes, aggregate selections and processing methods. Typically, concrete finishes can be grouped into two separate categories: smooth and exposed aggregate.
Smooth surfaces
Smooth surfaces can be created by giving precast concrete what's called an "as-cast" finish or by using a light sandblast. An as-cast finish is created by simply pulling concrete from its form and applying little or no additional processing. As-cast finishes offer a very clean profile and are conducive to painting. However, it can be difficult to achieve a consistent color across as-cast finishes for larger projects. There are a number of variables that can affect the final appearance of concrete, including the type of cement used, mixing, weather and conditions for curing.
It's worth noting that small air voids, or bug eyes, will be more noticeable across smooth concrete surfaces, which, depending on the application, can be a disadvantage. Voids can be removed with additional concrete sacking, but this can be an expensive added process. Light sandblasting is often applied to achieve a more uniform finish and smooth appearance, minimizing variabilities in the color and texture of binding cement, but it will also further reveal voids and other imperfections—making them more noticeable.
Exposed aggregate
Exposed aggregate requires additional processing to reveal the stones placed in a concrete mixture. Aggregate materials typically comprise about 60–70 percent of a concrete mix, and a multitude of different aggregate-types can be used. Once exposed, aggregates can have a significant effect on the color, appearance and texture of concrete. Exposed aggregate finishes tend to be more uniform and consistent than smooth finishes, virtually eliminating the appearance of voids and other imperfections—both up close and from a distance.
Aggregate can be exposed to different degrees to achieve a range of textures and color casts—or to preserve the presence of binding concrete mix.
Light exposure involves sandblasting a concrete surface until aggregates are just visible through the concrete mix, which still maintains a significant presence in the overall appearance of the surface.
Medium exposure removes more of the surface concrete, creating a more balanced aesthetic between aggregate and cement.
Deep exposure aims to expose as much aggregate as possible—about a third of each stone or half of the smallest stone size—to make it the dominant feature.
Aggregates are typically exposed though sandblasting, but chemicals are sometimes used in forms to limit curing of surfaces for easier removal.
Additional finishes
In addition to sandblasting, a range of other processes are available to alter concrete surfaces—including acid etching (similar to sandblasting but allows more preservation of color and detail); form liners, which involves lining forms with additional materials to achieve unique textures; and additional tooling, which is often used to achieve a broken-stone feel.
Because precast concrete uses pre-designed molds to form concrete structures, these molds can be easily modified to create cut-outs to accommodate utility lines, aid installation and reduce overall material and weight of a product. Molds can also be modified to incorporate decorative reveals and other textured effects to enhance the overall appearance and uniformity between products.
Depending on the final application, controlling surface finishes can be difficult and costly when implemented onsite. Concrete casting facilities offer more controlled environments for planning and implementing desired finishes—many of which would be near impossible to achieve otherwise.
Concrete bollards & outdoor site furnishings
Using precast concrete for architectural and landscape furnishings is an ideal means to creating consistent and unique aesthetics across an outdoor space. Site furnishings typically serve dual purposes—providing functional value while also enhancing visual elements of a building or surrounding site.
Reliance Foundry specializes in outdoor bollard designs that provide both security and decorative appeal. Reinforced concrete is an ideal material for bollards, as it offers protective strength and visual appeal.
Reliance Foundry concrete bollards have been designed with steel pipe reinforcement for high-impact protection. Pipe lengths are cast directly into bollards and should be embedded deep into solid substrates to ensure they won't be dislodged in the event of a collision. Pipes are made from structural grade steel to provide exceptional tension and shear strength in withstanding vehicle impacts.
Bollards are manufactured with an exposed aggregate finish suitable for withstanding wear and pollutants of high-traffic urban environments. Aggregates are collected from British Columbia's Fraser Valley—emblematic of the Pacific Northwest and suitable for any landscape or architectural style.
Company: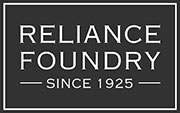 Reliance Foundry Co. Ltd.
Of: Bryce Tarling
Source: http://www.reliance-foundry.com/blog/precast-concrete-bollards
---
Tags:
The FGP Collection by Francisco Gomez Paz (July 6, 2015), How To Create The Best Large Flower Pots On The Block (June 22, 2015), Introducing a whole new personalized approach to site furnishing... (June 15, 2015), Must watch video! Landscape design and the history of ASLA-NY (May 22, 2015)
Sweet Dreams, Courtesy of AMBICO Products (June 30, 2015), Quick Ship Booths (June 29, 2015), Optically Clear Aluminum Provides Bulletproof Protection (June 5, 2015), Will Your Walls Face Abuse Or Impact? (April 8, 2015), Design Meets Security: Launching New Revolutionary Access Control Barrier Series at ISC West (March 27, 2015), Unique and secure bicycle storage (March 18, 2015), Architecture and Design for Today's Schools: Secure and Inviting (February 10, 2015)