architecture - engineering - construction

Benefits of Smoking Shelters
October 28, 2016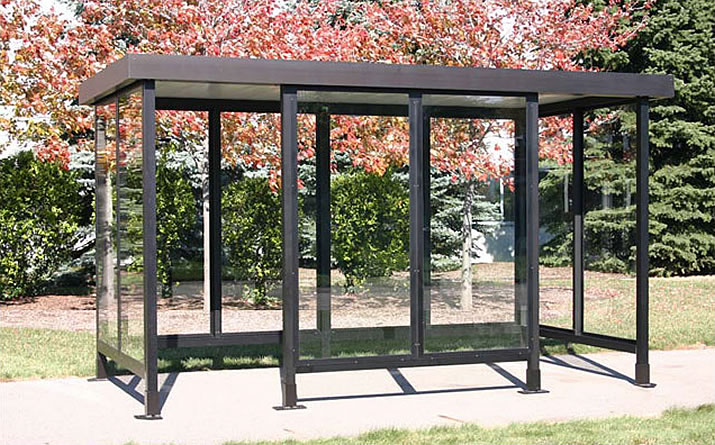 Smoking Shelter SHLT-006
According to the Center for Disease Control, over 40 million Americans, 20% of U.S. adults are smokers, this indicates businesses, casinos, campuses, hospitals, and commercial buildings must find a solution to accommodate their needs without bothering non-smokers. The best solution is to install a smoking shelter.
Although smoking shelters can be used by businesses or facilities that need protected areas where they can provide refuge from harsh weather, smoking shelters can also prevent smoke from getting into smoke-free places from your smoking shelter.
Par-Kut smoking shelters can have a very basic appearance or can incorporate architectural enhancements to suit your location or the existing building's architecture. Adding architectural smoking shelters to your facilities can also improve the appearance of your greounds. Architectural options include choice of tinted glazing, paint color, raised wall detailing, and various roof treatments such as standing seam hip, or gable style, barrel space and even sky lights. Additional functional options for smoking shelters include break-resistant glazing, doors and benches.
For more information about Par-Kut smoke shelters, email us at http://www.parkutblog.com/contact/ or call us at 1-800-394-6599.
Company:
Par-Kut International, Inc.
Source: http://www.parkutblog.com/smoking-shelters/benefits-of-smoking-shelters/
---
Tags:
8 Questions You Need Answered Before Buying Commercial Grade Outdoor Furniture (October 24, 2016), Ace Hotel New Orleans restores historic Art Deco exterior and updates performance with Winco Windows finished by Linetec (October 14, 2016), E2JS thin line louver used on Reptile House at the Cincinnati Zoo (August 22, 2016), The Role of LEDs in Outdoor Lighting Design (June 27, 2016), Wood grain finishes for aluminum (May 27, 2016), Why We Love Ipe and You Will Too (April 18, 2016), USPS Specifies Centralized Mail Delivery in New Developments (March 28, 2016), Non Slip Aluminum Plank (March 16, 2016), Lakeside Planter (March 4, 2016), Video of Extech's newest kinetic wall (March 1, 2016)