architecture - engineering - construction

Black Aluminum Cable Railing
June 15, 2018
Unlike most other aluminum posts on the market, which are too small and thin-walled to withstand the tension of cable infill, Stainless Cable & Railing™ products are uniquely engineered specifically for cable railing applications. Available in five powder-coat colors with three cap rail options, there's sure to be the right color and style combination for any given project.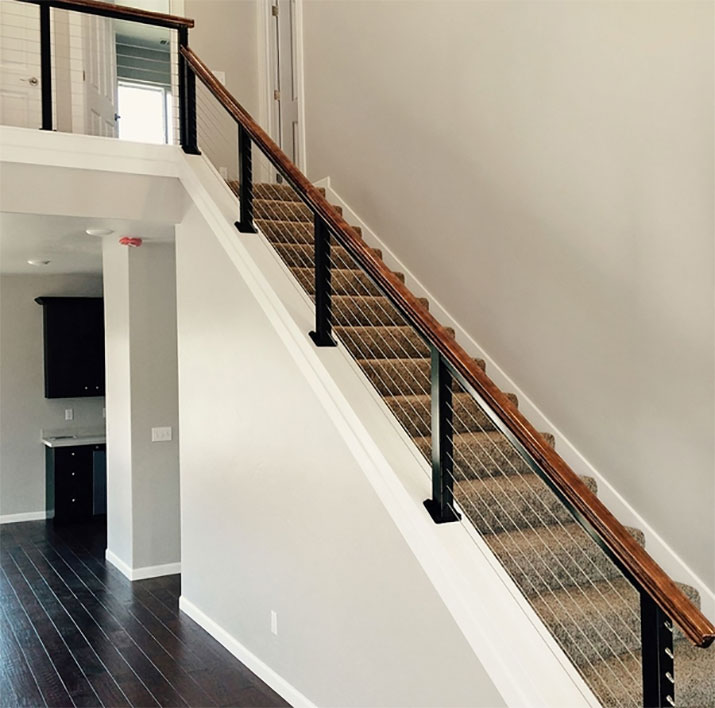 This customer from Fortuna, CA used the black aluminum cable railing.
Features & Benefits:
Reinforced aluminum system withstands the tension of cable infill without bending.
Black powder-coat provides a dramatic and high-contrast look while protecting the aluminum from the elements.
Post-to-Post Handrail supports customer's wood top rail.
Deck mount posts are easy to install.
Field assemblies have a low-profile look with no bulky turnbuckle.
Angled Stair Washers allow the field assemblies to properly handle the stair sections of this railing.
Company:

Stainless Cable & Railing Inc.
Product: CableView® Aluminum Cable Railing System
Source: https://stainlesscablerailing.com/cable-railing-fortuna-california1.html
---
Tags:
Linear Grille Wall Cladding (March 14, 2018), Thermal breaks in aluminum framing: not just a cold-weather friend (November 7, 2017), Anodize Nickel Test (August 17, 2017), ADA compliant aluminum walkway provides safe public tours at Harpoon Brewery (July 5, 2017), Durable skylight finishes by Linetec (July 4, 2017), CableView® Aluminum Cable Railing System by Stainless Cable & Railing Inc. (June 23, 2017), Designed for resiliency and acoustic performance (May 17, 2017), Custom Period-Matched Perforated Grilles (April 26, 2017), Howe Green Access Cover provides the perfect antidote to access issue at hospital (March 14, 2017), Choosing the right finish for coastal projects (February 24, 2017)
Art in Motion by Ethereal Light Installation Artist Spencer Finch (June 9, 2018), Paint vs. Stain: know the difference (April 6, 2018), The allure of 'in-between' colors (April 4, 2018), Architectural Color Trends for 2018 (February 26, 2018), Railing color: a hidden choice (January 24, 2018), Color underfoot: new design possibilities with concrete (January 17, 2018), Oceanside: the 2018 color of the year (December 20, 2017), Polished Concrete Flooring (December 13, 2017), Blue polycarbonate translucent wall system for Gap in Times Square NYC (December 5, 2017), High gloss acrylic wall panels - back painted glass alternative (November 30, 2017)
Elevare™ Mullion High Wall System (May 16, 2018), LuxCore FRP Fusion Wall Panels by Decorative Ceiling Tiles (May 1, 2018), The benefits of motorized window shades (April 27, 2018), The allure of 'in-between' colors (April 4, 2018), Repair, replace or upgrade: what to do with an outdated mailbox system (April 2, 2018), Flipper & Pocket Doors: What's the Difference? (March 29, 2018), Ceiling tiles - what you need to know before you buy (March 23, 2018), Linear Grille Wall Cladding (March 14, 2018), The Benefits of Using Interior Glass in the Office of 2018 (March 5, 2018), Greening A Building from Top to Bottom (February 6, 2018)
Roof top safety (May 3, 2018), Best places to use cable railing (February 19, 2018), Railing color: a hidden choice (January 24, 2018), Builder Spotlight: Jordan Iverson - Pride of Eugene, Oregon (November 13, 2017), Before and after deck railing with Ultra-tec® cable railing (October 6, 2017), Cable railing ideas for indoors - stairs, lofts & more (September 14, 2017), Green: The Color that Became a Building Philosophy (September 5, 2017), Architectural Series Roof Guardrail System (August 8, 2017), SC Railing Company: Offering a View from the Top (July 31, 2017), Top NYC architect selects Feeney for notable barn project (July 26, 2017)
Roof top safety (May 3, 2018), Data center protection (April 15, 2018), Regulatory compliance: how a lack of clarity around the entry leads to fines (April 13, 2018), Smoke Control in High Rise Buildings (March 2, 2018), Portable security booths (February 22, 2018), Best places to use cable railing (February 19, 2018), Railing color: a hidden choice (January 24, 2018), Builder Spotlight: Jordan Iverson - Pride of Eugene, Oregon (November 13, 2017), The Benefits of Fire Retardant Curtains in Schools (October 16, 2017), Skylight guarding with SRC - Skylight Screens (October 10, 2017)