architecture - engineering - construction

Slipnot® provides slip resistance and aesthetic display for Times Square spotlight on Broadway project
August 7, 2017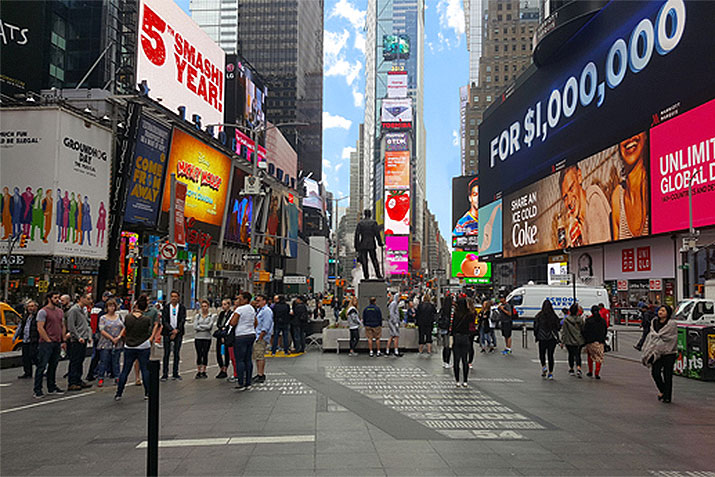 The situation
The presence of Broadway began in 1750, and has since shaped the essential character of New York City. Spotlight on Broadway is a multimedia project of NYC's Mayor's Office of Media & Entertainment located in the heart of Times Square. The project celebrates the unique charm and incredible legacy of Broadway and its forty theaters. It displays an in-ground map, made out of steel and granite, allowing visitors to engage and visualize the density of the world's largest and most recognized theater district.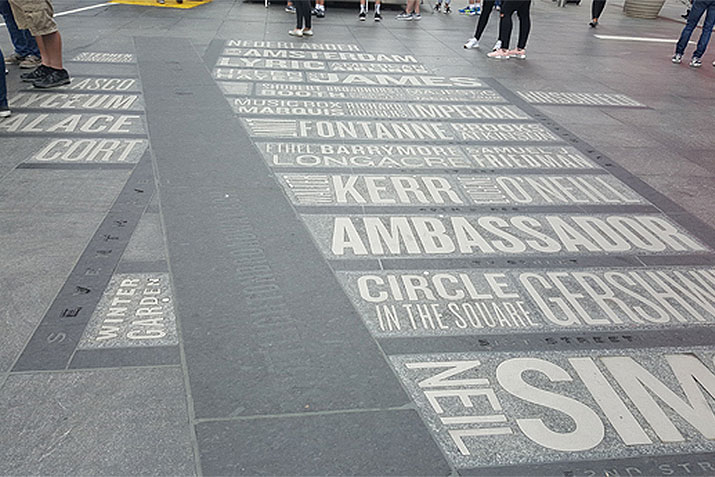 The solution
The designers at Creative Edge Master Shop contacted SlipNOT® for a solution to the bare steel lettering that presented a safety hazard when made slippery due to wet weather or other outdoor elements. The fabricating company sent in custom cut 3/8" thick letters which were blasted for imperfections, then coated with SlipNOT®'s Grade 2 stainless steel. Stainless steel is easy to clean and offers corrosion resistant properties that are exceptionally functional in wet environments both indoors and outdoors. The gripped surface of the coating not only provided higher traction for pedestrians, but also added another dimension to the piece, exhibiting a sleek and modern aesthetic.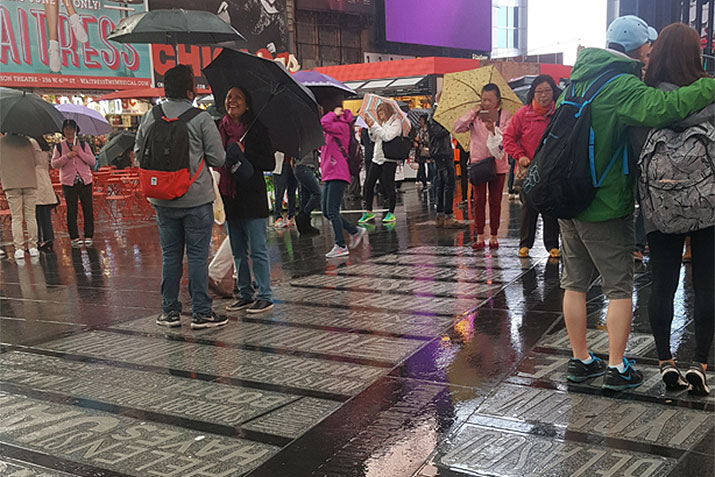 The impact
Creative Edge is a world leader in creative architectural water jet fabrication and has been in business for over 27 years. The Spotlight on Broadway project won a Pinnacle Award, which honors companies for a job that "stands above the rest." The Award Institute declared the project a "Clever design that pays homage to timeless Times Square," which was ultimately awarded merit for "Commercial Exterior".
Due to the slip resistant surface provided by SlipNOT®, tourists from all over the world can enjoy the innovative and engaging map of Broadway and its 40 theaters without having to worry about possible injuries due to slip, trips, and falls.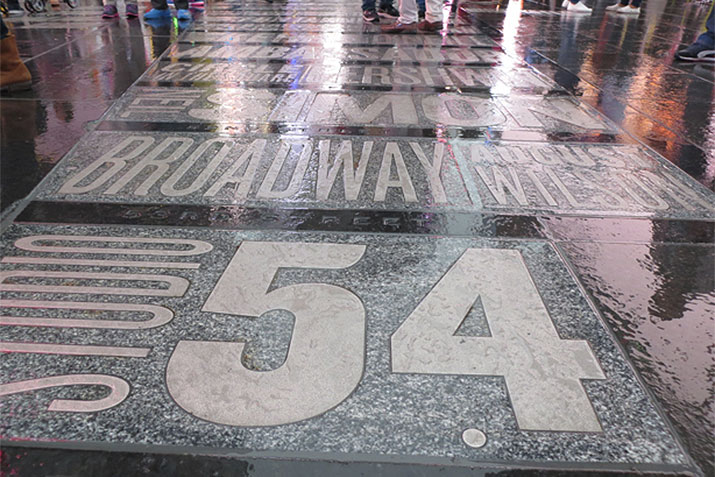 Award Recognition:
http://www.marble-institute.com/default/assets/File/awards/2014_MIA_pinnacle_brochure_FINAL_lo.pdf
Company: SlipNOT® Metal Safety Flooring Div.
Source: http://www.slipnot.com/case-studies/slip-resistant-stainless-steel-letters-for-times-square-spotlight-on-broadway/
---
Tags:
Kalwall Featured In Winning 2017 RIBA London Award Project (June 20, 2017)
Lake Avenue light poles restoration - Pasadena, California (August 2, 2017), SC Railing Company: Offering a View from the Top (July 31, 2017), TerraCast Step Planters Bring Innovation to Reclaim Public Spaces in Major U.S. Locations (July 28, 2017), 5 Little Known Facts about High Gloss Acrylic Wall Panels (July 24, 2017), What the New Urban Agenda means for architects (July 21, 2017), Gorgeous Atriums that Meet Design Aesthetic and Safety Code (July 19, 2017), Maglin Moves Manhattan (July 6, 2017), Great thermal performance + corrosion resistance = Clima-Tite™ translucent wall systems with fiberglass framing (June 29, 2017), Swedish hospital 'takes a chance' on Howe Green (June 21, 2017), Summer Birds Nesting on Your Property? (June 6, 2017)
Howe Green 'raises the bar' at former olympic site (July 18, 2017), Stenciled Concrete for your Pool decks, patios and driveways (July 11, 2017), ADA compliant aluminum walkway provides safe public tours at Harpoon Brewery (July 5, 2017), Floor Marking by Color (June 30, 2017), Swedish hospital 'takes a chance' on Howe Green (June 21, 2017), 7 Hot 2017 Bathroom Design Trends You Need to Add Style to Your Space (June 13, 2017), Slip resistant aluminum plank installed on Hilton's helipad (June 8, 2017), HERMETIC Industrial Flooring (May 22, 2017), 5 Compelling reasons you need to eliminate your shower pan threshold (May 16, 2017), Decorative Concrete Can Be Gray or Colorful and is Ideal for Interior or Exterior... Take a Look (April 27, 2017)
Blackened Steel for Architectural Design (July 19, 2017), 3135EC Eclipse Undermount: Sliding under the radar (July 9, 2017), FDOT Improving Bicyclist Safety with SlipNOT® (April 4, 2017), Railing Infill Face-Off: Cable vs. Glass (March 10, 2017), Brass clad & bronze clad doors & frames (January 30, 2017), The Dock Gate's custom gas struts make the vertical gate easy to open. Easy as 1, 2, 3! (September 21, 2016), Mirror polished stainless steel enclosure top and return grilles at New York City Hospital Lobby (August 26, 2016), Armortex Waterjet Cutting (August 24, 2016), E2JS thin line louver used on Reptile House at the Cincinnati Zoo (August 22, 2016), Summer 2016 in the Hamptons (August 19, 2016)
SC Railing Company: Offering a View from the Top (July 31, 2017), Gorgeous Atriums that Meet Design Aesthetic and Safety Code (July 19, 2017), Video Surveillance In 2017: 4 Things You Need To Know (July 7, 2017), ADA compliant aluminum walkway provides safe public tours at Harpoon Brewery (July 5, 2017), Floor Marking by Color (June 30, 2017), Starlings And The Grain/Agriculture Industry (June 16, 2017), Preparing Glaziers To Work With Bulletproof Glass (June 8, 2017), Slip resistant aluminum plank installed on Hilton's helipad (June 8, 2017), Summer Birds Nesting on Your Property? (June 6, 2017), Interior Corner Protection (May 18, 2017)