architecture - engineering - construction

Thermal breaks in aluminum framing: not just a cold-weather friend
November 7, 2017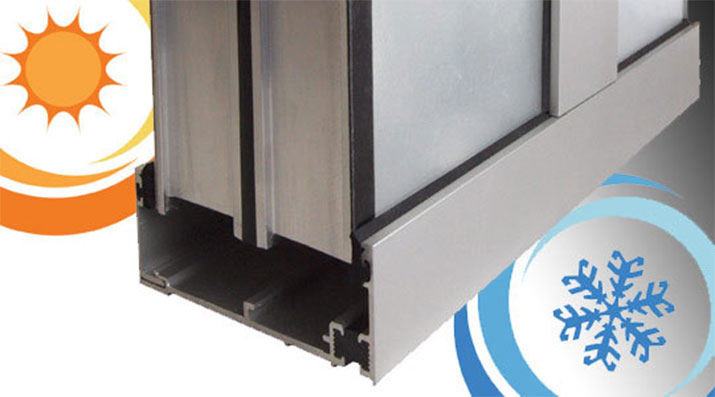 Heat conduction, or the transfer of heat through a solid material at the molecular level, is a problem that occurs in aluminum framing. Providing a thermal break in the aluminum is the most common solution for disconnecting the exterior and interior of the aluminum frame. The frame is literally split into two components and must be connected by a structural material that is of significantly less conductivity as the aluminum. Simultaneously the thermal break material must bond the two components together.
There are many ways to thermally break glazing materials and the frames that house the glazing. Insulated glazing generally uses multiple panes of glazing separated by air, gas or other fill. The glazing is then bonded at the edges with a material of low conductivity. The aluminum frame, most commonly used for storefront framing, skylights, and windows, is a highly dense material with great strength. Yet, aluminum is light in weight and durable. It is also a widely recyclable material and is readily available.
Aluminum, however, is highly conductive of heat and cold. For many decades thermal breaks have been a common and economical means of lowering temperature conductance in aluminum framing. Thermal breaks have taken numerous forms over the years, from plastic and Styrofoam to wood and nearly any material that had a lower thermal conductivity than aluminum.
The 1970s marked the beginning of the high performance, chemically manufactured and engineered thermal breaks that we see today. Standard to the storefront, window, skylight and curtainwall industry is the poured and debridged polyurethane thermal break. This material provides significant structural strength in shear, compression and tension, as well as integrity and resilience. The polyurethane polymer has a very low conductivity, allowing it to bridge the gap between the interior and exterior aluminum components of a frame. Due to polyurethane's structural strength, longer spans are capable and the integrity of the aluminum frame is not compromised.
The method for manufacturing the polyurethane thermal break has become standardized in the aluminum framing industry. A strategically placed open cavity is extruded as part of the aluminum frame. The cavity may be grooved or extruded in a way as to act as a lock when bonded with the polyurethane polymer. The liquid polymer is poured into the cavity, and upon solidifying, the bottom of the cavity is then removed, or debridged, creating the perfect thermal break for all forces of extreme weather conditions.
So where are thermal breaks necessary? The short answer is that they are necessary in all climates where there is a difference in temperature from exterior to interior. Cold climates benefit from aluminum thermal breaks by providing protection from cold temperatures entering the building and causing condensation build-up on the interior face. In these situations, aluminum frames can also become very cold to the touch and uncomfortable to be near. Hot climates benefit from aluminum thermal breaks by providing protection from hot temperatures entering the building. Not only does a thermal break affect air temperature and cooling demands on HVAC systems, but aluminum frames can become very hot to the touch, causing issues for people, plants, animals, and objects nearby.
While thermal breaks add some up-front costs, technological advances have made them an economical solution. This is especially true when you consider that they can prolong the lifespan of materials around them and provide a more comfortable environment for building occupants. Whether you're in a hot or cold climate, thermal breaks are well worth it.
For more information on our thermally broken system options, visit us online. Our Clima-Tite™ system with pultruded fiberglass framing, is also available and provides an even higher level of thermal performance and condensation resistance.
Company: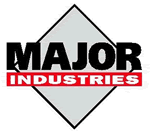 Major Industries Inc.
Product: Clima-Tite™
Of: Courtesy of Amy Stalbosky, National Corporate Architect, Major Industries, Inc.
Source: http://majorskylights.com/
---
Tags:
Anodize Nickel Test (August 17, 2017), ADA compliant aluminum walkway provides safe public tours at Harpoon Brewery (July 5, 2017), Durable skylight finishes by Linetec (July 4, 2017), CableView® Aluminum Cable Railing System by Stainless Cable & Railing Inc. (June 23, 2017), Designed for resiliency and acoustic performance (May 17, 2017), Custom Period-Matched Perforated Grilles (April 26, 2017), Howe Green Access Cover provides the perfect antidote to access issue at hospital (March 14, 2017), Choosing the right finish for coastal projects (February 24, 2017)
5 Ways Climate Change will Affect your Business (September 1, 2017)
Ruskin's IAQ50 air flow measuring control damper solves Las Vegas air curtain challenge (September 20, 2017), Custom Ornamental Bronze Grilles (August 4, 2017), Blackened Steel for Architectural Design (July 19, 2017), Finally a Hands Free Solution to Stop Bathroom Mold with the New Enhanced Broan® InVent™ Series (July 14, 2017), Custom Period-Matched Perforated Grilles (April 26, 2017), Warwick Hotel Rittenhouse Square boasts unique, stylish lobby entrance with revolving door (April 24, 2017), New critical environment damper series from Ruskin® withstands coastal and corrosive applications (April 11, 2017), Ventilation for you the music fan: Brilliant audio performance concealed behind your fan grille (February 27, 2017), New pressure-independent automatic balancing dampers (ABDs) from Ruskin® mitigate stack effect in high-rise applications (January 25, 2017), Tips to Improve Indoor Air Quality This Winter (December 19, 2016)
New facility at Dupage Airport in Chicago features Extech's systems (September 21, 2017), Visual Blog: Kalwall in the Transportation Market (September 15, 2017), Blast protection and pressure relief systems (August 24, 2017), Visual Blog: Kalwall in the Cultural Market (August 22, 2017), Project Spotlight: Work-friendly Daylight (July 13, 2017)
Kawneer Project Profile: Heifer International World Headquarters (November 2, 2017), Slate, Portland's new, LEED Gold, mixed-use, transit-oriented development features Linetec's paint, anodize and thermal improvement services (November 1, 2017), Andamar Lifestyle Center uses revolving doors to combat wind, air infiltration (October 25, 2017), 5 Innovative Public Square Design Ideas (September 29, 2017), Achieving Sustainability and Luxury in a Multi-Family Project (September 22, 2017), How health factors into green building rating systems: LEED v4 (September 13, 2017), Mitigating Protests, Smart Mobs and Crime with Manual Revolving Doors (September 6, 2017), Green: The Color that Became a Building Philosophy (September 5, 2017), Global warming: how architects & building owners can prepare the world (July 27, 2017), What the New Urban Agenda means for architects (July 21, 2017)
ViuLite® insulating glass with integrated premium quality blinds (October 17, 2017), Skylight guarding with SRC - Skylight Screens (October 10, 2017), Glass Block with Etchings (September 9, 2017), Removable storm shutters & panels (August 30, 2017), Blast protection and pressure relief systems (August 24, 2017), Visual Blog: Kalwall in the Cultural Market (August 22, 2017), Getting Contractors The Right Bullet Resistant Barrier For Their Clients (August 3, 2017), Project Spotlight: Work-friendly Daylight (July 13, 2017), Durable skylight finishes by Linetec (July 4, 2017), Great thermal performance + corrosion resistance = Clima-Tite™ translucent wall systems with fiberglass framing (June 29, 2017)