architecture - engineering - construction

3 Retail Flooring Options
May 30, 2023
Retail flooring is both simple and complex. On the one hand, doing a job for a retail client comes with many of the same requirements as other commercial flooring jobs, such as cleanability and the ability to withstand foot traffic.
On the other hand, retail often puts more emphasis on aesthetics than other commercial jobs—office blocks, for instance. After all, the point of a physical retail location is to attract customers inside and convince them that their particular products are worth buying. This means that the flooring, like other aspects of the premises, must be clean, distinctive, and attractive.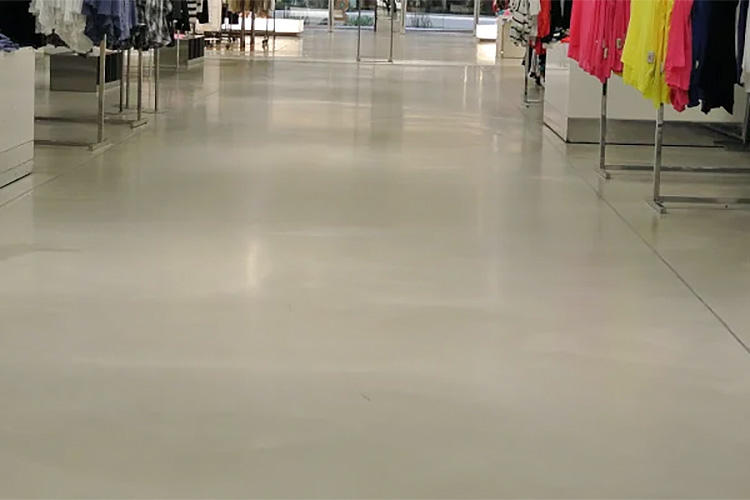 Read the full original article here >
Retail clients can offer some of the best opportunities for flooring contractors. These projects typically involve significant square footage, generous budgets, and the potential for follow-up projects—during a shopping mall renovation or location expansion, for example. But what are the best retail flooring options to propose to a client?
Here we look at three versatile retail flooring options suitable for locations like department stores, grocery stores, clothing stores, bookstores, and convenience stores.
Retail Flooring Needs
Durability
One of the key requirements of retail flooring is durability. Depending on the type of business, the floor may be subject to heavy foot traffic, shopping carts, moveable racks and rails, crates, furniture, and other objects.
There may be other special requirements too. Clients in cold-weather states, for example, might have walk-in customers that are regularly treading in snow and ice or even wearing sharp crampons on the soles of their boots. Such a situation would require exceptionally moisture-resistant and scratch-resistant flooring.
Maintenance
Another important consideration for retail flooring is its ability to be cleaned and maintained. Customers don't treat retail environments like their own home: they'll regularly tread dirt into a store, plus spillages are commonplace in grocery and hardware stores. Ultimately, retail flooring may need cleaning multiple times per day.
Because of this, the flooring needs to be easy to clean, typically with water, soap, or hard chemicals. Although some retail locations maintain carpeted areas for a sense of prestige or homeliness, hard floors without deep crevices are significantly easier to manage than soft or textured floors.
Design
One of the more unique requirements of retail flooring is its cosmetic appearance. While some retail environments like grocery stores will favor simplicity, others like boutique clothing stores may demand a more eye-catching and distinctive flooring choice.
Some retail clients may also request coloration of the flooring to match company branding, while others may specify a logo to be engraved or embedded within the floor.
Longevity
In addition to providing everyday durability via scratch resistance and impact resistance, retail flooring needs to maintain its appearance and integrity over time. In this regard, desirable characteristics may include UV resistance, which prevents the flooring from fading upon years of exposure to sunlight, and a strong underlayment.
Retail Flooring Options
Based on the four key requirements above, here we present three excellent retail flooring options suitable for a range of clients.
Polished Concrete
Polished concrete flooring—in which concrete surfaces are ground to a smooth finish and augmented with dyes and a topcoat—is an excellent option for retail flooring, especially in projects requiring above-average durability.
Advantages of polished concrete include a high level of toughness, that offers superior resistance to impact and scratches than wooden or LVT flooring, in addition to a smooth surface that can be easily cleaned. Besides coloration possibilities, polished concrete can also be engraved with text or the logo of the business.
Our Products
Duraamen provides several polished concrete systems suitable for retail flooring. One option is the spray-on Terrazzi system, which can be installed quickly and produces a smooth and fine finish with unlimited color options. Terrazzi is ideal for small and mid-size stores prioritizing aesthetics and budget.
Another option is the self-leveling Param 5500 system, which offers superior strength and moisture resistance, making it ideal for locations like grocery stores and hardware stores.
Metallic Epoxy
Smooth, strong, and easy to clean, epoxy flooring is a go-to flooring solution in the retail world, in part due to its reasonable cost. Such flooring is made up of several layers of epoxy, typically a primer, body, and topcoat.
Metallic epoxy flooring is a desirable subcategory of epoxy flooring that integrates real metallic particles suspended in the clear epoxy resin body coat, creating a vibrant and eye-catching look that can be tailored to look futuristic, retro, or anything in between. Metallic epoxy is ideal for luxury retail locations such as clothing stores, wineries, and jewelers.
Our Products
The Duraamen Lumiere metallic epoxy flooring system is a stylish, glasslike flooring solution that offers numerous practical advantages to complement its stunning appearance. Resistant to wear, abrasion, moisture, stains, and UV light, the three-part Lumiere system is as tough as it is artistic.
Decorative Quartz
Another option for contractors installing retail flooring is decorative quartz. A low-maintenance, low-cost alternative to terrazzo, decorative quartz is both durable and long-lasting.
Though not as strong as concrete or as eye-catching as metallic epoxy, decorative quartz may be considered an affordable third option that balances practicality with a distinctive appearance characterized by its speckle pattern. Tough and slip-resistant, urethane-based decorative quartz flooring is also highly resistant to bacterial growth, making it suitable for retail locations selling food products.
Our Products
To meet the needs of contractors working with retail clients such as convenience stores, Duraamen offers the Kwortz flooring system, which is comprised of quartz granules broadcast into urethane cement. The flooring—available in 15 colors—can be installed quickly and easily over a range of substrates and is easy to maintain once installed.
Conclusion
Polished concrete, metallic epoxy, and decorative quartz are three versatile and reliable retail flooring solutions. With the wide range of possible colorations and adjustments for each flooring type, these three options cover most of the possible retail flooring situations.
For advice on your next retail flooring job and to find the perfect solution for the client, contact Duraamen.
@duraamen #duraamen #flooring #concreteresurfacing #concrete #concretewalls
Company:

Duraamen Engineered Products Inc.
Product: Sealers / Topcoats
Of: Duraamen Engineered Products, Inc.
Source: https://duraamen.com/blog/retail-flooring-options/
---
Tags:
The results are in on the First-Ever US Collegiate Design-Build Passive House Ice Box Challenge with Pratt Institute School of Architecture (May 18, 2023), Concrete surface restoration (February 23, 2023), Custom flooring solutions for commercial spaces offer endless design options (October 3, 2022), Epoxy Floors for Fire Rescue/EMS Facilities (September 2, 2022), Surface Protection with Anti-Graffiti Powder Coating (August 8, 2022), TIGER Drylac's One Stop Design Shop (May 13, 2022), Electrostatic Dissipative Coatings (May 4, 2022), Elevator Floor Systems - Highly Durable Epoxy or Nearly Indestructible MMA Floor Coatings (April 29, 2022), What is the Best Resinous Coating for Garage Floors - Epoxy, Polyurethane, or Polyaspartic? (March 23, 2022), HERMETIC™ Flake Flooring Systems for commercial, industrial and residential spaces (October 29, 2021)
Admix C-Series: improving concrete performance right from the start (May 25, 2023), Level-Right® floor underlayment: the rock-solid solution for uneven floors (April 27, 2023), Concrete surface restoration (February 23, 2023), Stainless Steel Waterstop can stop even the most corrosive fluids in their tracks (December 14, 2022), Electrostatic Dissipative Flooring - Before & After (November 2, 2022), Bio-San C500 - A Unique Way Of Protecting Concrete In Sewage Conditions (September 21, 2022), Sustainable Farm & Spa Oasis South Of Nashville Uses Penetron For Enhanced Durability (September 7, 2022), Epoxy Floors for Fire Rescue/EMS Facilities (September 2, 2022), Wausau Tile Architectural Pavers (May 6, 2022), Elevator Floor Systems - Highly Durable Epoxy or Nearly Indestructible MMA Floor Coatings (April 29, 2022)
Admix C-Series: improving concrete performance right from the start (May 25, 2023), Level-Right® floor underlayment: the rock-solid solution for uneven floors (April 27, 2023), The Benefits of Translucent Panel Daylighting Systems (April 20, 2023), Resources to meet sustainability requirements (March 29, 2023), Using roof cover board to reduce outside sound transmission (February 21, 2023), Stainless Steel Waterstop can stop even the most corrosive fluids in their tracks (December 14, 2022), TPV waterstops for chemical, industrial, & environmental applications (October 17, 2022), Designing Health Care Facilities for Optimal IEQ (October 10, 2022), MortarNet™ with Insect Barrier™ - the original mortar dropping collection device (September 30, 2022), Bio-San C500 - A Unique Way Of Protecting Concrete In Sewage Conditions (September 21, 2022)
Elevator Floor Systems - Highly Durable Epoxy or Nearly Indestructible MMA Floor Coatings (April 29, 2022), Precast terrazzo: the elegance and everlasting beauty is indisputable (December 23, 2021), Give your elevator a lift with a resinous floor system designed specifically for elevator cab floors (May 13, 2020)
Concrete surface restoration (February 23, 2023), Electrostatic Dissipative Flooring - Before & After (November 2, 2022), Custom flooring solutions for commercial spaces offer endless design options (October 3, 2022), Surface Protection with Anti-Graffiti Powder Coating (August 8, 2022), What is the Best Resinous Coating for Garage Floors - Epoxy, Polyurethane, or Polyaspartic? (March 23, 2022), How Important is Wellness in Your Designs? (November 3, 2021), HERMETIC™ Flake Flooring Systems for commercial, industrial and residential spaces (October 29, 2021), Sherwin-Williams 2022 Colormix® Forecast's Method palette (September 29, 2021), TIGER Drylac® powder coatings for agricultural and construction machinery (September 10, 2021), Sherwin-Williams Living Well™ Collection: Reflect (August 30, 2021)
Level-Right® floor underlayment: the rock-solid solution for uneven floors (April 27, 2023), Electrostatic Dissipative Flooring - Before & After (November 2, 2022), Custom flooring solutions for commercial spaces offer endless design options (October 3, 2022), Epoxy Floors for Fire Rescue/EMS Facilities (September 2, 2022), Elevator Floor Systems - Highly Durable Epoxy or Nearly Indestructible MMA Floor Coatings (April 29, 2022), What is the Best Resinous Coating for Garage Floors - Epoxy, Polyurethane, or Polyaspartic? (March 23, 2022), Precast terrazzo: the elegance and everlasting beauty is indisputable (December 23, 2021), HERMETIC™ Flake Flooring Systems for commercial, industrial and residential spaces (October 29, 2021), Lamit Structural Insulated Panels (SIPs) (August 20, 2021), The Reflector™ Enhancer Flooring System - a specialty, high build, self-leveling, fluid-applied floor coating (August 9, 2021)
Different Glass Enclosure Options for Offices (May 16, 2023), Your Ultimate Inspiration Gallery for Interior Design with Decorative Copper Tiles (May 9, 2023), 15 Insider Tips for a Safer, Simpler and Stylish Age in Place Shower (March 7, 2023), Wood and wood-Look ceiling and wall panels (March 2, 2023), Specifying gym equipment just got even easier (February 16, 2023), Wet Glaze vs. Dry Glaze: Which is Right for Your Railing Project? (December 21, 2022), How to Get an Industrial Look with your Glass Wall Divider (November 30, 2022), New WoodWorks® Grille – Forté Ceiling and Wall Panels from Armstrong Feature Notched Backers (November 11, 2022), Historical Tin Ceilings, Cornice & Fillers Replication (October 7, 2022), Custom flooring solutions for commercial spaces offer endless design options (October 3, 2022)
A New Bar for Roller-Bearing Movement: Accuride ST8200 (October 28, 2022), Retail Resurgence: 90 Percent of Gen-Z Shoppers Have Made an In-Store Purchase Within the Last Week (December 6, 2019), Microtopping Floors in Retail Furniture Stores (November 28, 2018)