architecture - engineering - construction

How to design with FLEXX Panels
January 18, 2023
FLEXX your design muscles
In 2021, Maglin Site Furniture introduced the FLEXX Collection, and they were eager to see how designers and landscape architects would use these versatile outdoor panels. Designed as a way to balance togetherness and privacy in shared spaces, FLEXX panels allow a single space to be divided into beautifully segmented areas.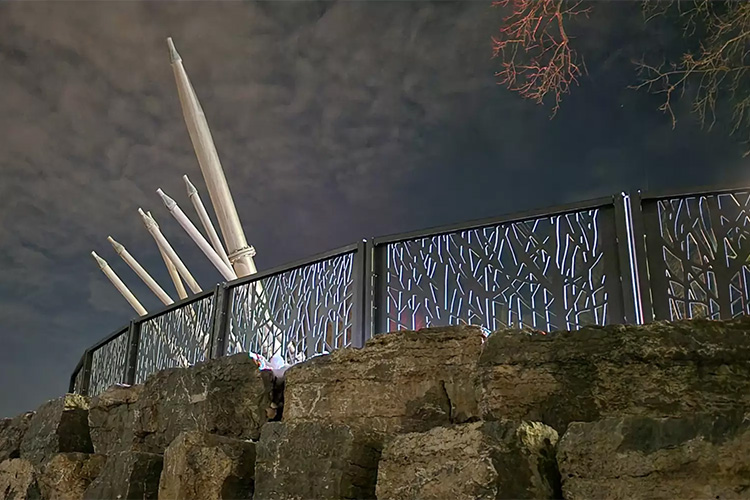 FLEXX Panels spark delight along a public path
The Red Cross Riverwalk Access project in Wilmington, NC features decorative sidewalks, lighting, and landscaping upgrades that connect to and from the city's iconic Riverwalk. As people traverse the connector, Maglin FLEXX panels in Kaleidoscope pattern and blue powdercoat create a design focal point.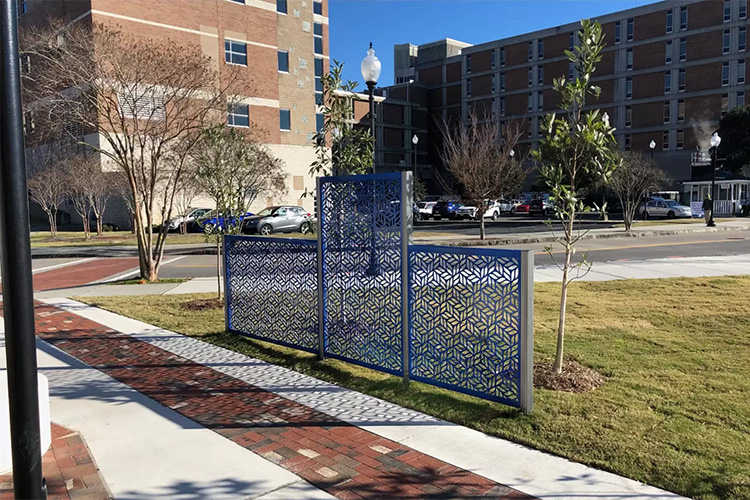 Red Cross Riverwalk Access – Wilmington, NC
Landscape Architecture: CLH design, p.a.
City of Wilmington
Defining rooftop amenity areas is a breeze with FLEXX
When designing for rooftops, it's critical to consider and adapt to the essential equipment that preserves the building's health and safety. On the 5th floor of Claridge Icon residential building in Ottawa, FLEXX panels serve the dual function of adding architectural beauty while providing separation from the building's essential structural and mechanical elements. FLEXX lockable gates provide a secure entry and exit point for maintenance.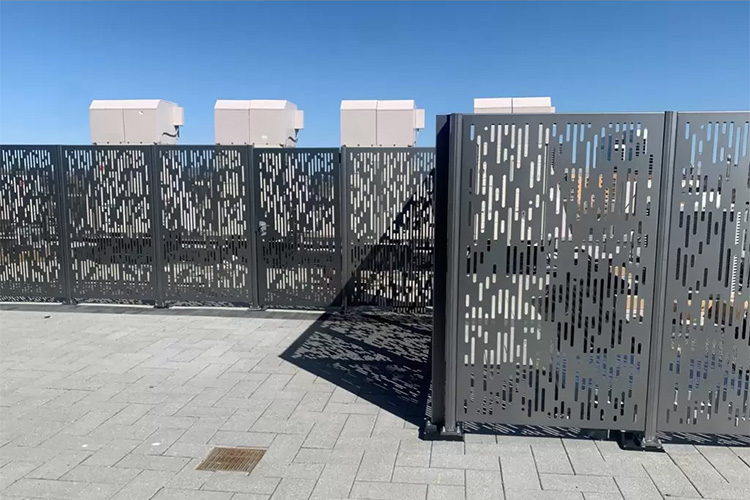 Claridge Icon – Ottawa, ON
Specifier: Claridge Homes
Design for peacefulness and privacy in busy public spaces
Busy commercial plazas don't often inspire feelings of tranquility. Nevertheless, this restaurant patio makes use of FLEXX panels to create a peaceful and private dining area. These attractive steel panels, selected in the Kaleidoscope pattern, serve both as a sunlight-filtering barrier between diners and traffic and as a pretty backdrop for cheerful potted plants.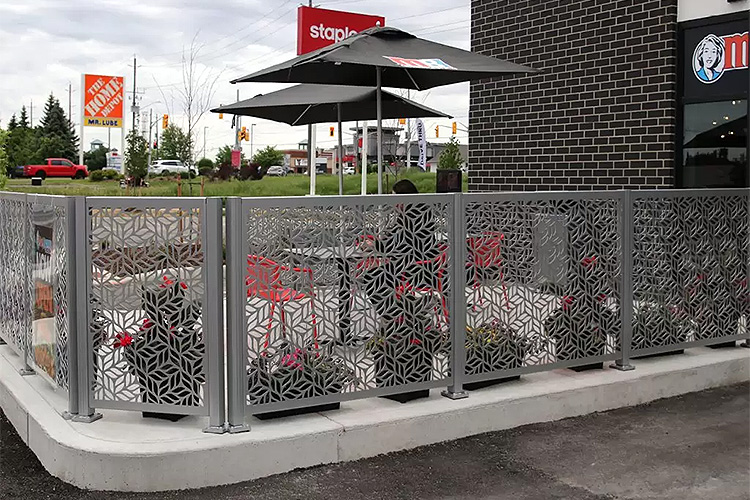 Commercial Plaza at 620 King St. North – Waterloo, ON
Specifier: IBI Group
Custom FLEXX reflects the bountiful green space of the Forest City
Due to its numerous, beautiful pathways and acres of rolling parkland, London, Ontario is called The Forest City. When the retaining wall and hardscaping were updated at the Forks of the Thames (yes, this London has a Thames River, too), custom panels replaced the older railing system. With a laser-cut design inspired by the leafy surroundings, these custom FLEXX panels are worthy of their place of prominence in the Forest City!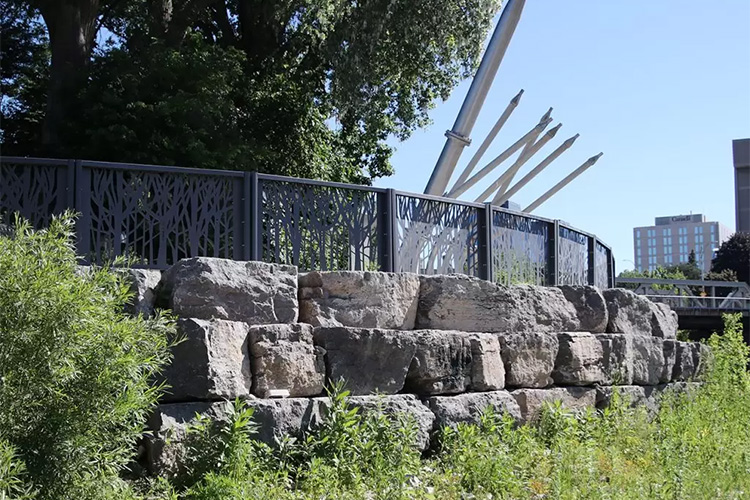 Forks of the Thames – London, ON
Landscape Architecture: Ron Koudys Landscape Architects inc.
City of London
@maglinfurniture #maglinfurniture #maglin #streetfurniture
Company:

Maglin Site Furniture
Product: Flexx Collection
Source: https://www.maglin.com/how-to-design-with-flexx-panels/
---
Tags:
4 Ways to Reduce Energy Costs in Commercial Buildings (January 2, 2023), StonePly curtain walls and storefronts applications (December 7, 2022), How to Get an Industrial Look with your Glass Wall Divider (November 30, 2022), The MarShield Specifiers & Architects Resource Hub (October 12, 2022), Historical Tin Ceilings, Cornice & Fillers Replication (October 7, 2022), Acoustics Are an Essential Part of Indoor Environmental Quality (IEQ) (September 23, 2022), Sensing solutions for hangar doors (September 19, 2022), The world's finest custom and stock architectural columns (August 26, 2022), Designing a Successful Mail and Package Center (August 24, 2022), The Wall-in-One Installation Solution (July 29, 2022)
7 Benefits of Bike-Friendly Business (December 23, 2022), Are Resin Planters Durable (December 12, 2022), Outdoor benches: choosing the right wood (November 18, 2022), Custom manufactured light poles to meet specifications designated by you (November 7, 2022), Creating a view that is like having no railing at all (November 4, 2022), How to select a bike locker (October 26, 2022), Create fall planters that stand out (October 21, 2022), Delaware Clam Shell Light Pole Base withstands years of sun and salt without the need for painting (September 14, 2022), A quick rundown on eGlass railing systems (August 15, 2022), ADA compliance in outdoor furnishings (August 12, 2022)
Custom lasered and metal panel solutions (December 6, 2022), Historical Tin Ceilings, Cornice & Fillers Replication (October 7, 2022), Ornamental grilles are upscale decoration for your home or business (August 22, 2022), One-of-a-kind quality for decorative metal grilles (June 10, 2022), Attack Resistant Steel Doors and Frames (June 8, 2022), MorZip® Roof & Wall Systems (February 2, 2022), 3-D Laser Technology Brings Field-Accurate Dimensions to Commercial Railing Systems (January 28, 2022), Recycled Planters, Light Poles, and Bases (November 29, 2021), Add sophistication to interior and exterior spaces with a wide range of wood look finish options (October 20, 2021), Structural Glass Railing Systems (September 8, 2021)
How to Build a Wooden Gate for Deck (January 4, 2023), Wet Glaze vs. Dry Glaze: Which is Right for Your Railing Project? (December 21, 2022), What rooftop safety solutions can help you achieve total compliance? (November 9, 2022), Creating a view that is like having no railing at all (November 4, 2022), Easily Forgotten Industrial Rooftop Fall Hazards: Hatches & Skylights (September 28, 2022), Benefits of Carefree Clean™ glass panels in glass railings (September 16, 2022), A quick rundown on eGlass railing systems (August 15, 2022), Black Aluminum Cable Railing (July 25, 2022), Glass Railing Building Codes (July 11, 2022), Do OSHA Drone Inspections Increase the Need for Proper Roof Fall Protection? (June 29, 2022)
Highest-quality lead glass for the medical, industrial and nuclear industries (January 13, 2023), Fire and Safety Protection in High-Traffic Student Spaces (January 11, 2023), Portable steel security buildings to upgrade your perimeter protection plan (January 9, 2023), How to Build a Wooden Gate for Deck (January 4, 2023), LadderPort™ - the Safer, Less Expensive Alternative To Vertical Ladders (December 26, 2022), Wet Glaze vs. Dry Glaze: Which is Right for Your Railing Project? (December 21, 2022), Roof hatches provide safe and convenient access to roof areas by means of an interior ladder, ship stair or service stair (December 19, 2022), Ballistic entryways, access control vestibules and custom-fabricated entryways (December 9, 2022), Posts for Bike Lanes and Cycle Tracks (November 23, 2022), 4 Innovative Fire Protection Technologies for 2022 (November 16, 2022)