architecture - engineering - construction

Product Spotlight: ViuLite® Integrated Blinds
July 6, 2022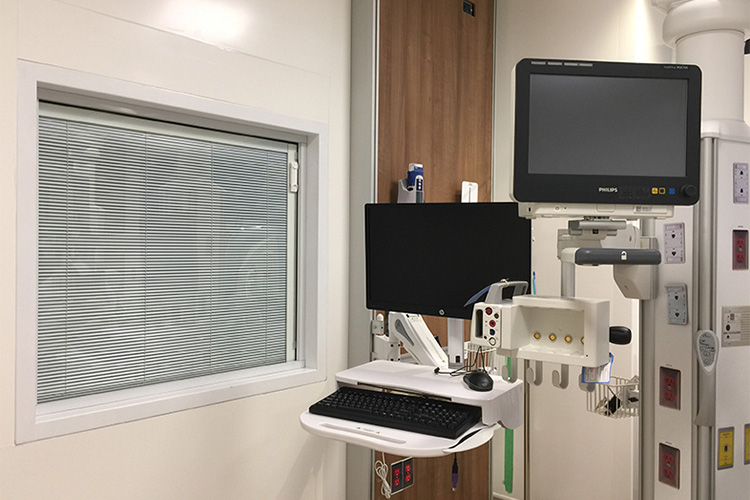 Read the full original article here >
If you love the look and utility of Venetian blinds but can't stand cleaning them or dealing with damaged slats, check out Unicel Architectural's ViuLite® integrated blinds.
ViuLite® is a system of ScreenLine® integrated blinds permanently and hermetically sealed within a double- or triple-glazed insulating glass unit. ViuLite® ensures protection against dirt, germs, weather conditions, and damage, while offering an aesthetically pleasing design element that provides enhanced solar shading and variable vision control.
That means perfectly aligned, dust-free blinds easily controlled through any number of operators, from ligature-resistant knobs, to sliders, to external or internal motorized systems. ViuLite® units can include tempered, Low-E (low emissivity), fire-rated, security, mirror/tint, glass-clad polycarbonate, standard polycarbonate, and other glass types.
All surfaces and operators on ViuLite® blinds are protected with Sanitized® patented antibacterial treatment, which uses silver ions as an active biocidal substance and protects against bacteria and odor.
ViuLite® is a past winner of Architectural Record's Product of the Year Award. Its various aluminum framing systems, glass stops, and door trim kit options make ViuLite® perfect for interior or exterior partitions, sidelights, doors, transoms, windows and curtain walls.
System Features
Available in double- or triple-glazed units
Warm-edge spacers deliver enhanced energy efficiency
Argon-filled airspace between panes can improve U-values by up to 25 percent
½" blinds customizable with your choice of standard and non-standard colors
27/32" (21.4mm) airspace to fit into tighter glass pocket depths
SL20A/SL20C/SL20P/SL20B/SL20S/SL20M models available
ADA compliant operators available
Key Benefits
Warm-edge spacers deliver enhanced energy efficiency
Enhanced solar shading features blocks unwanted glare, heat, and harmful UV rays
No cleaning or maintenance require
Blinds can be tilted and raised (tilt-only blinds are also available)
@UnicelArch #UnicelArch #UnicelArchitectural #Aluminum #Glass #Louvers #Glazing #Skylights
Company: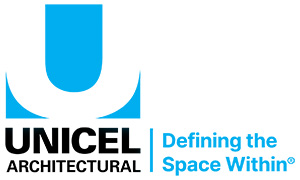 UNICEL Architectural Corp.
Product: ViuLite™
Source: https://unicelarchitectural.com/viulite-integrated-blinds/
---
Tags:
Easy-Clean X-Ray Glass provides x-ray protection from Alpha, Beta and Gamma Ionizing radiation for proper shielding of medical diagnostic imaging procedures (June 21, 2021), Fire-Rated Vision Control® Integrated Louvers (June 2, 2021), The EconoSpan® louver and screen system is ideal for roof top equipment screening or other applications with large areas requiring concealment and ventilation (April 30, 2021), Designing and Manufacturing Modular Radiation Shielding Barriers and Walls (March 24, 2021), ViuLite® insulating glass with integrated premium quality blinds (October 17, 2017)
Mobile Hi-Impact Shielding Barrier for Industrial Applications (March 4, 2022), Daylighting Design: How Much Light Do You Need? (January 3, 2022), Top 5 Reasons to Incorporate Translucent Daylighting in Your Athletic Facility Design (December 1, 2021), OptiQ® Thermal Window Series - incorporating health and well-being into the architectural solutions of tomorrow (October 4, 2021), Prefabricated, pre-insulated, secondary containment and conduit piping systems for industrial and commercial applications (June 18, 2021), Sustainable Design: Translucent Panel Daylighting (April 5, 2021), Conserving resources with shades (February 5, 2020), 4 Ways to Reduce Energy Costs in Commercial Buildings (March 8, 2019), Energy saving glazing options cut energy costs (October 31, 2018), Landscape lighting solutions: 7 signs your business should upgrade lighting systems (September 13, 2018)
European Inspired Glass Wall Systems (October 13, 2021), Wood door solutions for high-risk areas (August 24, 2018), How the 116RC is changing hospital sliding solutions (June 26, 2018)
Did You Know? Window Shades Can Help Increase Productivity (July 1, 2022), Add Richness and Sophistication with Black Ceiling Tiles (April 13, 2022), TECTUM Create! Direct-Attach Ceiling and Wall Panels (April 6, 2022), 6 Modern Glass Office Design Ideas for 2022 (March 30, 2022), What is the Best Resinous Coating for Garage Floors - Epoxy, Polyurethane, or Polyaspartic? (March 23, 2022), Outdoor Site Furnishings Gone Indoor Gathering Spaces (March 14, 2022)
Recycled Planters, Light Poles, and Bases (November 29, 2021), Architectural lighting bollards: a blending of form and function (October 1, 2021), Downlighting Solutions For Specialty Metal Ceilings (August 27, 2021), Dark Sky Compliance (August 21, 2020), Emphasize Your Beautiful Property with Resin Landscape Lighting (July 22, 2020), High Quality Light Pole Bases (May 20, 2020), Signs You May Need to Upgrade to Long Lasting Lighting Solutions (February 24, 2020), Creative Option: Removable Skylights (January 13, 2020), The Daylighting Difference: Biophilic Design (October 4, 2019), Dark Sky Compliance (September 30, 2019)
Did You Know? Window Shades Can Help Increase Productivity (July 1, 2022), A Better Backglazing Window System For Enhanced Office Security (May 23, 2022), European Inspired Glass Wall Systems (October 13, 2021), Aesthetically functional glass wall systems for commercial interior spaces (September 22, 2021), 7 Tips for Preventing Costly Fire Damage Repair (March 5, 2021), The Benefits of Plants in Your Office (January 22, 2021), Tempered Glass Sliding Door Designs for Your Office (January 18, 2021), Office Smoke Control System Designs (November 18, 2020), Corporate Security: Trends For 2020 (December 30, 2019), 5-Minute Safety Topic: Corporate Active Shooter Training (November 25, 2019)
Did You Know? Window Shades Can Help Increase Productivity (July 1, 2022), Window shade solutions: what level of privacy are you seeking for your project? (May 18, 2022)
Four ways Draper window shades can help you live your best sustainable life (November 22, 2021), The Daylighting Difference: Restaurants (June 23, 2021), Four ways the Flexshade® Recharge is designed for the smart life (October 30, 2020), Taking the indoors outdoors (March 6, 2020), Podcast Outlines Productivity Benefits of Window Shades (January 1, 2020), Providing solar control for oddly-shaped windows (July 8, 2019), Control the Sun with Sunshades: How to shade Southern, Southeastern/Southwestern, Eastern and Western exposures (April 26, 2019), Skylights: bringing out the best in art (November 16, 2018), 3 Reasons to consider solar heat gain in architecture (October 19, 2018), Why use exterior shading? (September 19, 2018)