architecture - engineering - construction

Blue polycarbonate translucent wall system for Gap in Times Square NYC
December 5, 2017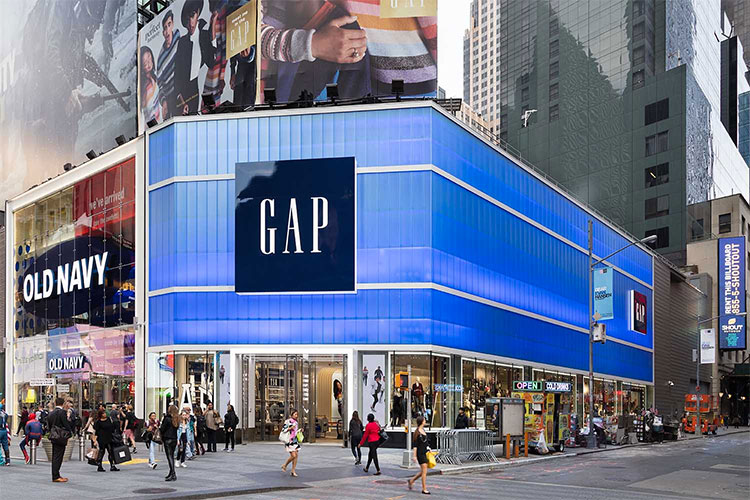 The Gap store in Times Square, NYC. The blue facade is EXTECH's LIGHTWALL 3440 translucent wall system coupled with custom-colored polycarbonate. Image by Vanni Archive Architectural Photography
The new Gap store in Times Square, NYC is clad in EXTECH's LIGHTWALL 3440. Nearly 5,000 square feet, the blue polycarbonate panels are a custom hue that matches Gap's color palette and was chosen based on polycarbonate samples provided by EXTECH. To ensure even light transmission, the facade utilizes specialized mounting clips that EXTECH developed and the panels are treated with an anti-glare coating that promotes balanced light filtration.
The LIGHTWALL 3440 polycarbonate wall panel system offers beauty, durability, and economy with vertical panels that can extend up to 54 feet long and eliminate leak-prone horizontal joints.
Translucent polycarbonate wall panels offer a host of benefits including energy savings via daylighting, outstanding insulating value, and elimination of leak-prone horizontal joints. LEED credits are also available for 100% recyclable polycarbonate and aluminum framing. The LIGHTWALL 3440 has provided façade solutions for a wide range of structures in a wide range of industries, and has been subjected to a complete battery of air, water, and structural testing to ensure it offers superior insulation, durability, and weather-tight performance.
Company: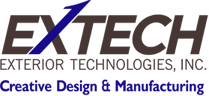 EXTECH/Exterior Technologies, Inc.
Product: Translucent Walls
Source: https://extechinc.com/lightwall-3440-gap-times-square-nyc/
---
Tags:
Design spotlight: daylighting for privacy (December 2, 2017), Art Gallery of Ontario enjoys more space and comfort with BoonAssist TQ revolving door entrance (November 28, 2017), Architectural Wall Louvers (November 23, 2017), High Performance Insulated Wall System a Game Changer for Architects (November 22, 2017), Visual Blog: Kalwall Retrofit (November 15, 2017), Slate, Portland's new, LEED Gold, mixed-use, transit-oriented development features Linetec's paint, anodize and thermal improvement services (November 1, 2017), Translucent Panels | Chesapeake Boathouse, Oklahoma City (October 31, 2017), Sto Werkstatt features alternative glass architecture by Space Popular (October 20, 2017), Upscale GFRC (Glass Fiber Reinforced Polymer) at Caesar's Palace on the Vegas strip (October 19, 2017), Distinctive dual towers built on Penetron (October 12, 2017)
High gloss acrylic wall panels - back painted glass alternative (November 30, 2017), Custom outdoor furniture that reflects your vision (November 10, 2017), Now from Armstrong ceilings: Tectum wall & ceiling panels (November 9, 2017), New! West Elm Fall/Winter 2017 Paint Palette (November 8, 2017), LumiSplash™ Decorative Laminates with LED Edge Lighting (October 23, 2017), OSHA's new Respirable Crystalline Silica Rule is now in effect. The deadline has passed. Are you compliant? (October 9, 2017), Linetec finishes Loewen windows for Canada's Windermere House (September 27, 2017), Achieving Sustainability and Luxury in a Multi-Family Project (September 22, 2017), Stagescreen Portable Projection Screen® (September 12, 2017), Manchester Blend tan bricks a hot trend in the color world (August 28, 2017)
Design spotlight: daylighting for privacy (December 2, 2017), Translucent Panels | Chesapeake Boathouse, Oklahoma City (October 31, 2017), LumiSplash™ Decorative Laminates with LED Edge Lighting (October 23, 2017), Stagescreen Portable Projection Screen® (September 12, 2017), Visual Blog: Kalwall in the Cultural Market (August 22, 2017), Lake Avenue light poles restoration - Pasadena, California (August 2, 2017), Global warming: how architects & building owners can prepare the world (July 27, 2017), Finally a Hands Free Solution to Stop Bathroom Mold with the New Enhanced Broan® InVent™ Series (July 14, 2017), Creating the perfectly flat viewing surface (July 11, 2017), Great thermal performance + corrosion resistance = Clima-Tite™ translucent wall systems with fiberglass framing (June 29, 2017)
Design spotlight: daylighting for privacy (December 2, 2017), High gloss acrylic wall panels - back painted glass alternative (November 30, 2017), Now from Armstrong ceilings: Tectum wall & ceiling panels (November 9, 2017), Lines, grids & aesthetics in translucent panel systems (November 3, 2017), Kawneer Project Profile: Heifer International World Headquarters (November 2, 2017), Translucent Panels | Chesapeake Boathouse, Oklahoma City (October 31, 2017), LumiSplash™ Decorative Laminates with LED Edge Lighting (October 23, 2017), Which Metal Ceiling Tile Finish Is Right For You? (October 11, 2017), Sustainable Single-Family House (October 5, 2017), New facility at Dupage Airport in Chicago features Extech's systems (September 21, 2017)