architecture - engineering - construction

Brazil Takes PENETRON to the Hilton
November 23, 2016
Around the world, waterfront construction sites with a high water table call for PENETRON technology. The basement structure of Rio de Janeiro's newest hotel, the Hilton Barra Rio de Janeiro Hotel, is built on PENETRON's crystalline technology.
The Hilton Hotel company slogan, "Take me to the Hilton," now has new meaning for visitors to Rio de Janeiro. Situated just minutes away from Rio's Olympic Park, the Hilton Barra Rio de Janeiro Hotel opened just in time for Rio 2016 Summer Olympics Games. This upscale 298-room hotel, also in the midst of the city's Barra da Tijuca business district, features a restaurant, meeting rooms, a business center, a rooftop pool (with a view), and an underground parking garage.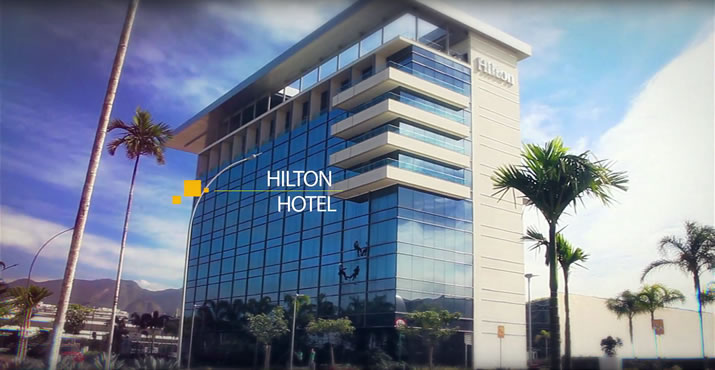 Take me to the Hilton: Despite the site's high water table, the basement of the new Hilton Barra Hotel in Rio de Janeiro is waterproof thanks to PENETRON ADMIX.
Given this situation, the PENETRON Brazil team worked with the developer and general contractor to come up with an effective solution for the Hilton Barra project. Ultimately, PENETRON ADMIX was specified to treat the concrete used in the below-grade slab to ensure low permeability and a durable concrete structure.
Company:

Penetron International
Product: Penetron Admix
Source: http://www.penetron.com/press/view/Brazil-Takes-PENETRON-to-the-Hilton/
---
Tags:
Roman Brick: for architects and homeowners aspiring for a unique look (October 26, 2016), Images in Concrete: Reckli Artico® (October 7, 2016), The future of insulated wall panels has arrived (September 28, 2016), Make your buildings look good with uniquely designed polycarbonate products for building exteriors (September 19, 2016), Red, traditional brick color for traditional architecture (September 7, 2016), Armortex Waterjet Cutting (August 24, 2016), Structural steel services for the building and construction sector (July 20, 2016), Download True Home Comfort. Right onto your IOS or Android device with the new Icynene Homeowner App! (June 29, 2016), Where Champions Train: Kalwall® Lights Up Broncos' Indoor Facility (May 16, 2016), How to "Future-Proof" Your Bathroom (May 13, 2016)
Navigating the Wide Selection of Polymer Overlays Over Concrete Substrates (October 31, 2016), Images in Concrete: Reckli Artico® (October 7, 2016), 4 Reasons you should choose a resurfaced concrete floor (August 10, 2016), "At Penetron, we're always talking about the weather" (March 23, 2016), Better than real wood planks (March 9, 2016)