architecture - engineering - construction

Bronze Aluminum Cable Railing
January 18, 2019
These uniquely designed aluminum posts and top rails offer an economical alternative to stainless steel and wood frame options, without compromising architectural resilience. Designed specifically for cable railing applications, these products are reinforced to have greater strength and durability than standard aluminum posts. With multiple top rail options, a handrail that can double as support for a wood top rail, and different color options, this line offers the greatest number of options.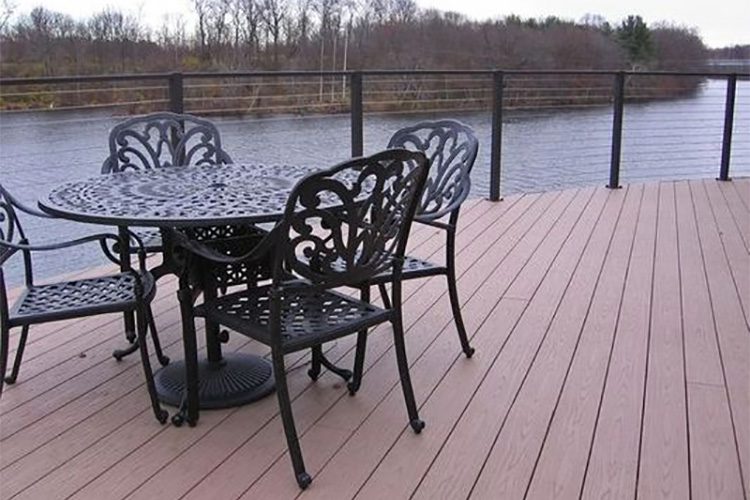 Bronze Aluminum Cable Railing - South Bend, IN

Features & Benefits
Reinforced aluminum system withstands the tension of cable infill without bending
Bronze powder-coat compliments rustic, woodsy, and old-world surroundings while protecting the aluminum from the elements
Post-to-Post Handrail runs between posts, allowing the railing to follow the curves of the deck
Deck mount posts are easy to install
Field assemblies have a low-profile look with no bulky turnbuckle
Materials you'll Need for this Railing System
Cable Railing
Stainless Cable & Railing is the best source for durable and affordable cable railing posts, rails, and infill kits. We offer high-quality, long-lasting materials at factory-direct prices. Our kits are easy to assemble, with detailed and simple instructions.
Company:

Stainless Cable & Railing Inc.
Source: https://stainlesscablerailing.com/cable-railing-south-bend-indiana.html
---
Tags:
Facades+ features UW NanoES building with finishing by Linetec (October 15, 2018), Black Aluminum Cable Railing (June 15, 2018), Linear Grille Wall Cladding (March 14, 2018), Thermal breaks in aluminum framing: not just a cold-weather friend (November 7, 2017), Anodize Nickel Test (August 17, 2017), ADA compliant aluminum walkway provides safe public tours at Harpoon Brewery (July 5, 2017), Durable skylight finishes by Linetec (July 4, 2017), CableView® Aluminum Cable Railing System by Stainless Cable & Railing Inc. (June 23, 2017), Designed for resiliency and acoustic performance (May 17, 2017), Custom Period-Matched Perforated Grilles (April 26, 2017)
Whistler's Cultural Connector (December 19, 2018), 'Tis the Season (December 12, 2018), Why Choose Glass Deck Railing? (November 26, 2018), Working Inside Out (November 14, 2018), An alternative to union metal light poles: resin-based lampposts (November 2, 2018), Resin planters and lampposts: easy to maintain and graffiti resistant (October 1, 2018), Gateway Arch Expansion (September 22, 2018), Landscape lighting solutions: 7 signs your business should upgrade lighting systems (September 13, 2018), 'Megadeck' transforms outdated home into vacation retreat (August 29, 2018), How do lightweight planters change the game? (August 17, 2018)
Why Choose Glass Deck Railing? (November 26, 2018), Round stainless steel railing systems (November 5, 2018), Traditional + Contemporary = Transitional Design (October 4, 2018), 'Megadeck' transforms outdated home into vacation retreat (August 29, 2018), Black Aluminum Cable Railing (June 15, 2018), Roof top safety (May 3, 2018), Best places to use cable railing (February 19, 2018), Railing color: a hidden choice (January 24, 2018), Builder Spotlight: Jordan Iverson - Pride of Eugene, Oregon (November 13, 2017), Before and after deck railing with Ultra-tec® cable railing (October 6, 2017)