architecture - engineering - construction

Building Safety: Turn-Key Passive Fall Protection
October 12, 2020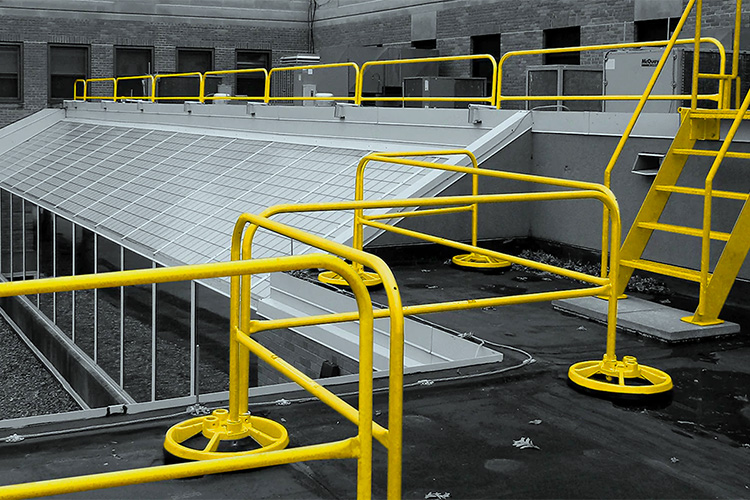 Turn-key solution:
1. CONSULT
Safety Rail Company reviews hazards at your facility through blue prints, satellite imaging or a site visit. Safety Rail Company will also help you determine which OSHA regulations apply to you.
2. EVALUATE
Safety Rail Company creates a site specific project plan and proposal for your facility. Our engineers create a CAD Model from aerial site images. Then they provide project costs.
3. BUILD
Safety Rail Company's manufacturing team builds your passive fall protection in-house, so all our products are 100% made in the USA.
4. INSTALL
CAD Models act as an installation guide, that can be completed by Safety Rail Company's certified team or your own employees.
Engineer away your fall hazards, and engineer in peace of mind with Safety Rail Company. Safety Rail Company manufactures 100% made in the USA, OSHA Complaint safety products designed for your complex industrial environment.
Safety Rail Company's turn-key solution includes no cost CAD project planning and quotation, custom fabrication services, and certified factory installation teams. Whether you have one location, or multiple facilities nationwide, they are your partner for every step.
Safety Rail Company makes OSHA-compliant fall protection safety railings and guard rail systems that are durable and innovative, yet affordable. With years of industry experience, Safety Rail Company fall protection products are engineered first and foremost to save lives.
Download Avoiding the Fallout: How a Safety Plan Saves You from Falls, Fines and Fatalities to learn to how prevalent workplace fall accidents are, how costly they can be and how safety compliance managers should address them so they don't cost your business.
@safetyrailco #safetyrailco #safetyrail #fallprotection #guardrail #safetyladders
Company:
Safety Rail Company
Product: Permanent Guard Rails
Source: https://www.safetyrailcompany.com/buildingsafety/
---
Tags: