architecture - engineering - construction

Building Sustainability: The World's 7 Best Green Buildings
September 16, 2015
The world's best buildings are not only measured by their security or design, today sustainability plays a vital role in the longevity and attraction of office space. In fact the sustainability trend is here to stay. From the entry point where energy consumption and carbon footprint are minimized to waste management, water recycling and light fittings, buildings are now built with five and six star sustainability design factors in mind.
Boon Edam recently worked with construction group Skanska on Sweden's Green Tower Office Building. Henrik Ahnström, project leader says, "Green Tower Office Center is a new Green landmark. This new office project is the first LEED platinum building in Gothenburg, Sweden and in Skanska's own property register.
Boon Edam installed the TQ revolving door, which works along the "always open, always closed" principle that ensures that the entry remains open and welcoming to visitors but keeps heat or cold, rain and noise out. As there is less opportunity for the outside air and the conditioned inside air to mix, a more comfortable working environment can be achieved and energy can be saved on heating or cooling the building. On average this ensures that eight times less air is exchanged through a revolving door than through a normal sliding or swinging door.
Behind foundation, energy and waste management is now one of the most important factors in construction. Here are 7 of the most sustainable buildings in the world: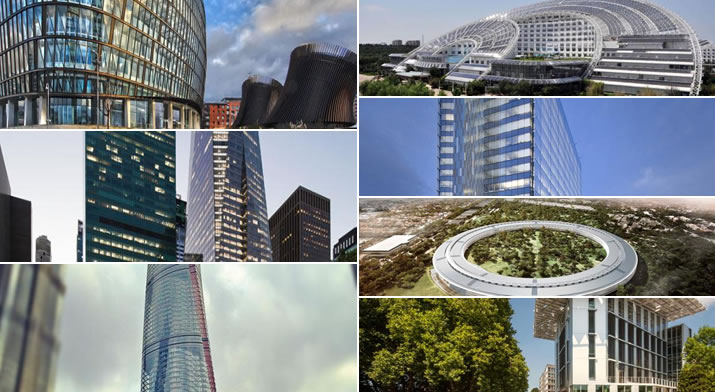 One Angel Square, Manchester, UK
Manchester's One Angel Square is the headquarters of the Co-operative Group. The building houses 3,000 employees and has been awarded an "Outstanding" Building Research Establishment Environmental Assessment Methodology (BREEAM) rating. It is powered by pure plant oil fed Combined Heat and Power (CHP) system and utilizes grapeseed oil that is grown on The Co-operative's own farmland.
Excess energy is sent back to the grid. Other features include LED lighting and a system to recycle waste and rain water.
One Bryant Park, New York City, US
Bryant Park was the first high rise building to be given LEED Platinum certification, with the Bank of America Tower, in Manhattan, being one of the world's greenest skyscrapers. As well as having CO2 monitors, waterless urinals and LED lighting, the building also has its own generation plant that produces 4.6 megawatts of clean, sustainable, energy.
Shanghai Tower, Shanghai, China
Shanghai Tower, stands 632 meters tall and is the second-tallest building on the planet, after Dubai's Burj Khalifa. Wind turbines located near the top of the structure power its outer lighting as well as park areas, while transparent inner and outer "skins" will allow natural light to flood the building, cutting down the need for artificial lighting.
Smart controls will monitor everything from ventilation to heating and lighting, helping to cut energy bills in the process.
Micro Emission Sun-Moon Mansion, Dezhou, China
Resembling a sundial, the Sun-Moon Mansion, in Dezhou, Shandong province, is 75,000 square meters in size and one of the world's largest solar powered structures. The building contains offices, a hotel and a conference center, all powered by solar energy and featuring a solar powered hot water supply, energy saving glass, and 50,000 square feet of solar paneling.
Manitoba Hydro Place, Winnipeg, Canada
Located in Winnipeg, Manitoba Hydro Place makes use of "passive design and natural ventilation" to make it one of North America's most energy efficient office buildings. The building has a geothermal system to heat and cool the building, roof gardens and triple-glazed windows. Thanks to these features, over 60 percent of energy savings have been made.
Apple Campus 2, Silicon Valley, USA
It isn't finished yet, but Apple CEO Tim Cook is already calling it the greenest building on the planet. Apple's strategy is to power the entire campus with 100% renewable energy and it promises to plant at least 7,000 new trees and use recycled materials.
Apple projects its maximum energy use across the entire 5.9m sq. ft. (548,000 sq. meters) campus – including office spaces, research centers, parking structures and other buildings – to be around 142,000,000 kilowatt-hours per year. Based on the total area of all the buildings on site, Apple Campus 2 will have an energy use intensity of about 257 kWh per sq meter per year.
That easily beats typical office buildings in the United States, which use around 500 kWh per sq. meter a year.
Bullitt Centre, Seattle, USA
The Bullitt Centre is the greenest commercial building in the world. Nestled into Seattle's Capitol Hill neighborhood, it used only about 32 kWh per sq. meter in its first full year of operation. Producing more electricity from rooftop solar than it consumes in kilowatt-hours per year, the Bullitt Center is unique even among the greenest buildings in the world.
Energy positive buildings are no longer pie-in-the sky dreams; in fact, construction organizations are now tasked with building the greenest possible structures. From revolving doors to waste management and energy conservation systems, there are myriad ways to save energy.
Company:

Boon Edam Inc.
Source: http://www.boonedam.us/news/building-sustainability-world%E2%80%99s-7-best-green-buildings
---
Tags:
304 vs. 316 Stainless Steel: What's the Difference? (September 2, 2015), Future proofing your design approaches – webinar (August 29, 2015), Staying dry – and wet – with PENETRON Technology (August 24, 2015), Residential Application of StoGuard® with Sto EmeraldCoat® (August 14, 2015), Free eBook! The 12-Step Program to Avoid Water Intrusion in Homes (July 27, 2015), 3 Reasons to Choose Spray Foam Insulation (July 13, 2015), Architects turn to prefab materials (May 1, 2015), Three Secrets to Safety Management (April 17, 2015), Chase Birds Away with the line of Bird Chase Super Sonic units (April 13, 2015), Building code enforcement gets serious (March 30, 2015)
MultipliCITY wins a 2015 IDEA Goldaward (August 25, 2015), Case Study: Sustainability without Sacrificing Beauty - the Linstroth Residence (July 22, 2015), The FGP Collection by Francisco Gomez Paz (July 6, 2015), Composite, Synthetic Decking and Deck Railing Materials (June 1, 2015), Architects turn to prefab materials (May 1, 2015)