architecture - engineering - construction

Cable railing ideas for indoors - stairs, lofts & more
September 14, 2017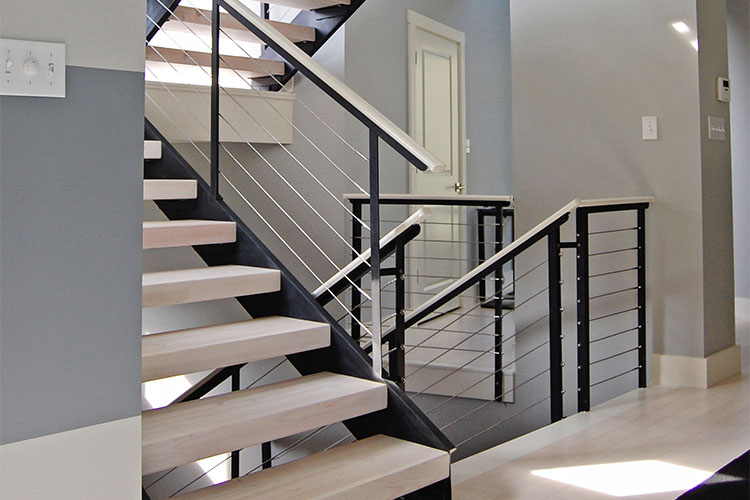 Cable Infill & Fittings for Stylish Contemporary Stairway by Stainless Cable & Railing Inc.
Finding the right railing for a new staircase, loft, or other indoor area can be difficult. Most traditional railings take up and break up space. The minimal design of a cable railing system instead keeps your layout open and expansive. Offered in a variety of color, material, and shape options, you'll be sure to find the perfect system for your home. Even if you already have a frame in mind, fill it with our marine-grade stainless steel cable infill and fittings for a stylish and near-invisible end result.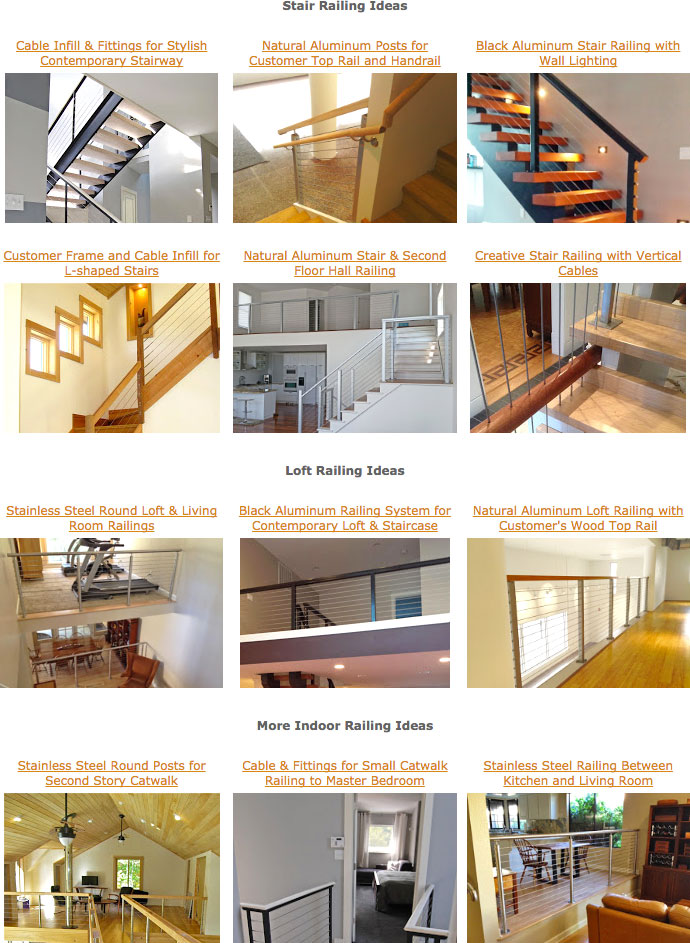 Company:

Stainless Cable & Railing Inc.
Product: CableView® Aluminum Cable Railing System
Source: http://stainlesscablerailing.com/indoor-cable-railing-ideas.html
---
Tags:
Glass Block with Etchings (September 9, 2017), Tectum III & Tectum IIIP Acoustical Roof Deck (September 7, 2017), Tectum Panel Art (August 18, 2017), Accuride Integrated Access Solutions: The New Frontier of Access Control (August 15, 2017), Top NYC architect selects Feeney for notable barn project (July 26, 2017), You Deserve to be Delighted: 10 Essential Elements to Look for in a Security Entrance Manufacturer (July 25, 2017), Finally a Hands Free Solution to Stop Bathroom Mold with the New Enhanced Broan® InVent™ Series (July 14, 2017), Project Spotlight: Work-friendly Daylight (July 13, 2017), Creating the perfectly flat viewing surface (July 11, 2017), 3135EC Eclipse Undermount: Sliding under the radar (July 9, 2017)
Green: The Color that Became a Building Philosophy (September 5, 2017), Architectural Series Roof Guardrail System (August 8, 2017), SC Railing Company: Offering a View from the Top (July 31, 2017), Top NYC architect selects Feeney for notable barn project (July 26, 2017), CableView® Aluminum Cable Railing System by Stainless Cable & Railing Inc. (June 23, 2017), Rustic Meets Modern: Transitional Design Style (May 26, 2017), Deck Railing Ideas (April 7, 2017), EnduraLine Mobile permanent warning line system (April 5, 2017), Railing Infill Face-Off: Cable vs. Glass (March 10, 2017), Backyard 2.0: 2017 Deck and Railings Forecast (February 8, 2017)
Removable storm shutters & panels (August 30, 2017), Design A Better Shaftwall System (August 29, 2017), Blast protection and pressure relief systems (August 24, 2017), Bike lockers: The right bike parking for your site (August 16, 2017), Accuride Integrated Access Solutions: The New Frontier of Access Control (August 15, 2017), Architectural Series Roof Guardrail System (August 8, 2017), Slipnot® provides slip resistance and aesthetic display for Times Square spotlight on Broadway project (August 7, 2017), SC Railing Company: Offering a View from the Top (July 31, 2017), Gorgeous Atriums that Meet Design Aesthetic and Safety Code (July 19, 2017), Video Surveillance In 2017: 4 Things You Need To Know (July 7, 2017)