architecture - engineering - construction

CableView® Aluminum Cable Railing System by Stainless Cable & Railing Inc.
June 23, 2017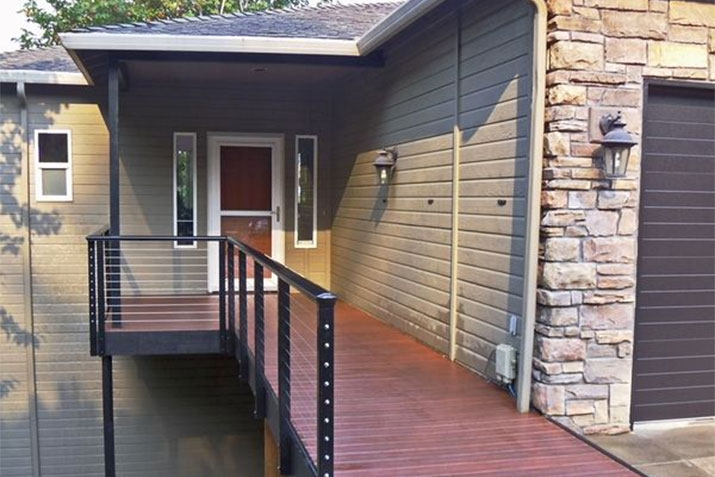 The shaped Aluminum Top Rail used in this photo captures the perfect look for this home in Happy Valley, OR.
Signature line of uniquely reinforced aluminum posts, matching top rails, and inline handrails. All aluminum products are available in five color options: black, bronze, white, natural, and clay.
These uniquely designed aluminum posts and top rails offer an economical alternative to our stainless steel and premium wood frame options, without compromising architectural resilience. Designed specifically for cable railing applications, these products are reinforced to have greater strength and durability than standard aluminum posts. With two top rail options, a handrail that can double as support for a wood top rail, and five color options, this line offers the greatest number of options.
Five powder-coat color options: black, bronze, natural, clay, and white
Two top rail design options: rectangular or shaped
Posts are available for 36", 42", and custom height systems and can be deck, fascia, or core mounted
Posts are compatible with any of our assemblies and can be ordered pre-drilled. Grommets are recommended to keep the stainless steel cables from reacting with the aluminum.
The aluminum handrail runs between posts for use in any system regardless of shape or slope. Can be used as a standalone, inline, or stair handrail.
Handrail can also be used as inline support for a wood top rail.
Company:

Stainless Cable & Railing Inc.
Product: CableView® Aluminum Cable Railing System
Source: http://stainlesscablerailing.com/cable-railing-happy-valley-oregon.html
---
Tags:
Designed for resiliency and acoustic performance (May 17, 2017), Custom Period-Matched Perforated Grilles (April 26, 2017), Howe Green Access Cover provides the perfect antidote to access issue at hospital (March 14, 2017), Choosing the right finish for coastal projects (February 24, 2017)
Starlings And The Grain/Agriculture Industry (June 16, 2017), 5 Things to Know About On-Site Finishing Repair and Restoration (June 15, 2017), Econospan® Screen System (June 7, 2017), Rustic Meets Modern: Transitional Design Style (May 26, 2017), Deck Railing Ideas (April 7, 2017), Railing Infill Face-Off: Cable vs. Glass (March 10, 2017), The evolution of the educational landscape (February 17, 2017), New from Thomas Steele: Monona benches, chairs, side tables and litter receptables (February 13, 2017), Waldorf™ Benches (January 12, 2017), Sherwin-Williams VinylSafe® Paint Colors (January 9, 2017)
Kalwall Featured In Winning 2017 RIBA London Award Project (June 20, 2017), Starlings And The Grain/Agriculture Industry (June 16, 2017), 2017 Excellence in Hardscape Awards Recognizes County Materials' Concrete Pavers, Slabs and Retaining Walls (May 4, 2017), The Art of Profitable Deck Building (April 25, 2017), Bicycle security solutions (April 14, 2017), Deck Railing Ideas (April 7, 2017), 6 Ways To Overcome Coastal Landscape Installation Challenges (March 3, 2017), The evolution of the educational landscape (February 17, 2017), New from Thomas Steele: Monona benches, chairs, side tables and litter receptables (February 13, 2017), Waldorf™ Benches (January 12, 2017)
Rustic Meets Modern: Transitional Design Style (May 26, 2017), Deck Railing Ideas (April 7, 2017), EnduraLine Mobile permanent warning line system (April 5, 2017), Railing Infill Face-Off: Cable vs. Glass (March 10, 2017), Backyard 2.0: 2017 Deck and Railings Forecast (February 8, 2017), Winner in NADRA 2016 Deck Competion (November 4, 2016), Kelly Edwards' Tiny Home: Shipping container turned elegant living space with rooftop deck (October 21, 2016), Color Rendering Index: Why It's important in Outdoor Lighting (September 23, 2016), Architects Inspiration Handbook for Glass applications in commercial interiors (August 29, 2016), Commercial Grade Soft-Close Undermount slide (July 27, 2016)