architecture - engineering - construction

Color Rendering Index: Why It's important in Outdoor Lighting
September 23, 2016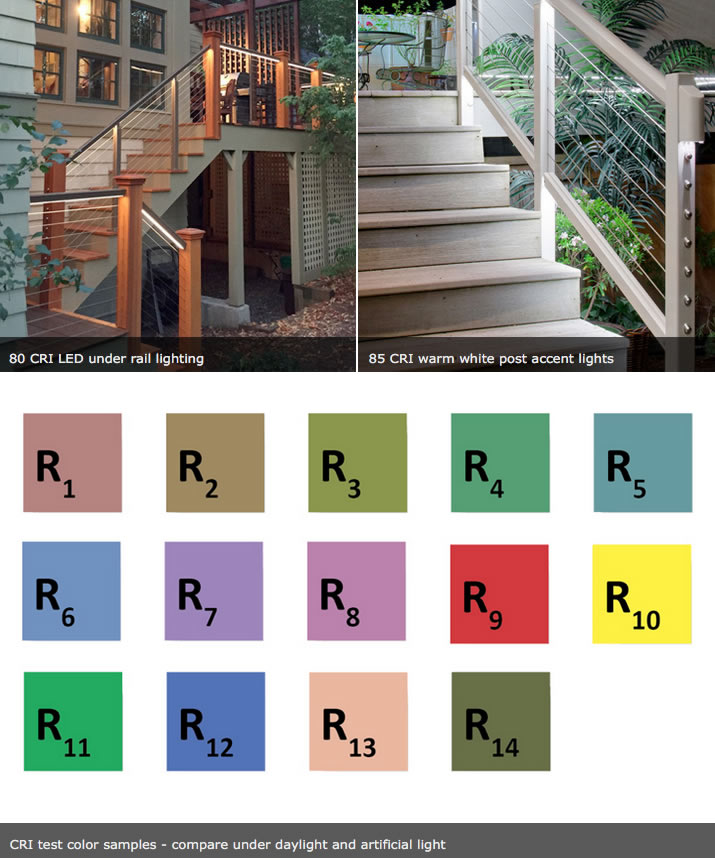 When it comes to design, the Color Rendering Index (CRI) is an important aspect of any lighting consideration. Different light bulbs emit different colors of light – ranging from cool tones to warm. The CRI of a bulb is determined by comparing the appearance of a colored object under an artificial light source to its appearance under natural light. The higher the CRI, the truer the color presentation.
Why is CRI important in outdoor lighting?
When you select lighting options with high CRI, colors will pop, textures will stand out, and finishes have depth and luster. As such, many architects refer to lighting as the fourth element of good design.
Selecting a high CRI is important when designing outdoor spaces, too, because it allows us to create the desired ambiance – whether it be warm and inviting for entertainment or a tranquil niche for relaxing after a long day. With the onset of the vast capabilities of LEDs, outdoor features within a space can be accented by focusing the position of the light, as pictured here with post accent lights – and it all starts with the right bulb that shines a natural (high-CRI) light.
Great outdoor lighting design, however, is more than just varying the warmth of color coming from a bulb. A high CRI allows designers to create layers and textures of light. Outdoor LEDs can be used to create complex layers of light throughout your garden. Some of the more popular lighting techniques include spotlighting, highlighting, silhouetting, shadowing and grazing (with lights mounted at or above the ceiling). Using light to designate what's most important intuitively draws attention to specific spaces. For instance, a home may be lit on the outside, but good lighting design will incorporate layers of light to clearly denote the pathway to the entrance.
The right lighting can turn a potential hazard, such as steps and walkways, into areas that are more easily navigated after dark. This is especially important for businesses that provide services for older individuals who have poor eyesight. In fact, more and more thought is being given to the type of lighting used in parking lots, parking garages and pedestrian walkways. Facilities that install high-CRI lighting feel more secure to pedestrians and drivers, and as more institutions, such as educational, medical and commercial, run operations after dark, this is an important consideration to creating a secure and welcoming environment.
As lighting technology continues to advance, we expect awareness to grow and the importance of the Color Rendering Index to continue to be a key element in outdoor lighting design.
Company:

Feeney, Inc
Source: http://media.feeneyinc.com/blog/color-rendering-index-why-its-important-in-outdoor-lighting
---
Tags:
Delray LED Circles: Uno • Dos • Cylindro I/II/III (September 14, 2016), Red, traditional brick color for traditional architecture (September 7, 2016), 4 Reasons you should choose a resurfaced concrete floor (August 10, 2016), Designer John Gidding on Finding Color Inspiration (July 18, 2016), Fleur de Sel (SW 7666) invites comfort and luxury into contemporary Atlanta home (March 18, 2016), High Performance Coatings (March 7, 2016), Masonry stains can make historic restoration easier (February 24, 2016), 2016 Color Forecast (February 22, 2016), Massive retail shopping mall (February 5, 2016), Online Color Selection and Specification Tool (January 11, 2016)
Make your buildings look good with uniquely designed polycarbonate products for building exteriors (September 19, 2016), Red, traditional brick color for traditional architecture (September 7, 2016), Armortex Waterjet Cutting (August 24, 2016), Summer 2016 in the Hamptons (August 19, 2016), AIA and Autodesk Introduce New Feature to Automate 2030 Commitment Reporting Data (August 15, 2016), The Feng Shui of Kalwall (July 11, 2016), Blackout & mesh shades in the same window? Dual Roller Shades are the solution! (July 5, 2016), Evolution Of Revolving Door Security: Teaching Old Doors New Tricks (July 4, 2016), Balancing Bulletproof Security and Design (June 21, 2016), Cut solar energy getting into buildings by up to 92% - stop it before it hits the glazing (June 17, 2016)
Make your buildings look good with uniquely designed polycarbonate products for building exteriors (September 19, 2016), Delray LED Circles: Uno • Dos • Cylindro I/II/III (September 14, 2016), The Role of LEDs in Outdoor Lighting Design (June 27, 2016), Turn your backyard into a haven (June 15, 2016), The Rise of Outdoor Lighting: Enhancing Aesthetics and Extending Entertainment (May 26, 2016), How To Upgrade Light Poles With Decorative Bases (May 19, 2016), Another Award-Winner: Verti-kal™ and the John Fry Sports Park Pavilion (April 22, 2016), Broan NuTone invents new mosquito barriers for decks (April 13, 2016), Maglin has collaborated with Philips Lumec to offer a design-integrated line of sustainable site furniture (February 17, 2016), Kalwall Featured: Guide Dogs for the Blind New Student Residence (December 30, 2015)
Architects Inspiration Handbook for Glass applications in commercial interiors (August 29, 2016), Commercial Grade Soft-Close Undermount slide (July 27, 2016), Smart Ways to Upgrade Your Deck (July 8, 2016), Why We Love Ipe and You Will Too (April 18, 2016), Home Free - the Reality Show with a Heart - features Feeney CableRail (September 3, 2015), Composite, Synthetic Decking and Deck Railing Materials (June 1, 2015), Mid-century modern design in Los Angeles (April 27, 2015), Aluminum Railing Frame Systems (January 28, 2015)