architecture - engineering - construction

Color underfoot: new design possibilities with concrete
January 17, 2018
How colorful stains, dyes, marbling and effects can help you do more with exposed concrete flooring.
Today's commercial interiors are increasingly being defined by organic shapes, playful palettes and inviting contrasts of opposing materials, such as wood accents and exposed concrete flooring. For both commercial and residential design pros, there's an opportunity to expand the way you think about using color underfoot — specifically in the form of concrete stains and finishes.
"Whether you're reclaiming a beautiful old warehouse space for a loft or office, or designing a retail space from scratch, you can do so much more now with concrete flooring than just traditional polished gray," says Sue Wadden, Director of Color Marketing at Sherwin-Williams.
From retail to office environments, interiors today need to be human, engaging, adaptive, durable and high-performing — and that includes flooring. With concrete, new technology is leading the way, as enhanced stains, reactive dyes and protective concrete coatings offer vivid, customizable colors and organic effects.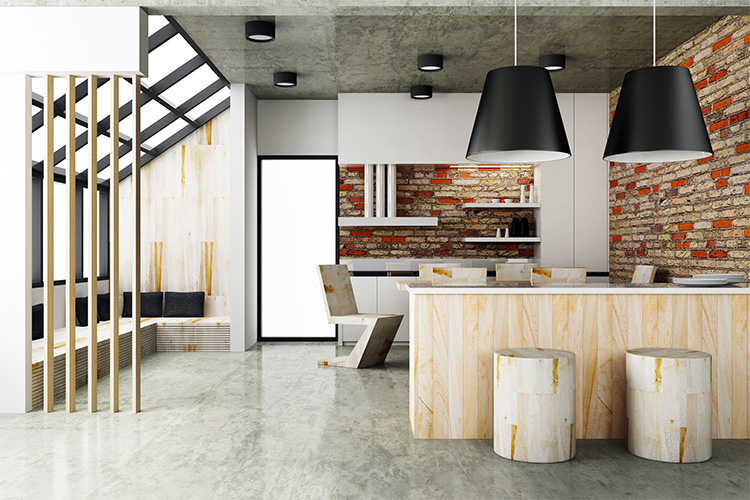 Here's a look at three ways you can expand your design possibilities using exposed concrete flooring:
Solid-color stains
When it comes to adding color to a properly treated and conditioned smooth concrete floor surface, your palette is virtually unlimited. Water-based solutions like H&C®ACRYLA-DECK® Water-Based Solid Color 100% Acrylic Deck Coating or H&C COLORTOP™ Water-Based Solid Color Concrete Stain can be tinted to match any color. ACRYLA-DECK provides resistance to chalking. COLORTOP provides additional durability and color-retention features, including resistance to salts, acids, alkalis, water, UV rays and oil.

Both products offer a natural sheen, but you can also specify a clear coat on top, to add a glossy finish that looks fantastic in spaces where natural light is a key design element.

Marbling and organic effects
For projects where you want to go beyond a solid-color result and provide your client with a more signature design feature, such as swirls, layers of color depth or patterning, you can explore specifying a metallic coating or reactive dyes.

H&C Pro Series Metallic Flooring System allows you and your contractor to build up a bold and beautiful result in layers. The system starts with a durable basecoat, to which you can add a metallic coat, and a vibrant color and finish coat to achieve your final desired look. There are 30 colors to choose from, which you can mix and match, and your final finish can come in either satin or gloss.

For spaces where you want the concrete floor to retain an earthier, organic look that highlights and celebrates its natural imperfections — such as in spaces where the floor needs to complement exposed wood beams — a reactive stain is the best solution.

H&C Infusion® Reactive Concrete Stains creates a translucent, variegated appearance, so small cracks and other imperfections in the concrete take on rich, lustrous character. This solution comes in 12 standard colors that can be intermixed to achieve a custom look.

Texture + color
Finally, in projects where you have a heavy traffic area that requires a texture for slip resistance, you can specify a combination concrete resurfacing solution with a color application.

H&C Dura-Top™ Heavy Traffic Concrete Resurfacer is a low-maintenance, abrasion-resistant polymer that can be stamped or troweled to achieve your desired design or texture. A rich palette of color possibilities comes into play with the addition of a Dura-TopConcrete Resurfacer Color Pack, which can be added to the mixture as a pigment. The Color Packs come in 30 colors, in a spectrum that ranges from Cotton Ball to Pepper Black.
"Concrete has so much design potential," Wadden says, "which is great since it's everywhere now, from commercial spaces to multifamily lofts. A more organic-looking concrete finish can function as a neutral base that allows the rest of the interior's materials and finishes to be the hero. Or you can get really colorful with it and make the floor the star. It's really up to you."
Company:
The Sherwin-Williams Company
Product: Interior Stains
Source: https://www.sherwin-williams.com/architects-specifiers-designers/inspiration/styles-and-techniques/sw-art-concrete-floor-designs
---
Tags:
Modern & Seamless Custom Flooring Systems (November 14, 2017), New! West Elm Fall/Winter 2017 Paint Palette (November 8, 2017), Slate, Portland's new, LEED Gold, mixed-use, transit-oriented development features Linetec's paint, anodize and thermal improvement services (November 1, 2017), Linetec finishes Loewen windows for Canada's Windermere House (September 27, 2017), Achieving Sustainability and Luxury in a Multi-Family Project (September 22, 2017), Anodize Nickel Test (August 17, 2017), How to deliver true color to your clients (August 11, 2017), An Award-Winning Project that Includes StoGuard® (August 1, 2017), Stenciled Concrete for your Pool decks, patios and driveways (July 11, 2017), Colormix® Forecast 2018 (June 14, 2017)
Oceanside: the 2018 color of the year (December 20, 2017), Polished Concrete Flooring (December 13, 2017), Blue polycarbonate translucent wall system for Gap in Times Square NYC (December 5, 2017), High gloss acrylic wall panels - back painted glass alternative (November 30, 2017), Custom outdoor furniture that reflects your vision (November 10, 2017), Now from Armstrong ceilings: Tectum wall & ceiling panels (November 9, 2017), New! West Elm Fall/Winter 2017 Paint Palette (November 8, 2017), LumiSplash™ Decorative Laminates with LED Edge Lighting (October 23, 2017), OSHA's new Respirable Crystalline Silica Rule is now in effect. The deadline has passed. Are you compliant? (October 9, 2017), Linetec finishes Loewen windows for Canada's Windermere House (September 27, 2017)
Polished Concrete Flooring (December 13, 2017), Modern & Seamless Custom Flooring Systems (November 14, 2017), Distinctive dual towers built on Penetron (October 12, 2017), 4 Major Advantages of Decorative Concrete in Commercial Settings (September 25, 2017), Concrete Resurfacing (August 23, 2017), Stenciled Concrete for your Pool decks, patios and driveways (July 11, 2017), HERMETIC Industrial Flooring (May 22, 2017), Xypex in London (May 8, 2017), 2017 Excellence in Hardscape Awards Recognizes County Materials' Concrete Pavers, Slabs and Retaining Walls (May 4, 2017), Decorative Concrete Can Be Gray or Colorful and is Ideal for Interior or Exterior... Take a Look (April 27, 2017)
Oceanside: the 2018 color of the year (December 20, 2017), Polished Concrete Flooring (December 13, 2017), Modern & Seamless Custom Flooring Systems (November 14, 2017), New! West Elm Fall/Winter 2017 Paint Palette (November 8, 2017), Slate, Portland's new, LEED Gold, mixed-use, transit-oriented development features Linetec's paint, anodize and thermal improvement services (November 1, 2017), Achieving Sustainability and Luxury in a Multi-Family Project (September 22, 2017), Concrete Resurfacing (August 23, 2017), How to deliver true color to your clients (August 11, 2017), Durable skylight finishes by Linetec (July 4, 2017), 5 Things to Know About On-Site Finishing Repair and Restoration (June 15, 2017)
7 Things to Consider When Designing a Commercial Interior using Glass Walls (January 9, 2018), From west to east with Howe Green access covers (January 4, 2018), 5 Cutting-edge ideas to use 3D textured designs in your home today (January 2, 2018), A Gateway To A Translucent Space (December 15, 2017), High gloss acrylic wall panels - back painted glass alternative (November 30, 2017), Modern & Seamless Custom Flooring Systems (November 14, 2017), Now from Armstrong ceilings: Tectum wall & ceiling panels (November 9, 2017), New! West Elm Fall/Winter 2017 Paint Palette (November 8, 2017), Andamar Lifestyle Center uses revolving doors to combat wind, air infiltration (October 25, 2017), LumiSplash™ Decorative Laminates with LED Edge Lighting (October 23, 2017)