architecture - engineering - construction

Colormix® Forecast 2018
June 14, 2017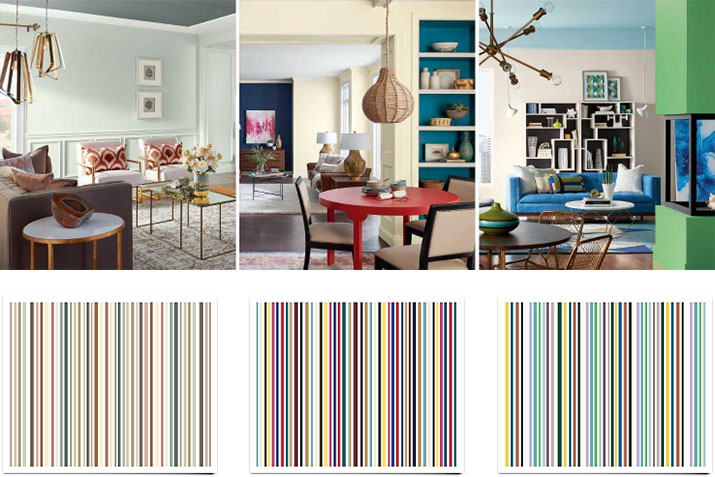 Like blue meeting yellow to make green, every color is a collision of influences - every palette a fresh chance at community.

Less is more as we're de-cluttering, moving more possessions into the cloud. Silence is no longer empty, but instead rare and rich with possibility. Our notions of what's authentic are being complicated. We're celebrating the unfiltered, yet captivated by the artfully processed. Blending in is the new standing out. Flaws are treasured. The hushed tones of this score play out in sand, complex grays and hazy botanicals.

Nationalism and globalism are in flux, challenging terrestrial boundaries. We're remapping our sense of community. Optimism persists in the form of boundary-breaking skyscrapers and commercial space travel. Even landlocked cities are becoming global hubs of crafts and gastronomy. We crave security and adventure in equal measure. Airbnb, car sharing and e-learning have created a culture of everyday nomadism. The bright folklore of this story is told in memorable pops of peacock color.

We're each moving to the beat of our own algorithm. From choosing a dry cleaner to choosing a college, data powers nearly every decision we make. In Silicon Valley, Austin, Berlin and Beijing, techies are the new hippies, full of breakthrough ideas and utopian ideals. A generation is waving the flag of color freedom, and Instagramming every moment. This high-tech palette is pixelated in orange, violets, digital greens and high-def yellow.
Company:
The Sherwin-Williams Company
Product: Interior Paints
Source: https://www.sherwin-williams.com/architects-specifiers-designers/inspiration/color-forecast/2018-color-forecast
---
Tags:
HERMETIC Industrial Flooring (May 22, 2017), Decorative Concrete Can Be Gray or Colorful and is Ideal for Interior or Exterior... Take a Look (April 27, 2017), Decorative quartz flooring: choosing epoxy, urethane, or MMA resin? (April 13, 2017), Choosing the right finish for coastal projects (February 24, 2017), Navigating the wide selection of polymer overlays over concrete substrates (February 2, 2017), Introducing the 2017 Color of the Year (January 20, 2017), Sherwin-Williams VinylSafe® Paint Colors (January 9, 2017), Don't Make Color Decisions at Sunset (November 2, 2016), Reflector Designer Metallic Epoxy Flooring (October 14, 2016), 4 Reasons you should choose a resurfaced concrete floor (August 10, 2016)
Energize your next daylighting design with Spectra-Grid™ (May 25, 2017), Sherwin-Williams converts digital color into fresh coats of paint for a good cause (May 11, 2017), Striking the Right Color Balance in ALR Screens (April 10, 2017), New Design Tools to Meet Green Guidelines (March 30, 2017), Project profile: flooring installation for busy bank in El Paso exceeds tight turnaround expectations while delivering a functional masterpiece (March 27, 2017), Choosing the right finish for coastal projects (February 24, 2017), Flexible bollards guide traffic while avoiding costly collision damage and repairs (January 27, 2017), Introducing the 2017 Color of the Year (January 20, 2017), Sherwin-Williams VinylSafe® Paint Colors (January 9, 2017), The Benefits of Water-Based Concrete Stains (January 2, 2017)
HERMETIC Industrial Flooring (May 22, 2017), New Design Tools to Meet Green Guidelines (March 30, 2017), Navigating the wide selection of polymer overlays over concrete substrates (February 2, 2017), Introducing the 2017 Color of the Year (January 20, 2017), Sherwin-Williams VinylSafe® Paint Colors (January 9, 2017), The Benefits of Water-Based Concrete Stains (January 2, 2017), What are the Flooring Options for a Food Facility Washdown Area (December 28, 2016), Navigating the Wide Selection of Polymer Overlays Over Concrete Substrates (October 31, 2016)
7 Hot 2017 Bathroom Design Trends You Need to Add Style to Your Space (June 13, 2017), Modular In Plant Offices (May 31, 2017), Draper Launches Acoustical Shading Solution (May 29, 2017), Rustic Meets Modern: Transitional Design Style (May 26, 2017), HERMETIC Industrial Flooring (May 22, 2017), Interior Corner Protection (May 18, 2017), 5 Compelling reasons you need to eliminate your shower pan threshold (May 16, 2017), What is a Drawer Slide and How Do I Choose the Right One? (May 12, 2017), Custom Period-Matched Perforated Grilles (April 26, 2017), Nystrom Launches 1 Inch Pan Floor Door (April 21, 2017)