architecture - engineering - construction

Continuous Insulation (ci) Systems
June 27, 2016
The world-class building-science experts at Sto continue to lead the way in advancing energy efficiency, durability and aesthetic appeal. Today's energy codes and regulations reflect many of the design principles embodied in our Continuous Insulation (ci) Systems, and the proven performance of Sto's next-generation EIFS appeals to designers, contractors and owners alike.
StoTherm® ci Wall Systems (EIFS)
Integrated Wall Systems that deliver the best in performance, sustainability and design flexibility
Sto's next-generation StoTherm® ci systems integrate the following key elements: continuous insulation (ci), an air/moisture barrier, drainage and a variety of textured finish options to create a superior, sustainable wall cladding. This high-performing, eye-catching system saves energy and stays attractive for years. StoTherm® ci improves indoor comfort and air quality while maintaining maximum curb appeal and lowering overall life-cycle costs.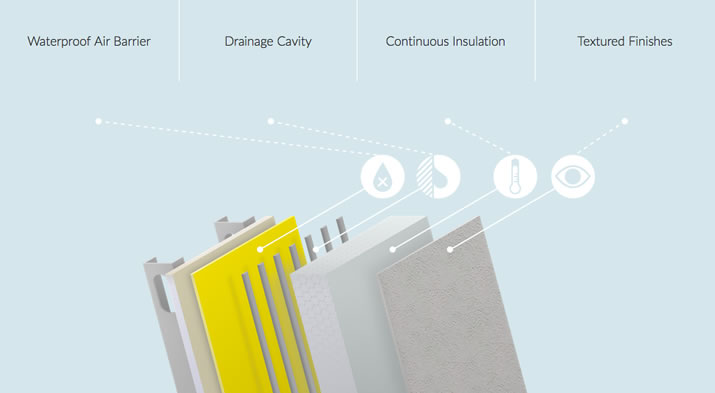 Key Components of the Sto Continuous Insulation (ci) System
System Features
High R-Value
Continuous insulation with high R-values provides significant energy cost savings by eliminating thermal bridging.
Code Approved
Complies with both ICC and IECC code requirements for continuous insulation.
Outbound Dew Point
Prevents condensation and freeze damage by placing the dew point outside the stud wall cavity.
Reduced Structural Loads
StoTherm® claddings are very lightweight, resulting in reduced structural cost requirements.
No Mechanical Fasteners
No penetrating nails or screws to attach the insulation means no thermal bridging.
Low Maintenance Cost
Coatings and finishes with advanced acrylic and Lotus-Effect technologies resist dirt pickup, peeling and cracking.
Lowest Life-Cycle Cost
StoTherm® ci claddings have the lowest life cycle costs compared to non-insulated brick and stucco claddings.
Premium Finishes & Coatings
Sto high performance finishes and coatings provide superior weatherability and resistance to UV fading, mold and mildew.
Explore the Continuous Insulation Configuration Tool to help guide you to what products are right for your project.
Company:
Sto Corp.
Source: http://www.stocorp.com/continuous-insulation-systems/
---
Tags:
The Role of LEDs in Outdoor Lighting Design (June 27, 2016), Cut solar energy getting into buildings by up to 92% - stop it before it hits the glazing (June 17, 2016), May is Electrical Safety Month: Know How to Protect Workers from Electrical Hazards (May 20, 2016), Icynene Spray Foam: Water absorption comparison to other insulations (May 4, 2016), Understanding Home Energy Audits (January 27, 2016), Green architecture key to nationwide energy savings (January 18, 2016), BP Bright Lights (November 25, 2015), The Ins and Outs of Revolving Doors (November 9, 2015), Data Center HVAC Design Considerations (October 26, 2015)
Spray Foam Insulation In A Humid Region (May 30, 2016), Icynene Spray Foam: Water absorption comparison to other insulations (May 4, 2016), 3 Reasons to Insulate Your Crawlspace with Spray Foam Insulation (March 30, 2016), Is Your Home At Risk Of Ice Dams? (February 26, 2016), Understanding Home Energy Audits (January 27, 2016), Free TotalFlash takeoff service (December 29, 2015), 3 buildings that balance aesthetics and performance (December 16, 2015), Specialty systems improve on standing architecture (November 27, 2015), Home Builder Executive recognizes Icynene innovation (October 19, 2015), Future proofing your design approaches – webinar (August 29, 2015)
Architects create tactical urbanism with AIA Design Competition (June 1, 2016), Slip Resistant Aluminum Grating Utilized on ASLA Green Roof (May 23, 2016), Cochran Expands and Enhances Landscape Forms Lifestyle Furniture for Terrace Life (April 29, 2016), Green Building Tips: How To Create Eco-Friendly Landscaping (April 25, 2016), Premium Ballistic Frames Offer Huge Boosts in Sustainability and Multi-Threat Risk Mitigation (April 12, 2016), High Performance Coatings (March 7, 2016), Maglin has collaborated with Philips Lumec to offer a design-integrated line of sustainable site furniture (February 17, 2016), Partnering with Architects to Make BulletProof Beautiful (February 3, 2016), Amager Resource Center (January 13, 2016), Kalwall Featured: Guide Dogs for the Blind New Student Residence (December 30, 2015)
Hurricane Roof Equipment Screens (June 10, 2016), Where Champions Train: Kalwall® Lights Up Broncos' Indoor Facility (May 16, 2016), Another Award-Winner: Verti-kal™ and the John Fry Sports Park Pavilion (April 22, 2016), Guardian 275® translucent skylights provide a wide range of color, thermal performance and specialty application options (April 6, 2016), Decorative Panels & Screens (April 4, 2016), Howe Green Provides Easy Access in Quality Hill Homes (March 21, 2016), The Noise Control Solution - When Acoustics, Style & Toughness Are Required (March 11, 2016), Video of Extech's newest kinetic wall (March 1, 2016), Artistry in Architectural Grilles (February 10, 2016), The Test of Time: 10,000 N. Central Expressway, 30 Years Later (January 20, 2016)