architecture - engineering - construction

Custom bollards for function and form
July 17, 2019

Fin bollards are both barrier and sculpture. Source: China Plus, November 2018
Bollards—those short posts that guide traffic and protect perimeters—can be highly visible hazard markers. The simplest security bollards are made of yellow-painted steel pipe. Around utilities, or at drive through windows, bollards may be covered in bright plastic and ringed with strips of reflective tape. However, in more formal settings, bollards can be chosen to complement the landscape or architecture. Stock decorative bollards can be effective and attractive. Aluminum or stainless steel bollards in simple geometries can enhance modern architecture. Weighty ductile iron can support a historic, quaint, or classic look. Large sites who want a unique or branded look can create custom bollards that fit the site plan.
Hardscape and street furniture create a distinctive ambience. A site tells something about its values based on the amenities it offers. For example, thoughtful placement of bike racks can support a company's brand. Infrastructure can create a sense of place: New York's custom benches, fire escapes, and cellar doors are part of the recognizable feel of the city.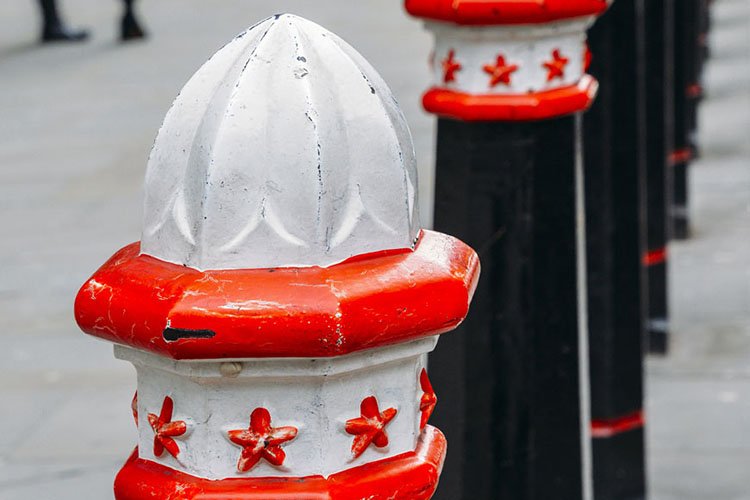 London's distinctive black, red, and white bollards protect perimeters throughout the city.
Bollards are used throughout the United Kingdom as city and regional markers. London famously has black, red, and white bollards. These are usually seven- or eight-sided bollards, with a pattern of stars around the upper rim. The shape and size of the bollard form changes as its application changes. Pedestrian areas often need narrower bollards that don't have a large footprint on the sidewalk. These often feature pointed dome caps that look like lemon juicers. The pointed tops can't become a final resting spot for coffee cups and other refuse.
Other City of London bollards are thicker, with flatter tops, and have been designed to slide over an anti-ram security bollard. By modifying the classic design, London keeps their unique, custom aesthetic, while adapting to support the bollard's site function.
City of London bollards are not the only ones visible within the city limits: parliament, parks, and offices have their own styles. Bollards outline distinct areas within the crowded urban environment.
TALK TO OUR SALES TEAM ABOUT CUSTOMIZING BOLLARDS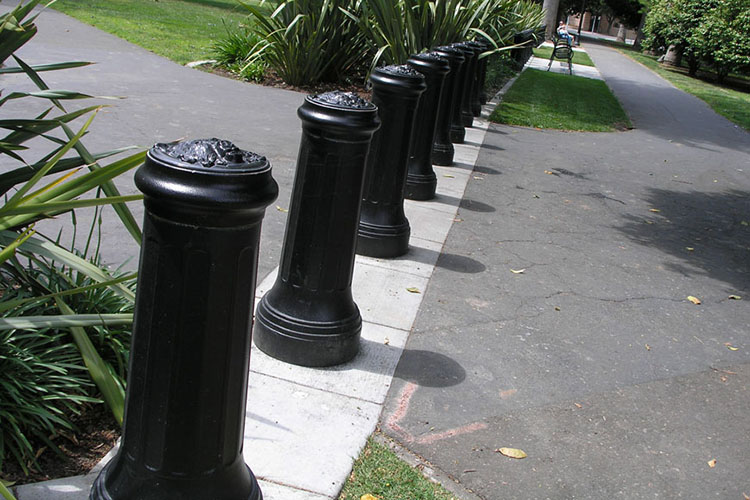 Bollards customized with grizzly bear and poppies protect the California State Capitol in Sacramento.
CUSTOMIZING STOCK BOLLARDS
The most cost effective way to create uniquely branded bollards for a large site is to modify one of the existing stock bollards. Powder-coating is an easy customization. The bollard is cast as is, but then sent for a specific site-complementary color.
Design changes to the bollard body are also possible. These require a custom made pattern to create the casting mold. An engineer must create a clean, good-looking pattern that will not result in casting challenges. The high up-front cost for this pattern creation means that the large orders have more value than small ones. Hundreds of castings are produced from a single pattern.
Cast bollards often come in two pieces: the body and the cap. Modifying the cap is one way to customize. Symbols, logos, crests, brands, or other unique designs can be cast onto the top of the bollard while the body is made using existing patterns.
Machined bollards, like those out of stainless steel, can also be modified, but usually in terms of length—being taller or shorter. There are limits as to what can be created with these stock lines. Sometimes a simple vision ends up its own creation.
Bookish bollards. Photo by Matt Brown, CC BY 2.0.
ART BOLLARDS THAT TELL A STORY
In some places, bollards are also unique pieces of art.
In the book "Understanding Representation," author Jen Webb asserts that the Koru, or fern-shaped, bollards of Wellington, New Zealand are more than just objects that "protect the pavement from passing traffic." Other bollards in the area are described as "up-and-down concrete block(s)." The Koru bollards provide an aesthetic lift to the site. They also "make the statement – for those that know the code – that 'this is New Zealand'." These iconic little bollards offer a pride-of-place to the population.
Bollards have been crafted in all sorts of shapes, from the abstract to the representational, to offer these types of statements about a site. They've been stacks of books, pencils pushed into the ground, animals, plants, people, letters, and more. Modernist bollards with sharp corners or curvy geometries offer a sense of style. Less representational, they still offer a visual way to interpret a pace, elevating urban geography to an art.
Then again, there are those who see all bollards as art, from the poet Andrew Choate to the bollard photographerswe've featured on our blog. Bollards have been a canvas for painting, the cache for hidden artworks, and a way to create music.
ORIGINAL CUSTOM BOLLARD DESIGN: ADDING FUNCTIONS
Bollards can also be customized for different functions, depending on the need. Bollards with additional functions may be engineered in consultation with other teams. They may require adaptations to both body and cap. Consider:
Multi-colored LED options around stadiums to show home-team colors
Path lighting
Wayfinding information
Smart-city sensors to help with traffic management, surveillance, and perimeter security
Intelligent intersection management AI
Solar electricity collection and storage
Bollards that have a range of functions may take a little more design work, but they can safe site space by doing double duty. Bollards are often required for pedestrian protection; giving them other tasks can help with the efficiency of a site plan.
These decorative bollards were designed to capture the look of historic cannon bollards.
DEFRAYING THE COST OF CUSTOM BOLLARDS
It is sometimes possible for a customer to defray the costs of a custom order by allowing parts of the bollard to be available in a stock line. This would obviously not include logos or other site specific designs. It may include the overall shape of the bollard or changes made to allow new functions.
PROCESS AND LEAD TIMES
Customized bollards need time to be well crafted. Iterative design requires brainstorming and consultation. Conferring with other manufacturers may be required for new functions. After those steps, the foundry still needs to develop a pattern, cast, and quality test.
Most sites need traffic guidance and perimeter protection. If your site or municipality is additionally looking to create a distinctive sense of place, or you are looking for a creative street-service solution, reach out to our sales team to talk about the possibility of a custom bollard order.
@reliancefoundry #reliancefoundry #bollards
Company: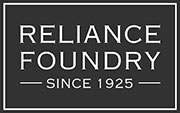 Reliance Foundry Co. Ltd.
Product: Decorative Bollards
Source: https://www.reliance-foundry.com/blog/custom-bollards
---
Tags:
Bollard installation onto uneven surfaces (June 14, 2019)
Giving new life to historic buildings leads to happier, healthier cities (June 17, 2019), 9 FAQ's about stretch forming services (June 3, 2019), Reflector™ Enhancer floors featuring gunmetal and titanium (May 31, 2019), What's the best strategy for solar-hungry homeowners? (May 24, 2019), New MetalWorks™ Create!™ Custom Perforations transform images onto metal panels (May 17, 2019), Transform ordinary spaces into stunning spaces with railing infill options (April 29, 2019), Offering the freedom to install seamless ALR screens up to 16 feet in height, Parallax Stratos is a Contrast Based ALR surface that rejects up to 80 percent of ambient light (March 27, 2019), Incorporating the metallic look into your daylighting strategy (March 25, 2019), Glass: smooth, reflective, brilliant (March 22, 2019), Taking it public with CableRail cable railing (March 20, 2019)
Black Aluminum Cable Railing (July 10, 2019), Bollard installation onto uneven surfaces (June 14, 2019), The importance of a fire safety plan in high occupancy buildings (June 6, 2019), T-Flex® – A Non-Lead Shielding Alternative (May 6, 2019), Transform ordinary spaces into stunning spaces with railing infill options (April 29, 2019), Aluminium security windows from Armortex (April 17, 2019), Start your summer renovation plans and customize the railing system of your dreams (April 5, 2019), Spring forward with basement door maintenance: after rough winter, take steps now to evaluate and tend to your entryway (April 3, 2019), Taking it public with CableRail cable railing (March 20, 2019), Implementing Routine Fire-Risk Assessments in the Workplace (December 28, 2018)