architecture - engineering - construction

Custom outdoor furniture that reflects your vision
November 10, 2017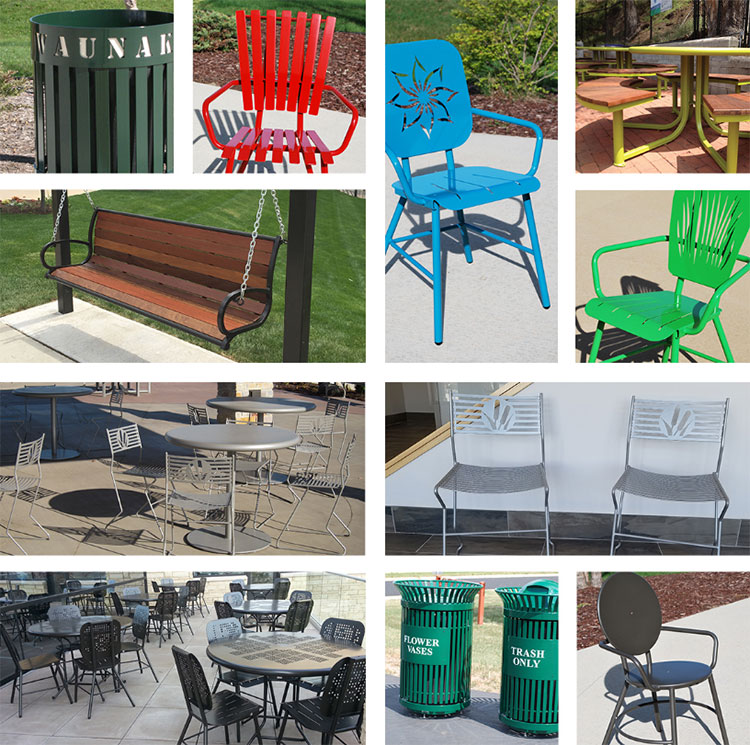 Let Thomas Steele help make your vision come alive
Your project requires more than generic, mass-produced site furnishings—it yearns for handcrafted custom outdoor furniture products that are as innovative and unique as your vision. Bringing your vision to life requires hard work and dedication to ensure that every particular aspect of your design is met to your exact specifications.
Our passion is to take your vision from concept to creation by custom designing site furnishings that aren't completed on an assembly line, but shaped, welded, assembled, and finished one at a time by our skilled and experienced team. Our custom outdoor furniture is fabricated with care from the finest materials available, and we offer a unique e-Steele™ technology that you can choose for your custom project for a durable finish and backed by an unsurpassed 5-year warranty.
For more than a decade, we have helped hundreds of clients develop custom designs that are not only unique but also functional, durable, and striking in appearance. We have built our reputation on our ability to provide our clients with custom site furnishings that bring their vision and design project to life. Located in Waunakee, Wisconsin, we take pride in our efficient ordering, local manufacturing, and speedy shipping processes that get you your products right on time.
Contact a Thomas Steele site furnishings expert at 608-849-1080 or at sales@thomas-steele.com with questions or custom design needs.
Company:

Thomas Steele
Source: https://www.thomas-steele.com/custom-outdoor-furniture/
---
Tags:
Now from Armstrong ceilings: Tectum wall & ceiling panels (November 9, 2017), New! West Elm Fall/Winter 2017 Paint Palette (November 8, 2017), LumiSplash™ Decorative Laminates with LED Edge Lighting (October 23, 2017), OSHA's new Respirable Crystalline Silica Rule is now in effect. The deadline has passed. Are you compliant? (October 9, 2017), Linetec finishes Loewen windows for Canada's Windermere House (September 27, 2017), Achieving Sustainability and Luxury in a Multi-Family Project (September 22, 2017), Stagescreen Portable Projection Screen® (September 12, 2017), Manchester Blend tan bricks a hot trend in the color world (August 28, 2017), Ogden by Maglin Site Furniture offers flexible straight, curved or circular bench options to suit any style (August 25, 2017), Tectum Panel Art (August 18, 2017)
Not all access covers are created equal (November 6, 2017), Lines, grids & aesthetics in translucent panel systems (November 3, 2017), Translucent Panels | Chesapeake Boathouse, Oklahoma City (October 31, 2017), Draper takes new angle to solve glare and heat gain (October 30, 2017), Sto Werkstatt features alternative glass architecture by Space Popular (October 20, 2017), ViuLite® insulating glass with integrated premium quality blinds (October 17, 2017), Armstrong® Ceilings Taps Broad Range of Capabilities To Bring One-of-a-Kind Ceiling Ideas to Life (October 4, 2017), Special Brick Shapes (October 3, 2017), Linetec finishes Loewen windows for Canada's Windermere House (September 27, 2017), 4 Major Advantages of Decorative Concrete in Commercial Settings (September 25, 2017)
LumiSplash™ Decorative Laminates with LED Edge Lighting (October 23, 2017), Theater Seating that says enjoy the show! (October 17, 2017), Four Cross-Departmental Benefits of Electronic Access Control (October 13, 2017), 5 Innovative Public Square Design Ideas (September 29, 2017), 9300 Slides – for the heavier bear (September 18, 2017), Ogden by Maglin Site Furniture offers flexible straight, curved or circular bench options to suit any style (August 25, 2017), Bike lockers: The right bike parking for your site (August 16, 2017), Accuride Integrated Access Solutions: The New Frontier of Access Control (August 15, 2017), Modular Seating - Volare™ (August 10, 2017), TerraCast Step Planters Bring Innovation to Reclaim Public Spaces in Major U.S. Locations (July 28, 2017)
5 Innovative Public Square Design Ideas (September 29, 2017), Ogden by Maglin Site Furniture offers flexible straight, curved or circular bench options to suit any style (August 25, 2017), Concrete Resurfacing (August 23, 2017), Bike lockers: The right bike parking for your site (August 16, 2017), Modular Seating - Volare™ (August 10, 2017), Lake Avenue light poles restoration - Pasadena, California (August 2, 2017), TerraCast Step Planters Bring Innovation to Reclaim Public Spaces in Major U.S. Locations (July 28, 2017), Transform your yard, patio, or outdoor cafe into majestic gathering places with these beautiful brick outdoor entertainment pieces (July 3, 2017), CableView® Aluminum Cable Railing System by Stainless Cable & Railing Inc. (June 23, 2017), Kalwall Featured In Winning 2017 RIBA London Award Project (June 20, 2017)