architecture - engineering - construction

Deck Railing Ideas
April 7, 2017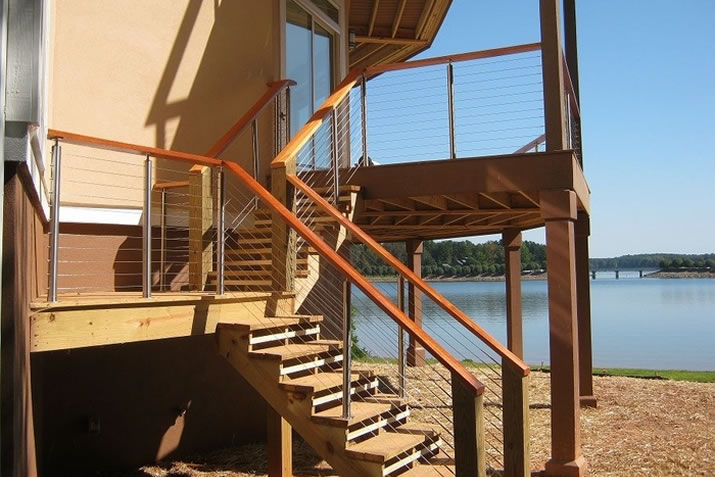 Need inspiration for a deck railing? Look no further than cable railing systems by Stainless Cable & Railing Inc. Available across a spectrum of material, shape, and color options, you're sure to find the right posts and top rail for the job. Even if you plan to supply your own frame, cable infill and fittings work with any architecture style or décor.
The images below provide a small sample of completed cable railing projects submitted by our customers, all of which include our marine grade stainless steel cable and cable end fittings. For more images organized by materials used, see our Photo Gallery. Think one of our railings will be perfect for your deck? Give Stainless Cable & Railing Inc. a call or fill out our Estimate Request Form to get started.
Contemporary Deck Railing Ideas

Black Aluminum Railing for Entrance Stairs and Deck / Natural Aluminum Posts for Elevated Porch
Traditional Deck Railing Ideas

Customer Frame with Cable Infill for Balcony Over Pool / White Aluminum Railing For Deck Covering Patio
Rustic Deck Railing Ideas

Bronze Aluminum Cable Railing for Covered Deck / Stainless Steel Round Posts & Infill for Log Cabin
Tropical Deck Railing Ideas

Beachside Stainless Steel Square Posts with Wood Top Rail / Bronze Aluminum Posts for Curved Railing
CableView® railing systems are defined by the craftsmanship, value, and enjoyment they provide
Craftsmanship
We build quality products, using durable, low-maintenance materials, including marine grade 316L stainless steel. Our state of the art in-house fabrication ensures quality control and allows us to accommodate the specific needs of any project.
Value
As both manufacturer and retailer, we skip the middleman entirely. This allows us to offer our customers economical, factory-direct prices for premium products. Our durable systems will stand the test of time, providing dependable safety.
Enjoyment
Your deck, loft, staircase, or porch railing is an integral part of your home, providing safety, visual appeal, and a great view. Simply give us a call or fill out our estimate request form, and we'll handle the rest. The clean lines and versatility of cable railing emphasize your view.
Company:

Stainless Cable & Railing Inc.
Product: CableView® Aluminum Cable Railing System
Source: http://stainlesscablerailing.com/cable-deck-railing-ideas.html
---
Tags:
Railing Infill Face-Off: Cable vs. Glass (March 10, 2017), The evolution of the educational landscape (February 17, 2017), New from Thomas Steele: Monona benches, chairs, side tables and litter receptables (February 13, 2017), Waldorf™ Benches (January 12, 2017), Sherwin-Williams VinylSafe® Paint Colors (January 9, 2017), Sun Control Sunshades (January 5, 2017), Louvers Play Key Role in Passive Air Management (December 14, 2016), Winner in NADRA 2016 Deck Competion (November 4, 2016), Benefits of Smoking Shelters (October 28, 2016), 8 Questions You Need Answered Before Buying Commercial Grade Outdoor Furniture (October 24, 2016)
6 Ways To Overcome Coastal Landscape Installation Challenges (March 3, 2017), The evolution of the educational landscape (February 17, 2017), New from Thomas Steele: Monona benches, chairs, side tables and litter receptables (February 13, 2017), Waldorf™ Benches (January 12, 2017), How To Avoid The Most Common Problems With Commercial Lampposts (December 30, 2016), New designs from Victor Stanley: Camille Table & Benches (November 29, 2016), 8 Questions You Need Answered Before Buying Commercial Grade Outdoor Furniture (October 24, 2016), Battery Life: introducing a new way to energize your outdoor space (October 12, 2016), An orderly revolution in waste control (August 3, 2016), Smart Ways to Upgrade Your Deck (July 8, 2016)
EnduraLine Mobile permanent warning line system (April 5, 2017), Railing Infill Face-Off: Cable vs. Glass (March 10, 2017), Backyard 2.0: 2017 Deck and Railings Forecast (February 8, 2017), Winner in NADRA 2016 Deck Competion (November 4, 2016), Kelly Edwards' Tiny Home: Shipping container turned elegant living space with rooftop deck (October 21, 2016), Color Rendering Index: Why It's important in Outdoor Lighting (September 23, 2016), Architects Inspiration Handbook for Glass applications in commercial interiors (August 29, 2016), Commercial Grade Soft-Close Undermount slide (July 27, 2016), Smart Ways to Upgrade Your Deck (July 8, 2016), Why We Love Ipe and You Will Too (April 18, 2016)