architecture - engineering - construction

Design Spotlight: Controlling Summer Sun
August 3, 2018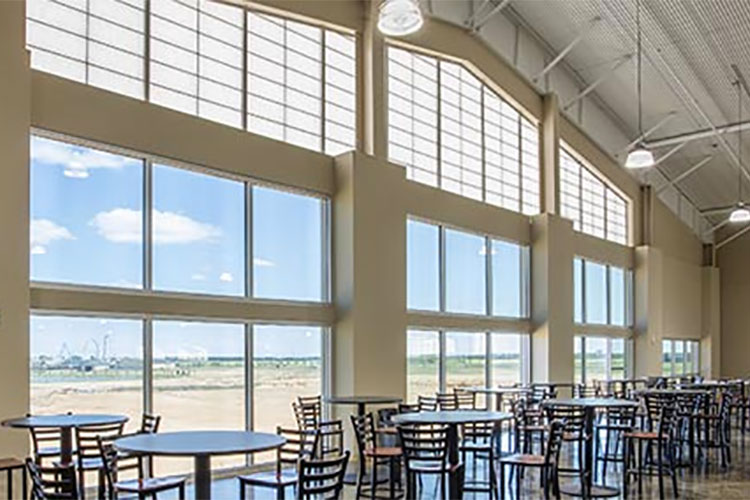 Foley Event Center, in Foley, Alabama, designed by Goodwyn, Mills and Cawood, Inc.
Summer heat can be rough, and solar heat gain can be a building's enemy during the hottest parts of the year. From making building occupants uncomfortable to putting stresses on HVAC systems, it can be a detriment to a building's performance.
Perhaps the best way to control solar heat gain is with a daylighting system that offers built-in light diffusion, allowing for sunlight to brighten a space while keeping hot-spots at bay. From translucent panel systems like our Guardian 275®, LightBasic™ and Clima-Tite™ systems to IlluminPC™ polycarbonate multi-wall systems, we have your translucent daylighting needs covered.
That said, we know that not every space is the right fit for a full translucent system. Perhaps it's key that the space have views to the outside, or the building's orientation makes it less important that a full translucent system is used. In those situations, we'd like you to consider a mixed glazed system, where translucent panels and glass are combined in one integrated unit, or a combination of translucent panels and glass as shown above (the Foley Event Center, designed by Goodwyn, Mills and Cawood, Inc., in Foley, Alabama). This way your building occupants get the views and/or ventilation they need, plus the added benefit of light control and more even daylight diffusion throughout the space. In the case of the Foley Event Center example above, direct sunlight during the mid-day is diffused by the upper translucent panels (and helped spread throughout the space by the white ceiling treatment), while visitors can still get an unobstructed line of sight to outdoor spaces.
Not sure how to proceed with your next daylighting project? Let us help! From retrofit-ready adapter panels that fit into existing curtainwall framing, to integrated mixed glazed systems or simple translucent wall panels, we have a daylighting solution for your design and budget. For more information, call us at 888-759-2678 or check out our Architectural Consulting page.
Company: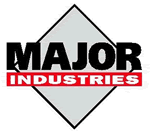 Major Industries Inc.
Product: LightBasic™ Value-Engineered Translucent Curtainwall Systems
Source: https://majorskylights.com
---
Tags:
Using controls to personalize shading systems (July 23, 2018), Thermal performance and energy savings with polycarbonate glazing systems (July 16, 2018)
7 Fun ideas using glass to jazz up your outdoor patio or deck this summer (July 27, 2018), Thermal performance and energy savings with polycarbonate glazing systems (July 16, 2018), Design spotlight: enhancing the grid (June 3, 2018), Elevare™ Mullion High Wall System (May 16, 2018), Structural glass floor pavers landings & stair treads (May 7, 2018), A Gateway To A Translucent Space (December 15, 2017), Lines, grids & aesthetics in translucent panel systems (November 3, 2017), Kawneer Project Profile: Heifer International World Headquarters (November 2, 2017), Attractive Bulletproof Barrier Design (October 27, 2017), Sto Werkstatt features alternative glass architecture by Space Popular (October 20, 2017)
Using controls to personalize shading systems (July 23, 2018), Commercial landscape lighting (July 20, 2018), LuxCore FRP Fusion Wall Panels by Decorative Ceiling Tiles (May 1, 2018), Kalwall in the Manufacturing Market (April 10, 2018), How Ambient Light Rejection (ALR) works: clearing the confusion (March 21, 2018), Your Guide to Salt Resistant Outdoor Lighting Fixtures (March 7, 2018), 7 Types of landscape lighting your property could benefit from (February 16, 2018), Blue polycarbonate translucent wall system for Gap in Times Square NYC (December 5, 2017), Design spotlight: daylighting for privacy (December 2, 2017), Translucent Panels | Chesapeake Boathouse, Oklahoma City (October 31, 2017)
Morintegrated - Design Like a Kid Again (July 24, 2018), Design spotlight: enhancing the grid (June 3, 2018), Elevare™ Mullion High Wall System (May 16, 2018), LuxCore FRP Fusion Wall Panels by Decorative Ceiling Tiles (May 1, 2018), Varying perforation pattern technique provides sun shading system (April 30, 2018), Kalwall in the Manufacturing Market (April 10, 2018), Folded Zinc Panels in One Henry Adams, A Multi-Family Residence in Design District, South San Francisco (March 9, 2018), Entrances & entryways - making an impact (March 2, 2018), Building orientation & daylighting (February 9, 2018), Blue polycarbonate translucent wall system for Gap in Times Square NYC (December 5, 2017)
Daylight & Learning (April 20, 2018), Kalwall in the Manufacturing Market (April 10, 2018), Building orientation & daylighting (February 9, 2018), Securing your bulletproof glass investment in 2018 (December 18, 2017), Design spotlight: daylighting for privacy (December 2, 2017), Bullet Proof Barriers For Utility And Electric Co-Op Offices (November 21, 2017), Visual Blog: Kalwall Retrofit (November 15, 2017), Thermal breaks in aluminum framing: not just a cold-weather friend (November 7, 2017), ViuLite® insulating glass with integrated premium quality blinds (October 17, 2017), Skylight guarding with SRC - Skylight Screens (October 10, 2017)