architecture - engineering - construction

Design spotlight: enhancing the grid
June 3, 2018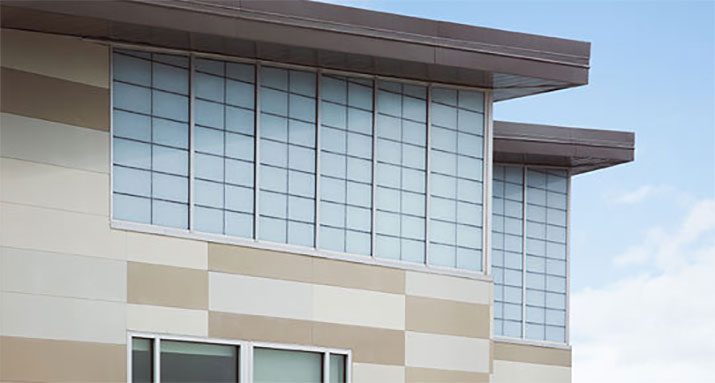 There are a variety of daylighting and glazing options in the market today, but one of the stand-out features of translucent panel systems is their grid pattern. Translucent panels, like the Guardian 275® system shown in the image above, feature an aluminum grid that supports the interior and exterior fiberglass face sheets. This gives the panels their strength and allows for panel sizes up to 5 feet wide by 20 feet long in some instances.
But while the classic grid pattern is a necessity, it also has a distinct look that has its supporters and detractors. In the project above - Barkley Elementary School in Kentucky - the U.S. Army Corp of Engineers and Woolpert were able to take the strong geometric shapes in the grid pattern and smartly echo them in the exterior wall design, adding emphasis to their look and making them a more integrated part of the exterior. (To learn more about the award-winning project, you can also visit the Woolpert site where you'll find a short video about the school's open-plan design.)
Also keep in mind that the grid pattern shown above isn't the only option for translucent panels. Whether you prefer staggered lines, a vertical-only grid to simulate a channel glass look, or a completely custom geometric pattern, we will work with you to find the right solution. Call us at 888-759-2678, email sales@majorskylights.com, or check out our Architectural Consulting page for more on how we can help with your next project.
Company: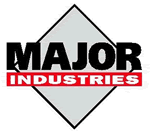 Major Industries Inc.
Product: Guardian 275® - Translucent Panel Skylights & Curtainwall
Source: http://majorskylights.com/architectural-consulting/
---
Tags:
Wind-driven rain louvers (May 21, 2018), Varying perforation pattern technique provides sun shading system (April 30, 2018), Daylight & Learning (April 20, 2018), Kalwall in the Manufacturing Market (April 10, 2018), Educational design: Connecting people and place (March 28, 2018), Understanding the five phases of design (March 18, 2018), Folded Zinc Panels in One Henry Adams, A Multi-Family Residence in Design District, South San Francisco (March 9, 2018), Smoke Control in High Rise Buildings (March 2, 2018), Blue polycarbonate translucent wall system for Gap in Times Square NYC (December 5, 2017), Design spotlight: daylighting for privacy (December 2, 2017)
Elevare™ Mullion High Wall System (May 16, 2018), Structural glass floor pavers landings & stair treads (May 7, 2018), A Gateway To A Translucent Space (December 15, 2017), Lines, grids & aesthetics in translucent panel systems (November 3, 2017), Kawneer Project Profile: Heifer International World Headquarters (November 2, 2017), Attractive Bulletproof Barrier Design (October 27, 2017), Sto Werkstatt features alternative glass architecture by Space Popular (October 20, 2017), Skylight guarding with SRC - Skylight Screens (October 10, 2017), Using Glass Creatively In Office Interiors (October 2, 2017), Glass Block with Etchings (September 9, 2017)
Structural glass floor pavers landings & stair treads (May 7, 2018), The Benefits of Using Interior Glass in the Office of 2018 (March 5, 2018), Entrances & entryways - making an impact (March 2, 2018), Building orientation & daylighting (February 9, 2018), Greening A Building from Top to Bottom (February 6, 2018), 7 Things to Consider When Designing a Commercial Interior using Glass Walls (January 9, 2018)
Daylight & Learning (April 20, 2018), Kalwall in the Manufacturing Market (April 10, 2018), Entrances & entryways - making an impact (March 2, 2018), Building orientation & daylighting (February 9, 2018), Translucent panel canopies allow for great design versatility (January 26, 2018), Visual Blog: Kalwall Retrofit (November 15, 2017), Thermal breaks in aluminum framing: not just a cold-weather friend (November 7, 2017), New facility at Dupage Airport in Chicago features Extech's systems (September 21, 2017), Visual Blog: Kalwall in the Transportation Market (September 15, 2017), Blast protection and pressure relief systems (August 24, 2017)
Elevare™ Mullion High Wall System (May 16, 2018), LuxCore FRP Fusion Wall Panels by Decorative Ceiling Tiles (May 1, 2018), Varying perforation pattern technique provides sun shading system (April 30, 2018), Kalwall in the Manufacturing Market (April 10, 2018), Folded Zinc Panels in One Henry Adams, A Multi-Family Residence in Design District, South San Francisco (March 9, 2018), Entrances & entryways - making an impact (March 2, 2018), Building orientation & daylighting (February 9, 2018), Blue polycarbonate translucent wall system for Gap in Times Square NYC (December 5, 2017), Design spotlight: daylighting for privacy (December 2, 2017), High gloss acrylic wall panels - back painted glass alternative (November 30, 2017)