architecture - engineering - construction

Design Spotlight: Places of Worship
December 4, 2018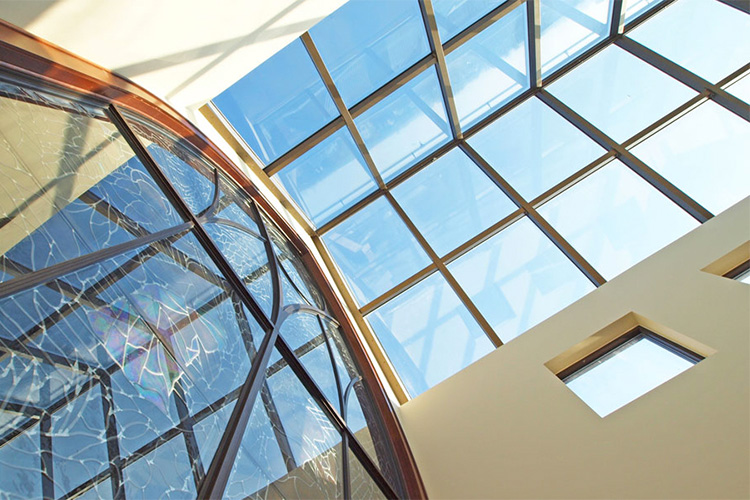 Zerr Berg Architects / Saints Anne and Joachim Catholic Church / Fargo, ND / Auburn® Ridge Skylight
During the holiday season, places of worship often take on a more central role in people's lives and become important social centers, gathering places, and community hubs. With that in mind, we thought we would re-examine some daylighting options for these spaces and their unique design challenges.
Peacefulness, serenity, safety, privacy... these are just some of the characteristics common in religious centers, where members of the community come to feel comfortable and secure. But while security can come from fully enclosed spaces, this can also make them feel dark and unwelcoming. Incorporating a daylighting system can be a great way to connect worshipers to the serenity of the outdoors, or to brighten and enhance a space with natural light. That said, too much direct sunlight, or clear glazing that provides unwanted views into the facility, can be distracting for visitors and contrary to the design goals of the space. Translucent panel daylighting systems, like the Guardian 275® wall system shown above right, provide spaces with soft, diffuse natural light that decrease the need for artificial light sources while also eliminating direct lines of sight into the facility. Beyond occupant and performance benefits, translucent panel systems can add a dramatic feel to a space, and when back-lit can announce an entrance to a space or highlight signage. For even more dramatic effect, we also offer Spectra-Grid™, a colored insulation option that provides a look similar to stained glass but at a lower cost and with higher thermal performance.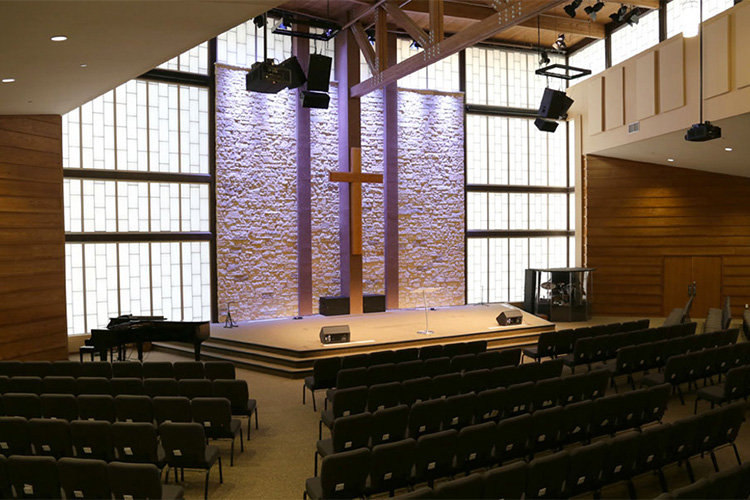 Lee Architects / Trinity Church / Lubbock, TX / Guardian 275® Wall System
If views are key to the design, and light control is less of a concern or will be controlled with interior or exterior shading devices, consider an Auburn® glass skylight (above left) that provides dramatic views of the sky. They can be a great solution for entryways, gathering spaces or to add high-contrast drama to architectural details or religious symbols. Or, if you're looking for a mix of light control and views, we can provide a mixed glazed system that incorporates fixed glass or operable windows with energy-saving and light-controlling translucent panels.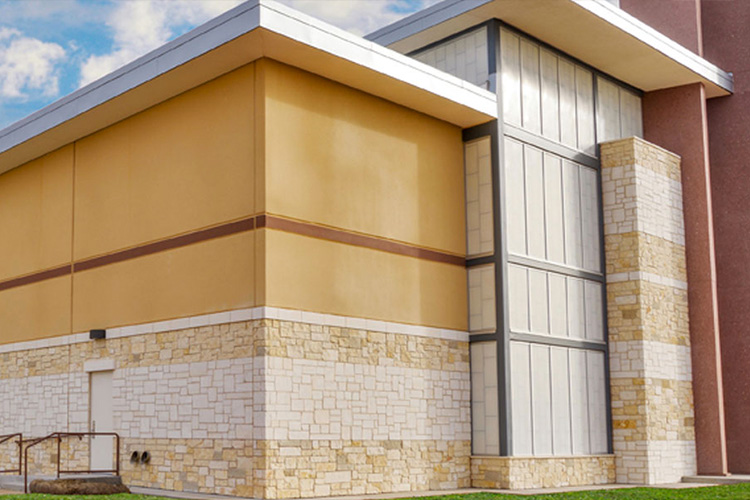 Lee Architects / Trinity Church / Lubbock, TX / Guardian 275® Wall System
Whether your next project calls for a small pre-assembled skylight, a complex custom canopy, or mixed glazed wall system, Major will work with you to create a custom design that will fit your needs and budget. Call us today at 888-759-2678 to find out more, our visit our website for more details.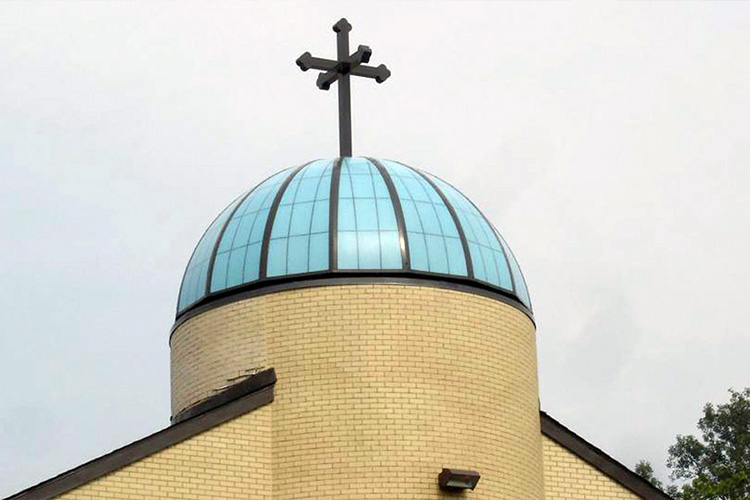 Bruns General Contracting / St. Mina and St. Abanoub Church / Miamisburg, OH / Guardian 275® TransCURVE® Dome
Company: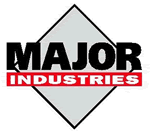 Major Industries Inc.
Product: Guardian 275® - Translucent Panel Skylights & Curtainwall
Source: https://majorskylights.com
---
Tags:
Working Inside Out (November 14, 2018), Color Strategies for a Successful Coworking Space (November 12, 2018), Round stainless steel railing systems (November 5, 2018), Traditional + Contemporary = Transitional Design (October 4, 2018), Sherwin-Williams Colormix® Color Forecast 2019 (September 7, 2018), Metallic black is a dazzling new face brick (September 3, 2018), Louver and Architectural Solutions (August 23, 2018), Aesthetics: When Looks and Beauty Matter for Security Entrances (August 15, 2018), Razzle Dazzle Camouflage Design (August 13, 2018), Tips for specifying postal specialties (July 30, 2018)
7 Fun ideas using glass to jazz up your outdoor patio or deck this summer (July 27, 2018), Design spotlight: enhancing the grid (June 3, 2018), Structural glass floor pavers landings & stair treads (May 7, 2018), The Benefits of Using Interior Glass in the Office of 2018 (March 5, 2018), Entrances & entryways - making an impact (March 2, 2018), Building orientation & daylighting (February 9, 2018), Greening A Building from Top to Bottom (February 6, 2018), 7 Things to Consider When Designing a Commercial Interior using Glass Walls (January 9, 2018)
Skylights: bringing out the best in art (November 16, 2018), Halloween spotlight: daylighting horror stories - sorting fact from fiction (October 3, 2018), Design spotlight: enhancing the grid (June 3, 2018), Daylight & Learning (April 20, 2018), Kalwall in the Manufacturing Market (April 10, 2018), Entrances & entryways - making an impact (March 2, 2018), Building orientation & daylighting (February 9, 2018), Translucent panel canopies allow for great design versatility (January 26, 2018), Visual Blog: Kalwall Retrofit (November 15, 2017), Thermal breaks in aluminum framing: not just a cold-weather friend (November 7, 2017)