architecture - engineering - construction

DesignRail® Lighting Kits - See the night in a whole new light!
October 16, 2015
It's getting darker earlier! Light up your deck with our LED Lighting Kits for DesignRail®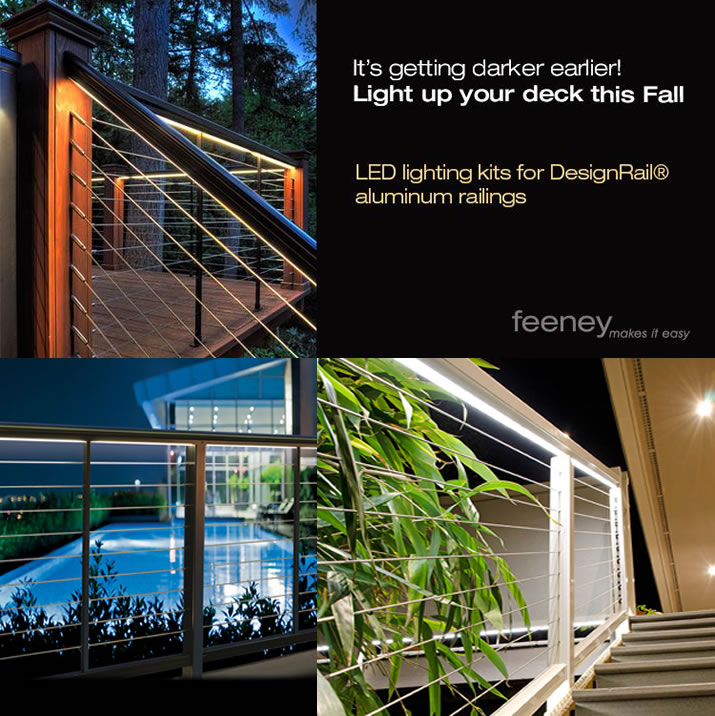 Whether it's entertaining, playing, or just relaxing, our specially designed LED lighting kits and components work with our DesignRail® aluminum railing systems to help you create the perfect ambiance for everything you do.
Beautiful Long Lasting Illumination
Energy efficient LEDs are rated for up to 50,000 hours
High quality weatherproof materials for reliable performance
Integrates into the top or bottom rail for a finished look
The exclusive Feeney lens diffuses light evenly across the railing for a more balanced look
Optional remote controlled dimmers give you the level of light you want
High CRI (80) LEDs for better color rendering
Easy Installation
Plug and play connectors let you quickly link lights and components
Can be used with new DesignRail® railing projects or added to an existing DesignRail® installation
Designed to attach easily to the rail without special tools
Company:

Feeney, Inc
Source: http://www.feeneyinc.com/Architectural/DesignRail-Lighting
---
Tags:
Custom Support Structure Delivers 4D Mapping Images (October 9, 2015), Color of the Month: Get inspired with Black Magic SW 6991 (October 2, 2015), Sun Control Sunshades offer energy savings (September 28, 2015), Feeding the Planet, Energy for Life (September 21, 2015), Exterior Wall Finish Offers Curb Appeal, Design Versatility and Cost Savings for School (September 14, 2015), Flexible Bollards: Traffic & Parking Lot Posts (September 9, 2015), Bird B Gone Offers Widest Variety of Bird Spikes - Made in the USA! (September 7, 2015), Home Free - the Reality Show with a Heart - features Feeney CableRail (September 3, 2015), Glass 'sky pool' coming to London (August 27, 2015), Staying dry – and wet – with PENETRON Technology (August 24, 2015)
Custom Support Structure Delivers 4D Mapping Images (October 9, 2015), Light your way with environmentally friendly solar lighting bollards (April 20, 2015)