architecture - engineering - construction

Distinctive dual towers built on Penetron
October 12, 2017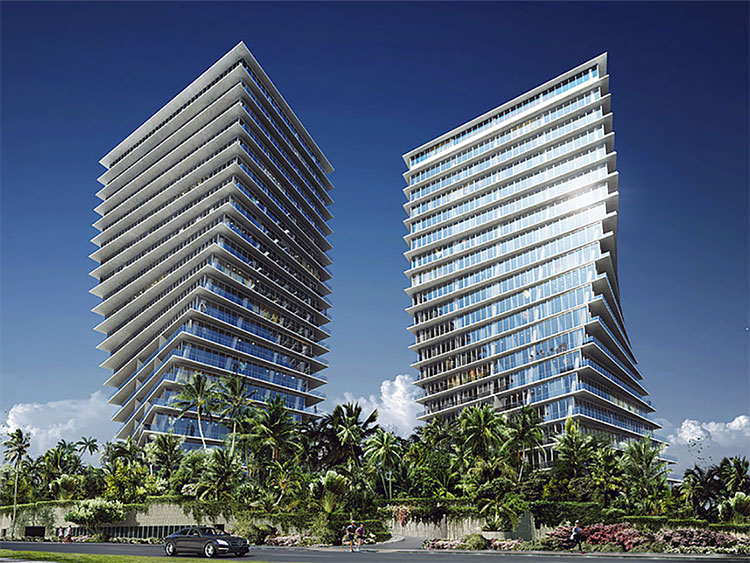 Hyper-modernist: The Grove at Grand Bay towers, designed by the Bjarke Ingels Group (BIG) architects, rest on a foundation treated with PENETRON crystalline technology
The Grove at Grand Bay luxury residential towers in the Coconut Grove neighborhood of Miami, Florida, are built on a PENETRON ADMIX-treated concrete foundation. Inaugurated in May, both of the visually distinctive towers are almost sold out.
The amazing architectural design of the towers is a notable milestone in the quickly evolving skyline of the Miami area. In a city famous for its Art Deco and Mediterranean-style architecture, the hyper-modernist design of the new Grove at Grand Bay towers was designed by the renowned Bjarke Ingels Group (BIG) architects. Both towers are 20 floors high; the 96 luxury condos (59 units in the North Tower, 37 units in the South Tower) all have breathtaking views of Biscayne Bay.

Located only 18 feet (5.2 m) above sea level and featuring a rooftop pool on both the North & South Towers, PENETRON was tapped for a durable waterproofing solution.

The originally specified conventional waterproofing system and dewatering of the job site became problematic early in the project. CEMEX offered a PENETRON ADMIX-treated concrete mix as a solution, which was used for the building foundation elements. The results were seamless.
Company:

Penetron International
Product: Penetron Admix
Source: http://www.penetron.com/press/view/Distinctive-Dual-Towers-Built-on-PENETRON/
---
Tags:
Armstrong® Ceilings Taps Broad Range of Capabilities To Bring One-of-a-Kind Ceiling Ideas to Life (October 4, 2017), Special Brick Shapes (October 3, 2017), Linetec finishes Loewen windows for Canada's Windermere House (September 27, 2017), Visual Blog: Kalwall in the Transportation Market (September 15, 2017), Manchester Blend tan bricks a hot trend in the color world (August 28, 2017), Sustainable and small: The tiny house movement (August 9, 2017), An Award-Winning Project that Includes StoGuard® (August 1, 2017), SC Railing Company: Offering a View from the Top (July 31, 2017), Top NYC architect selects Feeney for notable barn project (July 26, 2017), What the New Urban Agenda means for architects (July 21, 2017)
5 Ways Climate Change will Affect your Business (September 1, 2017), Manchester Blend tan bricks a hot trend in the color world (August 28, 2017), Sustainable and small: The tiny house movement (August 9, 2017), An Award-Winning Project that Includes StoGuard® (August 1, 2017), Swedish hospital 'takes a chance' on Howe Green (June 21, 2017), Summer Birds Nesting on Your Property? (June 6, 2017), Glazing Over Global Trends: Larger Formats and Smaller Sight Lines (May 29, 2017), EXTECH offers LIGHTWALL 3440 translucent wall system with three new glazing options (May 15, 2017), Springtime Means Nesting Birds (April 28, 2017), 10 Must-Have Safety Signs for OSHA Compliance (March 17, 2017)
4 Major Advantages of Decorative Concrete in Commercial Settings (September 25, 2017), Concrete Resurfacing (August 23, 2017), Stenciled Concrete for your Pool decks, patios and driveways (July 11, 2017), HERMETIC Industrial Flooring (May 22, 2017), Xypex in London (May 8, 2017), 2017 Excellence in Hardscape Awards Recognizes County Materials' Concrete Pavers, Slabs and Retaining Walls (May 4, 2017), Decorative Concrete Can Be Gray or Colorful and is Ideal for Interior or Exterior... Take a Look (April 27, 2017), Protecting concrete against freeze-thaw damage (March 29, 2017), Project profile: flooring installation for busy bank in El Paso exceeds tight turnaround expectations while delivering a functional masterpiece (March 27, 2017), Waterproofing One of London's New iconic Buildings (March 13, 2017)
An Award-Winning Project that Includes StoGuard® (August 1, 2017), Xypex in London (May 8, 2017), Decorative Concrete Can Be Gray or Colorful and is Ideal for Interior or Exterior... Take a Look (April 27, 2017), Protecting concrete against freeze-thaw damage (March 29, 2017), Waterproofing One of London's New iconic Buildings (March 13, 2017)