architecture - engineering - construction

Econospan® Screen System
June 7, 2017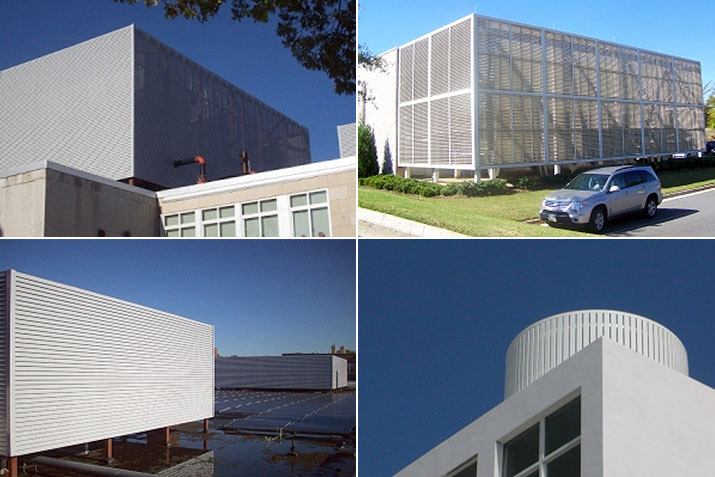 The EconoSpan® louver and screen system is a continuous, "free-standing" louver product comprised mainly of roll formed louvers that snap firmly onto "double-gripped" stringers or posts installed on pre-determined intervals. This system is ideal for roof top equipment screening or other applications with large areas requiring concealment and ventilation. It is available in two major styles: Pitched Louver (both 45° and 22-1/2° pitches) and Flat Picket (both horizontal and vertical orientations).
Along with being very attractive, it is also one of the industry's most affordable systems. Using standard production components, the EconoSpan® system is designed and manufactured as required to be installed on a supporting structure. This allows the supporting structure to be provided locally, based on local code requirements*, yielding further cost savings. This simple "knock-down" product design allows it to be shipped as a kit in relatively small crates with step by step installation drawings making it convenient, simple and relatively quick for general contractors to install.
EconoSpan® 45° Pitched Louver
Reinforced, 45° pitched stringer
60% free air flow
Slat pitch direction may be inverted
EconoSpan® 22.5° Pitched Louver
Reinforced, 22-1/2° pitched stringer
30% free air flow
Slat pitch direction can be inverted
EconoSpan® Flat Picket
Vertical or horizontal picket (slat) configurations
15% free air flow
Low profile and easily contoured
Company: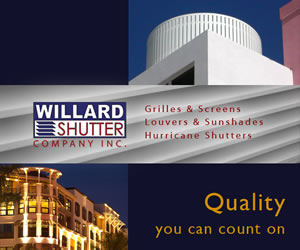 Willard Shutter Co., Inc.
Product: Grilles & Screens
Source: http://www.willardshutterco.com/products/grilles-screens.aspx
---
Tags:
Rustic Meets Modern: Transitional Design Style (May 26, 2017), Deck Railing Ideas (April 7, 2017), Railing Infill Face-Off: Cable vs. Glass (March 10, 2017), The evolution of the educational landscape (February 17, 2017), New from Thomas Steele: Monona benches, chairs, side tables and litter receptables (February 13, 2017), Waldorf™ Benches (January 12, 2017), Sherwin-Williams VinylSafe® Paint Colors (January 9, 2017), Sun Control Sunshades (January 5, 2017), Louvers Play Key Role in Passive Air Management (December 14, 2016), Winner in NADRA 2016 Deck Competion (November 4, 2016)
Solar shading systems: fixed & motorized louvers (May 3, 2017), KINETICWALL wins 2017 Architizer A+ Award (April 19, 2017), New critical environment damper series from Ruskin® withstands coastal and corrosive applications (April 11, 2017), Louvers Play Key Role in Passive Air Management (December 14, 2016)