architecture - engineering - construction

eGlass Vision™ system inspires an impression of invisibility
December 21, 2020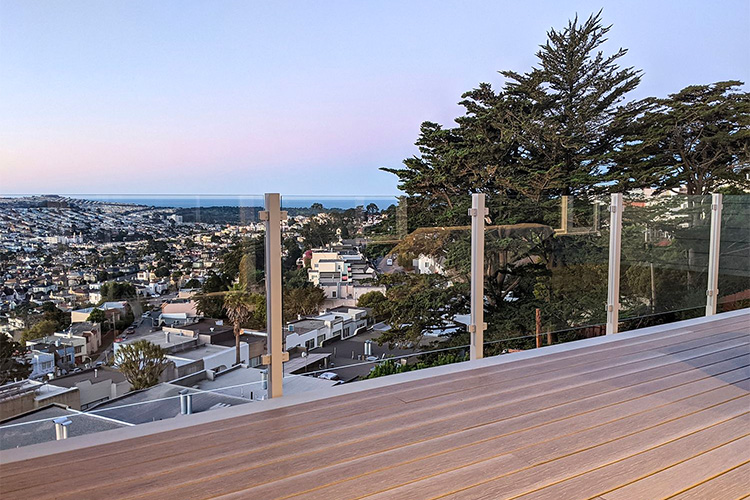 Silver Aluminum Glass Railing - San Francisco, CA
With such a stunning view of the city below and water beyond, this deck in San Francisco demanded a railing system that would be as unobstructed as possible. Our eGlass Vision system did the trick, elegantly framing the view rather than blocking it.
eGlass Vision™ – Where our vision is focused on your view
Our eGlass Vision™ system inspires an impression of invisibility. Offering the least obstructed view, this frameless glass railing option replaces traditional horizontal rails with small clamps attached to aluminum posts. Designed to keep your focus on an uninterrupted view, eGlass Vision™ removes the top and bottom rails from your sightline, creating a view that is like having no railing at all.
Features & Benefits:
No horizontal rails to block your view
No top or bottom rails reduces shipping costs
Glass clamps available in either round or square options
Glass panels block wind without compromising visibility
Tempered glass panels are coated to be Carefree Clean™
Concealed fasteners for a clean aesthetic
Weather resistant and nearly maintenance free
Products in stock and ready to ship, including glass panels
3 mounting options: deck, fascia, or fascia w/o brackets
Aluminum 6061-T6 posts provide strength and durability
Available in 36" and 42" rail heights
AAMA 2605 powder coated for durability and available in four colors
System: eGlass Vision™
Mount: Fascia
Clamp Style: Square Clamp
Infill: Tempered Glass Panel
Glass Thickness: 3/8"
Color: Silver
Materials needed for this Project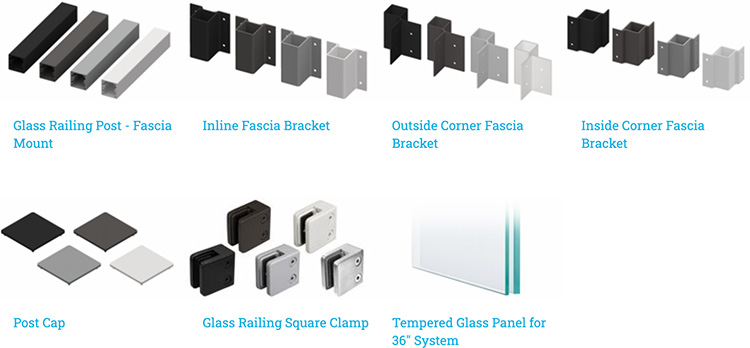 Check out more customer photos from around the country >
@eGlassRailing #eGlassRailing #glassrailing
Company:

eGlass Railing
Product: eGlass Vision™
Source: https://www.eglassrailing.com/glass-railing-san-francisco-california.html
---
Tags:
eGlass Element™ system reveals the beauty of your environment with an aluminum top rail that is nearly invisible (October 9, 2020), Color of the Year 2021 (September 23, 2020), How façade elements are increasing health, safety, and sustainability in school design (August 14, 2020), Heritage Collection™ Designer Concrete Brick Offers Value and Design Versatility for New Home Construction (May 25, 2020), The Daylighting Difference: Natural Light and Workplace Productivity (May 4, 2020), 5 Smart design bathroom design trends from the 2020 kitchen & bath industry show to rejuvenate your tired space (March 9, 2020), Residential Landscape Inspiration Catalog (February 12, 2020), Creative Option: Energize your next daylighting design with Spectra-Grid™ (February 7, 2020), Three glazing myths debunked - dispelling common concerns about specifying glass railing (January 29, 2020), Varying Perforation Pattern Technique Provides Sun Shading System (January 20, 2020)
eGlass Element™ system reveals the beauty of your environment with an aluminum top rail that is nearly invisible (October 9, 2020), See how new antibacterial products squash superbugs (July 6, 2020), Anti-Microbial Product Solutions for X-Ray Protection and Radiation Shielding product lines (June 19, 2020), [VIDEO] Ballistic Glass: What Are My Choices? (June 10, 2020), Bulletproof products: 3 things architects should bear in mind (April 17, 2020), 5 Considerations When Installing Glass Skylights (March 16, 2020), Three glazing myths debunked - dispelling common concerns about specifying glass railing (January 29, 2020), 11 Shower remodeling mistakes you don't want to make (September 16, 2019), Is glass going out of style? (September 6, 2019), Daylighting Systems Project Spotlight: Carver Public School (August 5, 2019)
Ipe & Black Aluminum Cable Railing (November 24, 2020), CableRail Makes it Easy to savor the view when you keep these things in mind (October 23, 2020), Building Safety: Turn-Key Passive Fall Protection (October 12, 2020), eGlass Element™ system reveals the beauty of your environment with an aluminum top rail that is nearly invisible (October 9, 2020), How Safe Is Your Roof? The facts you need to know about rooftop safety (September 11, 2020), Feeney Project Showcase: Art Steedle's Container Bar (August 19, 2020), Cable Railing – Unencumbered Views for Your Treasured Spaces (May 29, 2020), Balau Wood Cable Railing (April 24, 2020), 3 Creative Ways to Utilize CableRail in Interiors (April 1, 2020), Three glazing myths debunked - dispelling common concerns about specifying glass railing (January 29, 2020)
Armstrong Ceiling & Wall Solutions 24/7 Defend Portfolio (December 14, 2020), Fall Protection Grating for Floor Access Doors (December 7, 2020), Office Smoke Control System Designs (November 18, 2020), Comply with safety standards for motorized operable partition walls (November 9, 2020), Stay safe with bollards: The key to security with design value (November 4, 2020), Building Safety: Turn-Key Passive Fall Protection (October 12, 2020), Human Bollard Campaigns - Advocating for cyclist safety through direct action (September 16, 2020), How Safe Is Your Roof? The facts you need to know about rooftop safety (September 11, 2020), Building Peace of Mind with Hurricane Resistant Solutions (September 9, 2020), NC State University Upgrades Security with New Boon Edam Turnstiles (September 7, 2020)