architecture - engineering - construction

Elevare™ Mullion High Wall System
May 16, 2018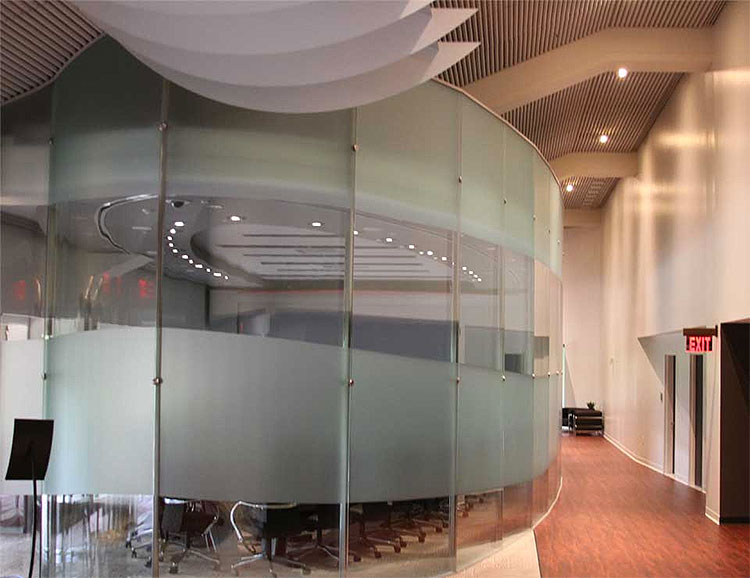 The Elevare™ Mullion High Wall System offers a flexible and modular separation of spaces with a contemporary look. It's design allows for the movement/reconfiguration/relocation the connection elements without making holes in the main support structure.
The Elevare™ Mullion High Wall System is an innovative, contemporary looking, complete supporting interior partition system based on the concept of structural facades with the use of vertical aluminum mullions. The system is a completely versatile and suitable for different needs and environments through the widest spectrum of possible combinations. Glass, poly-carbonate and wood are all compatible with the support components. All perimeters are fastened to solid walls. The Elevare™ Mullion High Wall System is especially suited for offices, retail spaces and trade fairs.
The maximum panel height is 30'-0", maximum panel width is 48" (panels may be larger with engineering). Configurations may be straight, angled or curved. LCD, pivot, sliding and hinged doors may be installed. The standard frame finish is Silver Anodized.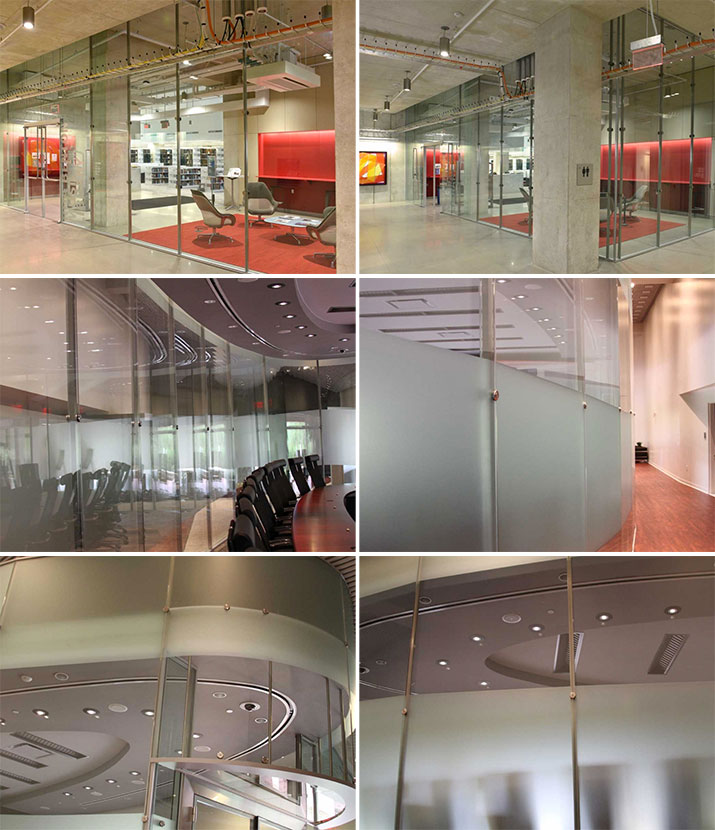 Maximum Glazing Panel Height: 30′-0″
Maximum Glazing Panel Width: 48″
Max Weight Supported per Arm: 110 lbs
Glazing Available: 3/8″, 1/2″, & 9/16″
Available Glazing Types: Clear Tempered, Low Iron, Laminated & LCD Privacy Glass
Standard Frame Finishes Available: Silver Anodized
Company:
Avanti Systems USA
Source: https://www.avantisystemsusa.com/glass-products/partition-systems/high-wall/mullion/
---
Tags:
Structural glass floor pavers landings & stair treads (May 7, 2018), A Gateway To A Translucent Space (December 15, 2017), Lines, grids & aesthetics in translucent panel systems (November 3, 2017), Kawneer Project Profile: Heifer International World Headquarters (November 2, 2017), Attractive Bulletproof Barrier Design (October 27, 2017), Sto Werkstatt features alternative glass architecture by Space Popular (October 20, 2017), Skylight guarding with SRC - Skylight Screens (October 10, 2017), Using Glass Creatively In Office Interiors (October 2, 2017), Glass Block with Etchings (September 9, 2017), Blast protection and pressure relief systems (August 24, 2017)
LuxCore FRP Fusion Wall Panels by Decorative Ceiling Tiles (May 1, 2018), The benefits of motorized window shades (April 27, 2018), The allure of 'in-between' colors (April 4, 2018), Repair, replace or upgrade: what to do with an outdated mailbox system (April 2, 2018), Flipper & Pocket Doors: What's the Difference? (March 29, 2018), Ceiling tiles - what you need to know before you buy (March 23, 2018), Linear Grille Wall Cladding (March 14, 2018), The Benefits of Using Interior Glass in the Office of 2018 (March 5, 2018), Greening A Building from Top to Bottom (February 6, 2018), Linear motion track systems and how they help you (January 29, 2018)
How Ambient Light Rejection (ALR) works: clearing the confusion (March 21, 2018), Updated projection screen science (December 28, 2017), A Gateway To A Translucent Space (December 15, 2017), Using Glass Creatively In Office Interiors (October 2, 2017), Accuride Integrated Access Solutions: The New Frontier of Access Control (August 15, 2017), 5 Little Known Facts about High Gloss Acrylic Wall Panels (July 24, 2017), Creating the perfectly flat viewing surface (July 11, 2017), Modular In Plant Offices (May 31, 2017)
LuxCore FRP Fusion Wall Panels by Decorative Ceiling Tiles (May 1, 2018), Varying perforation pattern technique provides sun shading system (April 30, 2018), Kalwall in the Manufacturing Market (April 10, 2018), Folded Zinc Panels in One Henry Adams, A Multi-Family Residence in Design District, South San Francisco (March 9, 2018), Entrances & entryways - making an impact (March 2, 2018), Building orientation & daylighting (February 9, 2018), Blue polycarbonate translucent wall system for Gap in Times Square NYC (December 5, 2017), Design spotlight: daylighting for privacy (December 2, 2017), High gloss acrylic wall panels - back painted glass alternative (November 30, 2017), Now from Armstrong ceilings: Tectum wall & ceiling panels (November 9, 2017)