architecture - engineering - construction

Elevated designs begin with the best paint
August 30, 2019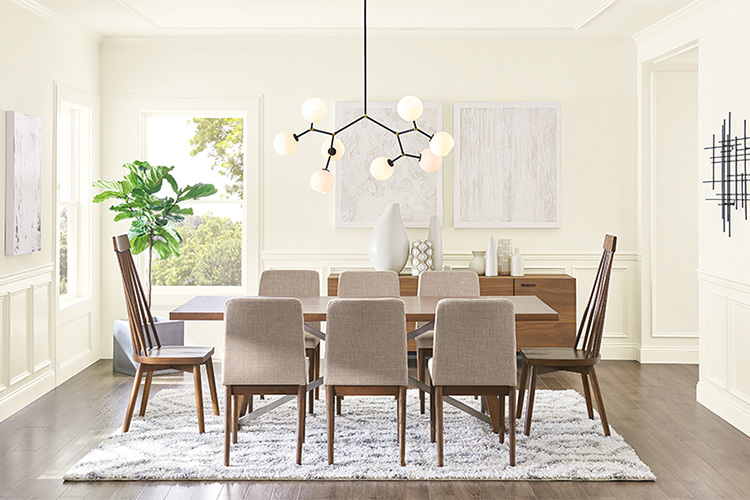 Lay the foundation for refined design by using the right paint for your project.
As a design professional, you are particular about every aspect of your project. The space speaks to you, and you develop just the right combination of form, texture and light by choosing the right furniture, linens and light fixtures. Color comes into play as you create a symphony of sorts, directing all of the elements in your design to work together.
Your clients are particular about their design style, too, and rely on your refined taste to make their spaces sing. So it makes sense that the biggest expanse of your design — the walls and ceilings — gets the same kind of special attention the rest of the space does. Choosing the right paint is a sure way to create that strong foundation.
Sometimes for designers, paint specification ends at color choice, but paint performance is an equally important consideration. Using a high-quality paint that is durable and washable, and that maintains its color over time, ensures your design will hold up, too. With Sherwin-Williams Emerald® Interior Acrylic Latex Paint, you'll deliver the kind of excellence your clients require with its rich and smooth final appearance. It's known not only for its high performance and long-lasting beauty but also for its versatility in various home environments.
Chef-Inspired Kitchens
Keeping the walls of custom kitchens looking brand new is no easy task. Emerald is a paint and primer in one that provides the washability and durability that professional, chef-ready kitchens in high-end homes require.
Family-Friendly Living Spaces
Newly painted family spaces aren't always move-in-ready because of lingering chemical odors. With its GREENGUARD GOLD Certification for low chemical emissions, Emerald has low odor after painting. Plus, it's formulated in flat, matte, satin and semi-gloss finishes, so you can specify just the right look for your design.
Restful Bedroom Retreats
Changing the color of a bedroom can sometimes be a challenge, especially if there's a drastic shade change. With Emerald's exceptional color delivery and excellent hide capabilities, you can choose any of the more than 1,500 Sherwin-Williams colors or a custom color to create beautiful, tranquil and practical bedroom spaces.
Sparkling-Fresh Bathrooms
Maintaining a bathroom design is all about being able to keep it clean, and avoiding unsightly mildew stains is a top priority. Emerald's mildew-resistant finish and stain-blocking technology make updating and taking care of an upscale, relaxing bathroom retreat easier.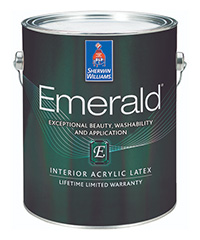 Interested in learning more about Emerald Interior Acrylic Latex Paint? Visit here or contact your local designer account executive for more information.
@SWDesignPros #SWDesignPros #Emerald #paint #color
Company:
The Sherwin-Williams Company
Product: Interior Paints
Source: https://www.sherwin-williams.com/architects-specifiers-designers/inspiration/styles-and-techniques/sw-art-elevated-designs-begin-with-the-best-paint
---
Tags:
Help protect against mold and wood damage with Sherwin-Williams new moisture vapor barrier interior coating (June 19, 2019), Reflector™ Enhancer floors featuring gunmetal and titanium (May 31, 2019), How to - Pro Polished Concrete Floor Systems (February 15, 2019), REFLECTOR™ Enhancer Flooring Systems (January 16, 2019), Head of Its Class: An Award-Winning School Design (January 9, 2019), Microtopping Floors in Retail Furniture Stores (November 28, 2018), Color Strategies for a Successful Coworking Space (November 12, 2018), Razzle Dazzle Camouflage Design (August 13, 2018), Is Polyaspartic Coating better than Epoxy or Polyurethane Coating? (April 26, 2018), The allure of 'in-between' colors (April 4, 2018)
Painting a Bedroom to Look Like Polished Silver (May 2, 2019), Exploring color in architecture (April 19, 2019), Color Secrets Revealed: Author Kassia St. Clair dishes on the historical twists and turns that continue to shape our charged relationship to color (April 1, 2019), Material Highlight: High-Density Polyethylene (February 11, 2019), REFLECTOR™ Enhancer Flooring Systems (January 16, 2019), Head of Its Class: An Award-Winning School Design (January 9, 2019), Whistler's Cultural Connector (December 19, 2018), Working Inside Out (November 14, 2018), Color Strategies for a Successful Coworking Space (November 12, 2018), Sherwin-Williams Colormix® Color Forecast 2019 (September 7, 2018)
Masonry Stain (August 14, 2019), Interior applications for finished architectural aluminum (August 9, 2019), Foam Crown Molding (July 3, 2019), How e-Steele™ improves durability and appearance of commercial site furnishings (June 25, 2019), Concrete Stain (June 10, 2019), Reflector™ Enhancer floors featuring gunmetal and titanium (May 31, 2019), Painting a Bedroom to Look Like Polished Silver (May 2, 2019), The History and Innovation of Weather-Resistant Substrates (April 24, 2019), Exploring color in architecture (April 19, 2019), Color Secrets Revealed: Author Kassia St. Clair dishes on the historical twists and turns that continue to shape our charged relationship to color (April 1, 2019)
Tectum E & Tectum E-N Acoustical Roof Deck (August 26, 2019), Benefits of Modular Office Wall Systems (August 23, 2019), Create custom fixtures with Dos Curve LED modules (August 21, 2019), Interior applications for finished architectural aluminum (August 9, 2019), Decorative Wall Paneling (August 7, 2019), Help protect against mold and wood damage with Sherwin-Williams new moisture vapor barrier interior coating (June 19, 2019), 6 Ideas to rock a small minimalist bathroom design (without breaking the bank) (May 29, 2019), Solving its noise problem lets a township get back to work (May 22, 2019), Bring copper ceiling tiles into your home easily with these installation tips (May 20, 2019), Painting a Bedroom to Look Like Polished Silver (May 2, 2019)