architecture - engineering - construction

EnduraLine Mobile permanent warning line system
April 5, 2017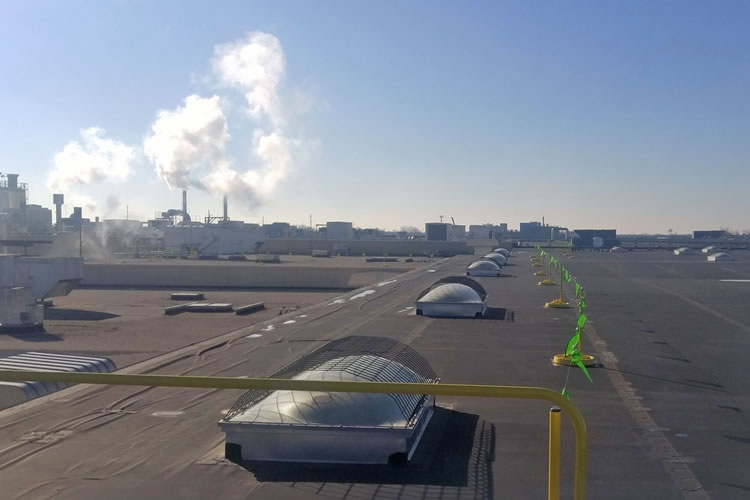 Enduraline warning lines installed at 15 feet from leading edge
EnduraLine Mobile is Safety Rail Company's most robust warning line system yet for permanent demarcation of hazardous areas. Cast iron base plates, steel stanchions, and plastic-coated galvanized cable with aluminum pennants means the EnduraLine warning line system is built for long-term exposure to the elements.
The EnduraLine Mobile system goes a step further. This non-penetrating warning line system is also designed to integrate perfectly with our SRC-360 Mobile railing system. The minimum OSHA requirement for warning line is that they be placed 15' feet or more away from a leading edge. Any closer to the leading edge, and fall protection railings or other fall protection devices must be provided. EnduraLine combined with our SRC 360 Mobile Rail answer both requirements and provide a complete, comprehensive, OSHA-compliant perimeter guarding solution.
When personnel need access to ladders or equipment within 15' of the edge, install the SRC 360 Mobile Railing system from the 15' mark out toward the leading edge and around the area that needs access. Attach the EnduraLine Mobile Warning Line System to the SRC 360 Mobile rail at the 15' mark and continue along perimeter to the next area that needs access. This configuration offers a cost-effective solution to 100% perimeter protection, designed to keep workers away from areas they shouldn't be and protected in areas where they need to be.
Features:
104 lb. base plate
25' stanchion spacing
Powder-coated yellow or galvanized finish
39" flag height per OSHA
100' galvanized cable with aluminum pennants
Safety Railing Solutions - Smarter. Better. Easier.
Safety Rail Company makes OSHA-compliant fall protection safety railings and guard rail systems that are durable and innovative, but still affordable. With years of industry experience, our fall protection products are engineered first and foremost to save lives! Beyond the primary goal of safety, we take our products a step further, making them easier to assemble, configure, use, and store.
Service Beyond Compare
Our team of safety experts takes pride in our 100% American-made fall protection systems and the personal service we give to our customers. We are firmly committed to providing:
Dedicated one-on-one customer service
Free in-depth consultations to ensure you have the exact system you need
Free, fast 3D CAD project plan modeling
100% OSHA-compliant & made in the USA products
Full installation services with factory trained, in-house personnel
Ongoing partnerships that you can depend on for years to come
Let Safety Rail Company be your turn-key provider. Project design, engineering, testing, manufacturing, and installation from one trusted source.
Company:
Safety Rail Company
Product: Visual Warning Line Systems
Source: http://www.safetyrailcompany.com/enduraline-mobile-permanent-warning-line-system/
---
Tags:
Railing Infill Face-Off: Cable vs. Glass (March 10, 2017), Backyard 2.0: 2017 Deck and Railings Forecast (February 8, 2017), Winner in NADRA 2016 Deck Competion (November 4, 2016), Kelly Edwards' Tiny Home: Shipping container turned elegant living space with rooftop deck (October 21, 2016), Color Rendering Index: Why It's important in Outdoor Lighting (September 23, 2016), Architects Inspiration Handbook for Glass applications in commercial interiors (August 29, 2016), Commercial Grade Soft-Close Undermount slide (July 27, 2016), Smart Ways to Upgrade Your Deck (July 8, 2016), Why We Love Ipe and You Will Too (April 18, 2016), Home Free - the Reality Show with a Heart - features Feeney CableRail (September 3, 2015)
How to Choose the Right Product for a Nuisance Bird (January 4, 2017), Bird deterrents: why UV light may not be the answer (December 2, 2016), Keep Pigeons from Destroying Solar Panels (September 30, 2016), GuardDog Self-Closing Gate uses two stainless steel torsion springs so the gate can open in any direction (September 9, 2016), Battic Door Solar Powered Attic Fans (September 5, 2016), Starlings can be a Costly Nuisance, learn the facts on how to keep them away from your buildings (June 13, 2016), Hurricane Roof Equipment Screens (June 10, 2016), Got a Pest Bird Problem? Get These Top 5 Bird Deterrents (January 4, 2016), Hanging baffles substantially quiet this LAPD firing range - this benefits everyone who works there (September 30, 2015), Structural Acoustic Roof Deck (July 3, 2015)
FDOT Improving Bicyclist Safety with SlipNOT® (April 4, 2017), Guard Houses (April 3, 2017), The Original Orange Elevator Smoke Curtain (March 28, 2017), 10 Must-Have Safety Signs for OSHA Compliance (March 17, 2017), Railing Infill Face-Off: Cable vs. Glass (March 10, 2017), 6 Ways To Overcome Coastal Landscape Installation Challenges (March 3, 2017), Global changes in construction: Kalwall's insights from BAU (March 1, 2017), Active Shooter Safety: 4 Things Your High Security Entrances Must Have (February 20, 2017), High-Function Custom Bullet Resistant Solutions for Banks (February 17, 2017), Bird decoys: the hawk vs. the owl (February 10, 2017)