architecture - engineering - construction

Feeney Project Showcase: CableRail in Trex Transcends railing
August 16, 2019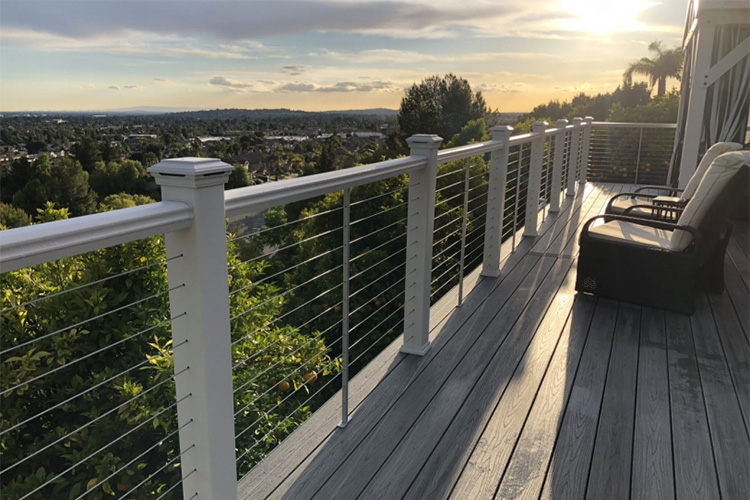 CableRail in Trex Transcends railing
CableRail and Trex, together in one fantastic residential deck! Nestled in the hills of Anaheim, California, this deck more than doubled the homeowner's outdoor living and entertaining space. The contractor, Michael Walter of MLW Construction had this to say:
"[CableRail] was an excellent compliment to the WhiteTrexComposite railing and silver intermediate Feeney posts. Really made the whole thing tie well together ... the decking was nice but it's the railing that really makes the whole thing pop, in my opinion."
Sweeping views of the nearby landscape are unobstructed by Feeney CableRail over 120 linear feet of Trex Transcends railing in Island Mist. The homeowners entered the Feeney photo contest and won third prize for this gorgeous project!
"Trex and Feeney are a perfect combination together. The whole thing just worked. The installation was very 'contractor friendly' - I'll absolutely be able to sell many more using this deck as a model for future clients."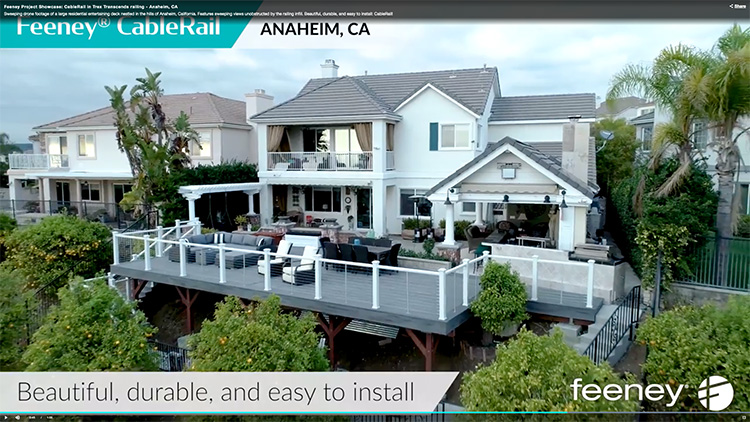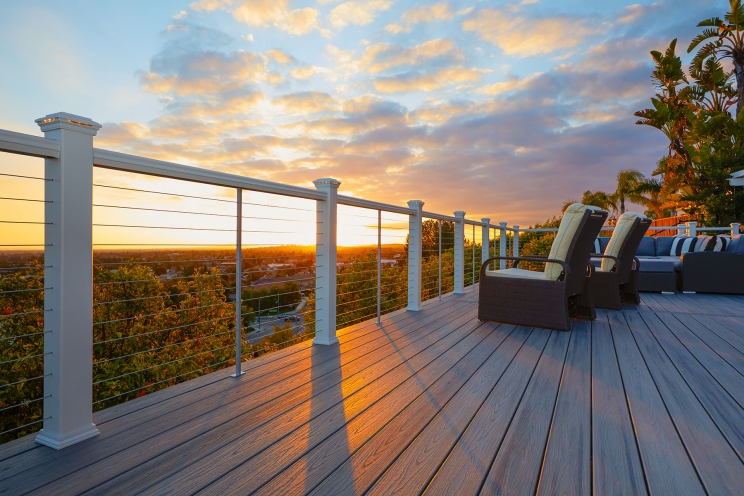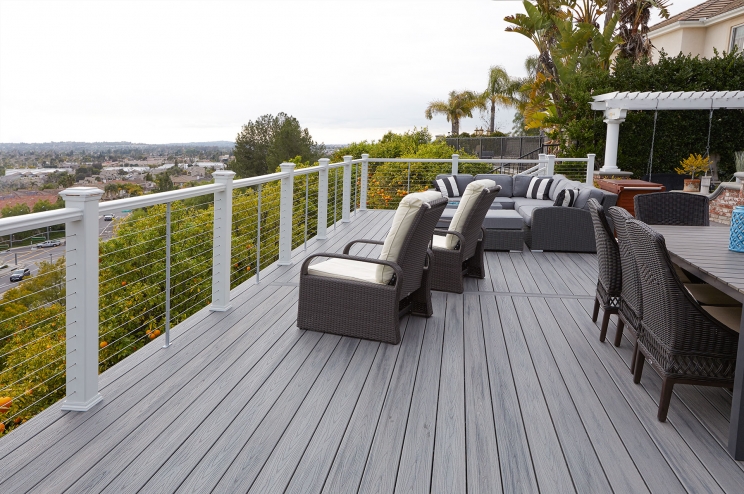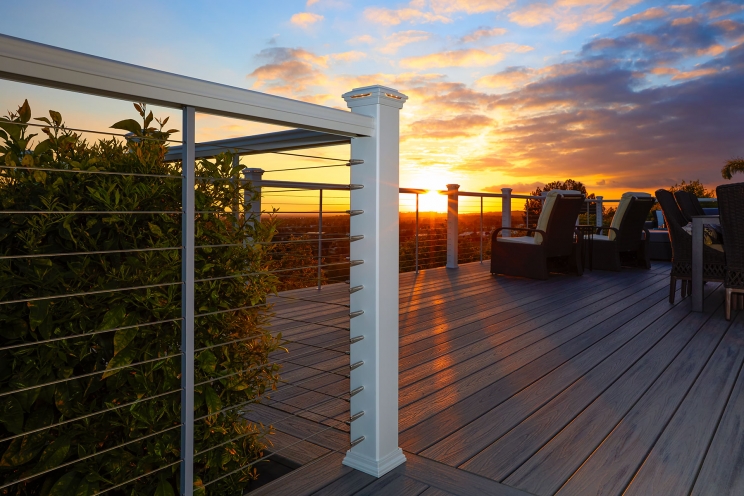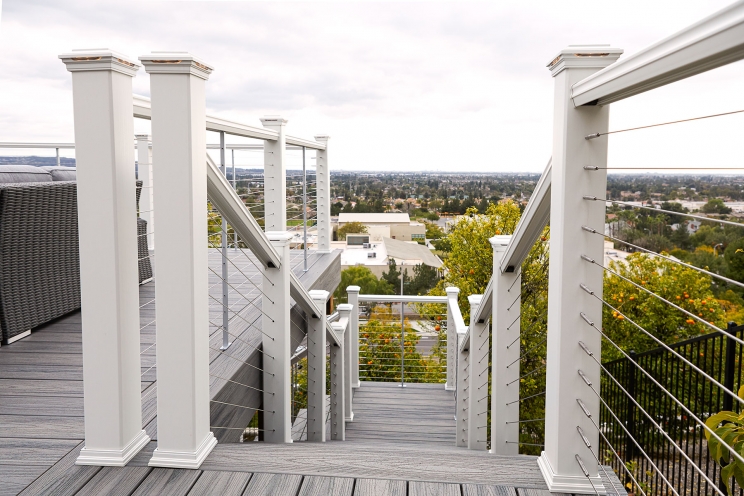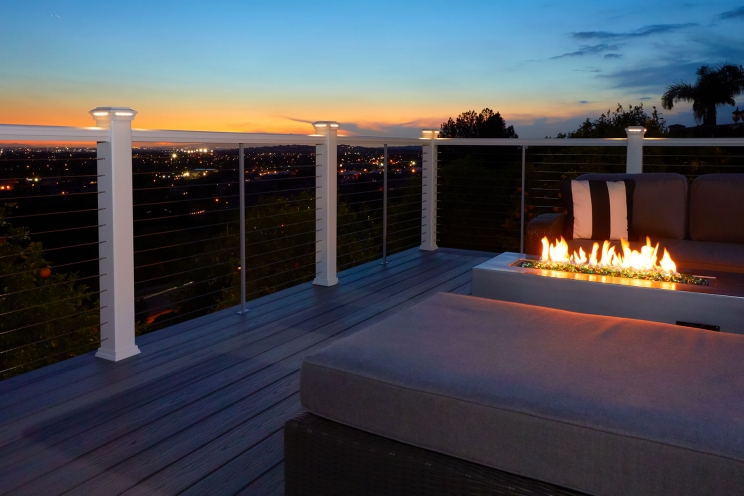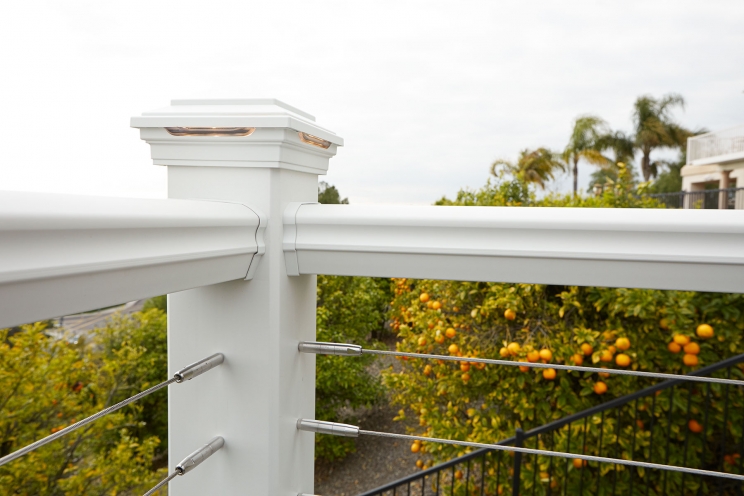 Photo credits: Robert Germany Photography
@FeeneyInc #FeeneyInc #feeney #metal #cablerail #cablerailing
Company:

Feeney, Inc
Product: CableRail Stainless Steel Custom Assemblies
Source: http://media.feeneyinc.com/blog/feeney-project-showcase-cablerail-in-trex-transcends-railing
---
Tags:
Black Aluminum Cable Railing (July 10, 2019), How e-Steele™ improves durability and appearance of commercial site furnishings (June 25, 2019), Maintenance Free Planters (June 24, 2019), Hotel X Toronto (May 27, 2019), Self-watering planter reservoirs (May 10, 2019), What types of planters are safe to grow vegetables and fruit? (April 12, 2019), Ogden Collection offers flexible backed and backless curved, circular and straight bench options to configure a style that you visualize (March 13, 2019), Commercial trash receptacles to reduce litter and promote recycling (March 11, 2019), Trellises… Another way to beautify outdoor spaces with Feeney (February 18, 2019), Selecting the Best Commercial Bike Rack (February 13, 2019)
Masonry Stain (August 14, 2019), Black Aluminum Cable Railing (July 10, 2019), Case study: Fast Tracking the Canadian Grand Prix (June 7, 2019), Transform ordinary spaces into stunning spaces with railing infill options (April 29, 2019), Start your summer renovation plans and customize the railing system of your dreams (April 5, 2019), Taking it public with CableRail cable railing (March 20, 2019), Trellises… Another way to beautify outdoor spaces with Feeney (February 18, 2019), Bronze Aluminum Cable Railing (January 18, 2019), Why Choose Glass Deck Railing? (November 26, 2018), Round stainless steel railing systems (November 5, 2018)
8 Reasons why cities are installing bollards in high traffic areas - it's not just counter-terrorism (August 12, 2019), 5 Revolving door safety tips to avoid injury with public users (July 29, 2019), Custom bollards for function and form (July 17, 2019), Black Aluminum Cable Railing (July 10, 2019), Bollard installation onto uneven surfaces (June 14, 2019), The importance of a fire safety plan in high occupancy buildings (June 6, 2019), T-Flex® – A Non-Lead Shielding Alternative (May 6, 2019), Transform ordinary spaces into stunning spaces with railing infill options (April 29, 2019), Aluminium security windows from Armortex (April 17, 2019), Start your summer renovation plans and customize the railing system of your dreams (April 5, 2019)