architecture - engineering - construction

Finally a Hands Free Solution to Stop Bathroom Mold with the New Enhanced Broan® InVent™ Series
July 14, 2017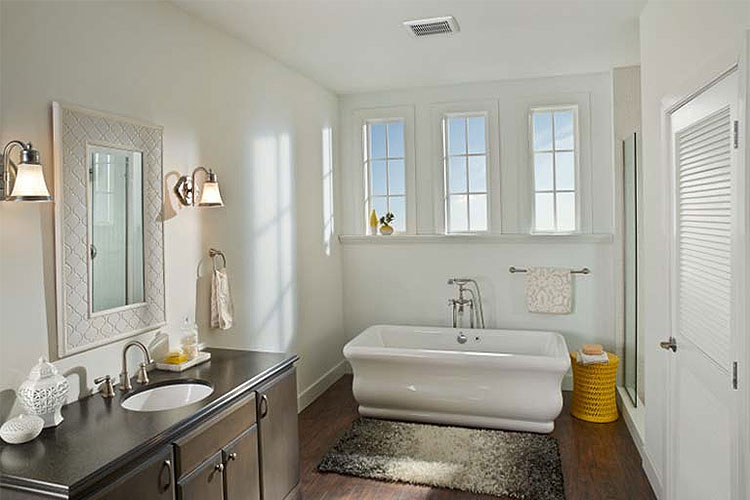 Broan® InVent™ Series now offers Humidity Sensing Fans, featuring Sensaire Sense-on-Rise Technology
Bathroom fans are great at fighting moisture which can lead to mold, but only if used properly. Broan's innovative Sensaire Sense-on-Rise Technology is now available on the InVentTM Series ventilation fans. Homeowners can now have a worry free solution for excess humidity combined with the great InVent features.
Sensaire Sense-on-Rise Technology is designed to detect humidity before condensation occurs. The humidity sensor automatically turns fans on when a rapid rise in humidity is sensed, or when humidity rises above the homeowner's pre-set humidity set point. The humidity sensing technology quickly works to eliminate fogged mirrors and manage moisture, providing exceptional indoor air quality for bathrooms, laundry rooms and mud rooms. Sensaire Sense-on-Rise technology detects an increase in humidity up to 40% faster *to automatically turn the fan on before moisture forms on mirrors.
"At Broan, we're incredibly proud of the enhanced InVent Series. Homeowners are now able to have superb ventilation and humidity sensing technology from a mid-range fan," said Ann Roever, Senior Global Marketing Director, household ventilation, for Broan. "The product line truly represents Broan's continuing tradition of superior indoor air quality products with the technology consumers want and need."
As the industry leader in residential ventilation, Broan-NuTone has a long history of developing products that provide superior indoor air quality. It is this reputation and commitment to innovation and quality that led Broan to enhance the revolutionary and easy to install InVent Series.
Broan InVent Series ventilation fans feature FoldAway mounting ears and the EzDuct Connector, which allow for easy installation. The FoldAway mounting ears allow contractors to use just one fan for both new construction or retrofit applications. The EzDuct Connector makes connecting the fan housing to the duct easier than ever before, with no attic access required.
With the new TrueSeal Damper Technology, InVent fans reduce air leakage by up to 50 percent compared to competitive models**, resulting in better home energy efficiency as measured via blower door tests.
The ENERGY STAR options provide contractors and homeowners with a full range of choices, all at a mid-range price point. In addition, the InVent Series is manufactured in the USA***, offering service levels and responsiveness that customers demand.
For more information, visit: www.Broan.com/InVent.
Company: Broan-NuTone LLC
Source: http://www.broan.com/InVent
---
Tags:
Custom Period-Matched Perforated Grilles (April 26, 2017), Warwick Hotel Rittenhouse Square boasts unique, stylish lobby entrance with revolving door (April 24, 2017), New critical environment damper series from Ruskin® withstands coastal and corrosive applications (April 11, 2017), Ventilation for you the music fan: Brilliant audio performance concealed behind your fan grille (February 27, 2017), New pressure-independent automatic balancing dampers (ABDs) from Ruskin® mitigate stack effect in high-rise applications (January 25, 2017), Tips to Improve Indoor Air Quality This Winter (December 19, 2016), AAG100 Plaster J-Bead™ Curved Linear Grille (November 9, 2016), Ruskin's Zone Control Solutions Brochure (October 5, 2016), Battic Door Solar Powered Attic Fans (September 5, 2016), Summer 2016 in the Hamptons (August 19, 2016)
Project Spotlight: Work-friendly Daylight (July 13, 2017), Creating the perfectly flat viewing surface (July 11, 2017), 3135EC Eclipse Undermount: Sliding under the radar (July 9, 2017), Colormix® Forecast 2018 (June 14, 2017), 7 Hot 2017 Bathroom Design Trends You Need to Add Style to Your Space (June 13, 2017), Modular In Plant Offices (May 31, 2017), Draper Launches Acoustical Shading Solution (May 29, 2017), Rustic Meets Modern: Transitional Design Style (May 26, 2017), HERMETIC Industrial Flooring (May 22, 2017), Interior Corner Protection (May 18, 2017)
Creating the perfectly flat viewing surface (July 11, 2017), Great thermal performance + corrosion resistance = Clima-Tite™ translucent wall systems with fiberglass framing (June 29, 2017), UNO Helix / Spiral large scale LED fixtures (May 23, 2017), EXTECH offers LIGHTWALL 3440 translucent wall system with three new glazing options (May 15, 2017), Kalwall Panels featured in "Amoeba Wall," MIT design team's award-winning project (March 20, 2017), Global changes in construction: Kalwall's insights from BAU (March 1, 2017), Is polycarbonate the future of architecture? (February 2, 2017), Easily Earn AIA Learning Units | EXTECH, Inc. (January 6, 2017), How To Avoid The Most Common Problems With Commercial Lampposts (December 30, 2016), 5 Crazy Modern Glass Wall Partition Ideas for a Loft Apartment (October 17, 2016)