architecture - engineering - construction

Find Your Color With ColorSnap Studio™
May 20, 2015
Fuel your color inspiration and get painting with the Sherwin-Williams ColorSnap Studio app. Browse over 1,500 colors, match paint colors from photos and virtually paint your own walls. Before you paint it, you have to see it.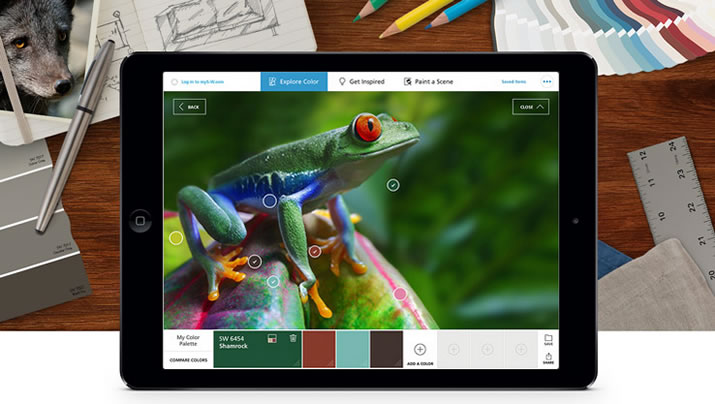 Available on the App Store
Features
Try paint colors on your walls
Try colors on your walls right from your iPad. Use the Match a Photo and Explore Color functions to build a color palette, then virtually paint your own walls or a sample scene.
Match colors to your inspiration
Match colors from your own pictures to find your favorite paint colors. Simply tap anywhere on your photo and drag until you've found the Sherwin-Williams paint color for your project.
Find the perfect paint color
We've made it easy to browse through our more than 1,500 paint colors from your iPad. Explore the Digital Color Wall with a swipe of your finger or search for a specific color to narrow your choices.
View your saved items from anywhere
Register or log in to your myS-W.com account to save your favorite colors and access them on other Sherwin-Williams digital color tools, such as ColorSnap Visualizer and ColorSnap Mobile.
Company:
The Sherwin-Williams Company
Source: http://www.sherwin-williams.com/architects-specifiers-designers/color/color-tools/color-snap-studio-for-ipad/
---
Tags:
Coral Reef! Jackie Jordan on the 2015 Color of the Year (February 6, 2015)
Tectum V Acoustical Roof Deck (May 8, 2015), There's a new trend in the mailbox industry... (May 6, 2015), Concrete repair, resurfacing and epoxy flooring by Super-Krete Products (May 4, 2015), OGDEN flexible curved or circular benches (April 29, 2015), A World Without Windows (April 24, 2015), 5 Tips For How To Fill Perfect Looking Large Planters (April 22, 2015), Would you step out on this glassfloor? (April 10, 2015), L-Bead Installation: New and Improved (April 3, 2015), Create an accent wall with faux-leather wall panels (February 17, 2015), Coral Reef! Jackie Jordan on the 2015 Color of the Year (February 6, 2015)