architecture - engineering - construction

First Appearances Matter: remove the dirt | absorb the moisture | preserve your floors
August 31, 2016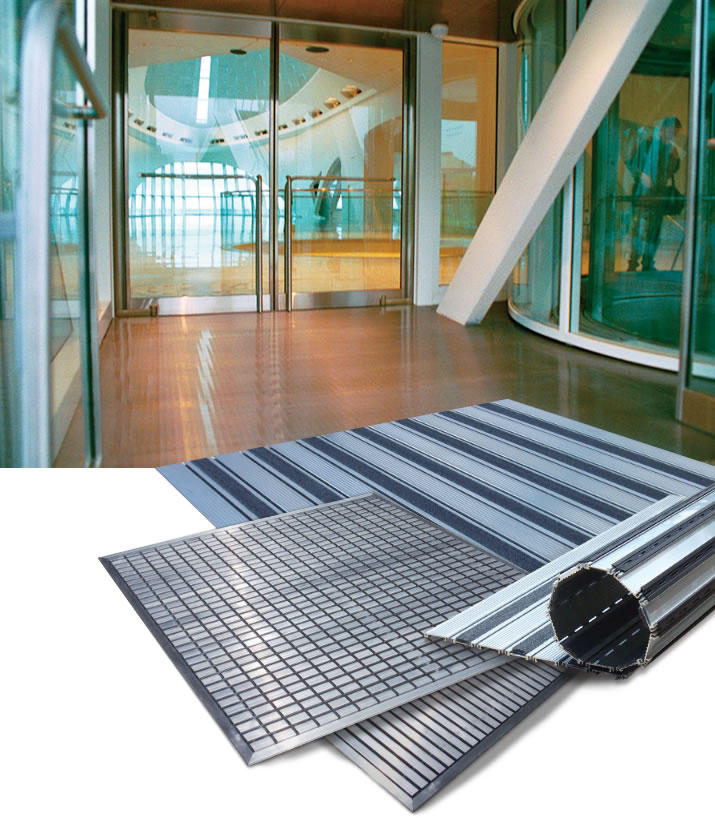 Babcock-Davis manufactures a full line of entrance flooring systems. From elegant stainless steel to rugged brushes we have the treads that meet your needs.
Keep It Clean
Protect your beautiful floors by keeping the dirt at the door. By adding and properly maintaining an entrance flooring system 18 feet in length, 90% of tracked dirt will be kept from polluting a building.
Entrance Flooring Systems
Making the right choice in an entrance flooring system will maintain your design, add years to your floor's life, ensure a safe entrance and significantly reduce maintenance costs. Entrance mats improve Interior Environmental Quality by stopping dirt from entering the building, improving Interior chemical and pollutant source control. Babcock-Davis' complete line of Entrance flooring systems includes architectural metal grates, roll up grates, rigid grates and roll-up mats.
The sleek appearance, strength and versatility of these metal grates are an architectural favorite. Architectural Metal Grates Include:
Stainless Steel proGRIL
Stainless Steel eleGRIL ®
Stainless Steel eleGRIL ® with carpet inserts
Aluminum alumaGRIL
Babcock-Davis' Rigid Grate is ideal for high traffic areas as they are the strongest and most versatile grate with various tread options. Babcock-Davis' Rigid Grates include:
GRATEdesign ®
EnvIRONtreadII ®
Ideal for medium traffic, the Roll-Up Grate is strong, easy to clean and versatile with multiple tread options. Babcock-Davis' Roll-Up Grates include:
Lightweight Roll-Up Mats are easy to clean, ideal for light traffic and versatile with many tread options. Babcock-Davis' Roll-Up Mats include:
QuietFLEX ®
MATdesign ®
MATrac
Browse the selection of frame styles available for each entrance flooring system.
Surface Mount
Surface Mount, Vinyl
Level Bed, Mech. Fastened
Level Bed, Cast-In
Deep Pit, Cast-In
Learn about the finish and tread options offered to customize your entrance flooring mats and grates. Available tread functions include scraping, absorbent and slip-resistant.
Dual Treads
Color Anodized
Premium Carpet
Rugged Scrub ®
EnvIRONtreadII ®
EcoTread
Vinyl
Aluminum Abrasive
Vinyl Abrasive
Brush
Babcock-Davis, a trusted name in the commercial construction industry, specializes in providing commercial building products. Architects, specifiers, general contractors, and distributors rely on the Babcock-Davis product line for a quality product with hassle-free fulfillment. No matter your project requirements, Babcock-Davis is Always right there.
Company:

Babcock-Davis
Source: http://www.babcockdavis.com/entrance-flooring-systems
---
Tags:
Mirror polished stainless steel enclosure top and return grilles at New York City Hospital Lobby (August 26, 2016), Peace-of-Mind for Rural Utility Offices - Bulletproof barrier security tips & news (August 8, 2016), 5 Proven Questions to Get the Size of Your Shower Opening Right (July 29, 2016), Evolution Of Revolving Door Security: Teaching Old Doors New Tricks (July 4, 2016), Turnstiles to Appear on Discovery Channel Show (May 6, 2016), The Plan to Turn NYC's Turnstiles Into Musical Instruments (February 29, 2016), Wisconsin Hospitals Use Boon Edam Revolving Doors in Special, Double Entrance Solution (February 15, 2016), The Ins and Outs of Revolving Doors (November 9, 2015), The Industry's 1st Monitored Light Curtain - Now Available (September 25, 2015), A perfect blend between revolving doors and transparent architecture (September 4, 2015)
Mirror polished stainless steel enclosure top and return grilles at New York City Hospital Lobby (August 26, 2016), 4 Reasons you should choose a resurfaced concrete floor (August 10, 2016), SlipNOT is keeping the Indians fans at Progressive Field on their feet (August 5, 2016), Slip Resistant Aluminum Flooring in Bubble Capsule (June 22, 2016), Benefits of Slip Resistant Aluminum Plates (April 27, 2016), Consider Glass Flooring Systems for Dramatic Design (April 1, 2016), Non Slip Aluminum Plank (March 16, 2016), Better than real wood planks (March 9, 2016), High Performance Coatings (March 7, 2016), Massive retail shopping mall (February 5, 2016)
Architects Inspiration Handbook for Glass applications in commercial interiors (August 29, 2016), Mirror polished stainless steel enclosure top and return grilles at New York City Hospital Lobby (August 26, 2016), Accuride's flagship 3800 series slides are now available from bisco (August 12, 2016), 5 Proven Questions to Get the Size of Your Shower Opening Right (July 29, 2016), Commercial Grade Soft-Close Undermount slide (July 27, 2016), Benefits of Decorative Metal Ceilings (July 22, 2016), Designer John Gidding on Finding Color Inspiration (July 18, 2016), Restaurant Ceiling Tiles (July 1, 2016), Sotheby's 2016 Designer Showhouse + Auction (June 8, 2016), The Sir John A MacDonald Building (June 3, 2016)
Peace-of-Mind for Rural Utility Offices - Bulletproof barrier security tips & news (August 8, 2016), SlipNOT is keeping the Indians fans at Progressive Field on their feet (August 5, 2016), An orderly revolution in waste control (August 3, 2016), Antimicrobial Protection for Architectural Aluminum (July 16, 2016), Darlington upgrades good for business in Burlington (July 6, 2016), Evolution Of Revolving Door Security: Teaching Old Doors New Tricks (July 4, 2016), The Role of LEDs in Outdoor Lighting Design (June 27, 2016), Create Your Fire Prevention Plan (June 24, 2016), Slip Resistant Aluminum Flooring in Bubble Capsule (June 22, 2016), Balancing Bulletproof Security and Design (June 21, 2016)