architecture - engineering - construction

Floor access covers for flexible floor finish
January 30, 2019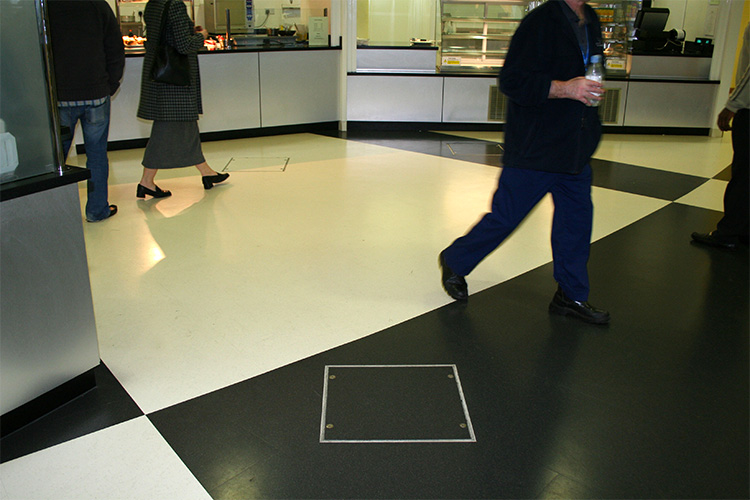 Howe Green offers the Visedge series of floor access covers that have been specially designed for sheet flooring such as PVC, linoleum and rubber and some carpets.
Features and benefits
Materials
The Visedge series of floor access covers for flexible floor finishes is manufactured from aluminium with a galvanised steel deck.
Configuration
To ensure total versatility the Visedge series of floor access covers can be used singly, in continuous runs as duct covers or over large areas as a multipart cover.
Sizes
Howe Green Visedge floor access covers are custom made to your exact specification, between stated maximum and minimum sizes. Our investment in plant and equipment ensures custom made products can be manufactured without incurring a time or cost surcharge – to save you time and money.
Quality
Every aspect of our Visedge series of floor access covers has been designed and manufactured with quality in mind:
Covers are precision made to avoid distortion
A tough, lightweight, corrosion resistant access cover solution
Crimped corners allow the access cover and frame to lie flush with the flooring
Available with a top edge seal to help prevent dirt and water ingress
Galvanised steel base plates and reinforcement to resist corrosion.
Contact our Technical Department if products are to be used in a corrosive environment such as swimming pools.
Fitting
Quick and easy to install ensuring minimum disruption, full installation instructions provided. Access to network of skilled installation experts is available if required.
Easy access
Howe Green floor access covers provide easy access to under floor services using lifting keys to remove the access cover.
Load bearing capacities
A light duty access cover with a load bearing capacity suitable for pedestrian traffic, including wheeled trolleys and sack trucks.
Fire ratings
Fire ratings up to three hours are available on most floor access covers.
Aluminium securing edge trims to seal and protect junctions between flexible flooring and hard flooring.
Visedge DS
The Visedge DS secures and protects the edge of the flexible flooring when it has been laid on top of another surface. The Visedge DS is designed for limited depth application and pedestrian traffic.
Visedge VR
The Visedge VR is a vinyl edge securing trim with weldable pvc edge designed to enable two differing floor finishes, such as vinyl and terrazzo to be finished flush. The Visedge VR anchors the perimeter of the flexible flooring to prevent the ingress of water and to protect the edge profile of the adjoining hard floor finish. It forms an impermeable, flat, hygienic and permanent joint. The Visedge VR is designed for limited depth application and pedestrian traffic.
Visedge Series in action
Queens Hospital - Romford
Over 200 Visedge floor panels have been supplied by Howe Green for Romford's new state-of-the-art 939-bed Queen's Hospital, to provide easy - yet tamper-proof - access to vital underfloor services.
Designed by architects Jonathan Bailey Associates, Queen's Hospital was built for Barking Havering & Redbridge Hospitals NHS Trust. Serving a population of around 700,000, the £261 million four-storey, 4,500 room building provides high quality specialist acute services.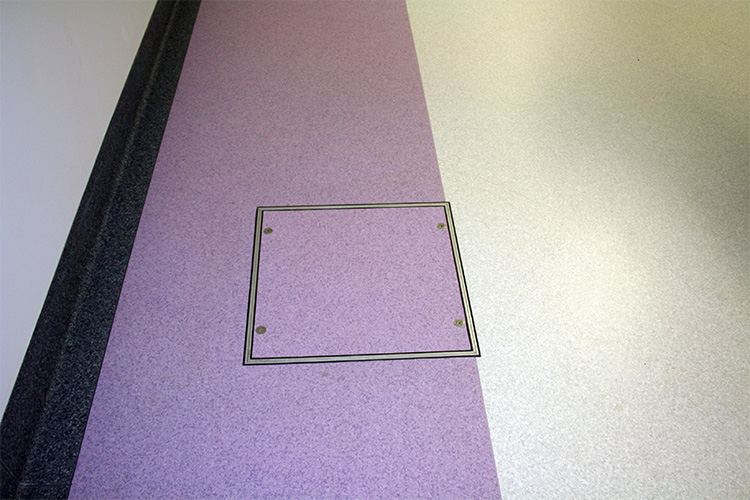 With the hospital floors set to be subject to heavy foot traffic from millions of annual visitors, patients and medical staff, a heavy duty and tamper-resistant access solution was required. Such floor panels enable essential access to concealed pipes and cables, as well as vital building services including IT, heating and water supply.
Due to their public-facing location, it was also essential that the covers fit perfectly flush with their surround to avoid distortion and prevent any slips or trips occurring for people using the facilities.
Howe Green's Visedge covers, suitable for a wide range of demanding environments, offered the most cost-effective and low maintenance solution. Fitted quickly and unobtrusively, the covers are double-sealed to meet the highest standards of hygiene and security and are corrosion and maintenance-free.
The Visedge series combines modern construction techniques with innovative design. Engineered for use with flexible sheet flooring systems, the covers provide 'stiletto-proof' resistance and have proven longevity in highly trafficked areas.
Special fittings were produced by the firm to ensure the covers would match a variety of square and rectangular cavities with small apertures. Featuring a unique double seal designed to create a positive seal to drainage, electrical and other ducts, the covers also have crimped corners to allow both the cover and frame to lie completely flat.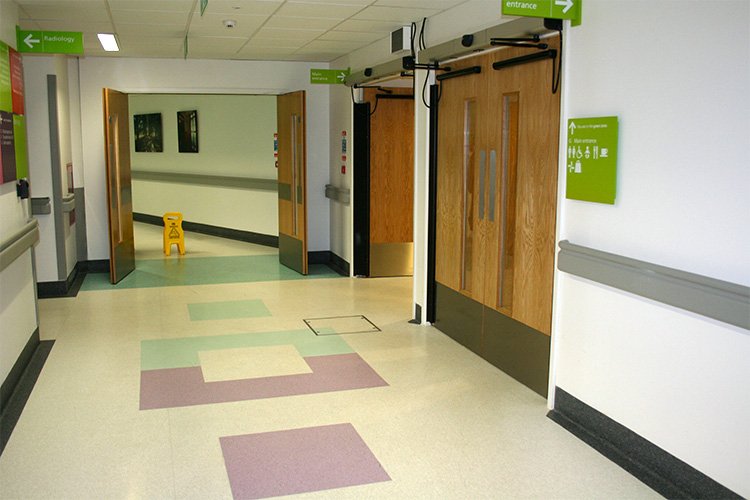 Unlike similar products, the Visedge series also allows the sheet flooring, which can include PVC or linoleum, to be locked to the frame sections and hot welded to the surface rather than glued. This creates a permanent joint and eliminates any possible water ingress and peeling which can cause a health and safety hazard.
The hospital's construction was funded by Catalyst Healthcare, a Private Finance Initiative consortium comprising Bovis Lend Lease, the Bank of Scotland and Sodexho. Catalyst will now manage the day-to-day upkeep and long term maintenance for a concession period of 36 years.
With Howe Green's robust and maintenance-free Visedge covers installed throughout the building, Catalyst can be reassured that underfloor services will remain safely concealed for the duration.
@HoweGreen #HoweGreen #floor #access #covers
Company: Howe Green US
Source: https://www.howegreen.com/access-covers/floor/flexible.php
---
Tags:
How security entrances can help protect data centers by controlling physical access (December 14, 2018), 2018 Trend: Custom Corporate Security Systems (August 20, 2018), Buy Online & Pickup In-Store, Back to School Edition: Package Concierge® Reveals Top Tips for Retailers (August 8, 2018), Regulatory compliance: how a lack of clarity around the entry leads to fines (April 13, 2018), How are mantrap portals designed to mitigate physical security risk? (March 12, 2018), Linear motion track systems and how they help you (January 29, 2018), From west to east with Howe Green access covers (January 4, 2018), Four Cross-Departmental Benefits of Electronic Access Control (October 13, 2017), Accuride Integrated Access Solutions: The New Frontier of Access Control (August 15, 2017)
How to Choose the Right Perforated Grille for Your Project (August 9, 2018), From west to east with Howe Green access covers (January 4, 2018), Not all access covers are created equal (November 6, 2017), Keeping the castle cosy with Howe Green access covers (September 11, 2017), Custom Ornamental Bronze Grilles (August 4, 2017), Blackened Steel for Architectural Design (July 19, 2017), Howe Green 'raises the bar' at former olympic site (July 18, 2017), Swedish hospital 'takes a chance' on Howe Green (June 21, 2017), Howe Green supply 'specials' for renovation of Nationalmuseum of Art, Stockholm (May 9, 2017), Custom Period-Matched Perforated Grilles (April 26, 2017)
REFLECTOR™ Enhancer Flooring Systems (January 16, 2019), StonePly lightweight natural stone panels (December 21, 2018), Microtopping Floors in Retail Furniture Stores (November 28, 2018), 7 Fun ideas using glass to jazz up your outdoor patio or deck this summer (July 27, 2018), Structural glass floor pavers landings & stair treads (May 7, 2018), Is Polyaspartic Coating better than Epoxy or Polyurethane Coating? (April 26, 2018), From west to east with Howe Green access covers (January 4, 2018), Polished Concrete Flooring (December 13, 2017), Modern & Seamless Custom Flooring Systems (November 14, 2017), 4 Major Advantages of Decorative Concrete in Commercial Settings (September 25, 2017)