architecture - engineering - construction

Glass Block with Etchings
September 9, 2017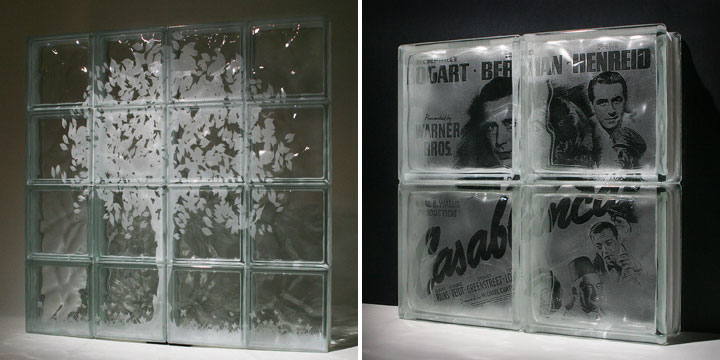 Laser etched glass block can turn an ordinary window or wall into a one of a kind work of art. Our sealed beam laser process can etch up to 256 different shades of gray and 600 dots per inch of resolution. Not only does this process surpass standard lasers, engraving, and sandblasting – it is available at cost effective prices on a block building material that is also a structural window or wall. You can even personalize a gift of a vase, bank, or glass block light.
Uses and Benefits of Etched Glass Blocks
Intricate details and custom designs
Our carbon dioxide laser can be controlled down to .001" diameter (100 times smaller than the period at the end of a sentence) providing details and shading not possible with other methods.
Free deliver and no minimum order quantities
Order one unit or thousands – we'll ship to you free of charge and work to produce a finished product that will excite you.
Select stock patterns or create a one of kind
If you have a favorite hobby or want to match an architectural style in one block or develop a mural over multiple units it's all possible.
One stop shopping you can trust
Our company can etch an entire prefabricated window, wall, or glass block shower and even install it for you (installations are in selected areas) and have earned the Better Business Bureau Accreditation and Consumers Choice Service Awards.
Multiple uses including signs and logos
If you're looking for a unique sign in a wall or lobby for your business we can etch your logo or directional sign into a single or multiple grouping of glass blocks. Since our products are either 3 1/8" or 3 7/8" thick they are very difficult to break (Note: if one unit is broken our computer controlled equipment can create an exact replica of that specific block).
Company:

Innovate Building Solutions
Product: Etched glass window
Source: http://innovatebuildingsolutions.com/products/glass-block/etched-glass-block-window-wall
---
Tags:
Blast protection and pressure relief systems (August 24, 2017), Getting Contractors The Right Bullet Resistant Barrier For Their Clients (August 3, 2017), SC Railing Company: Offering a View from the Top (July 31, 2017), Durable skylight finishes by Linetec (July 4, 2017), Great thermal performance + corrosion resistance = Clima-Tite™ translucent wall systems with fiberglass framing (June 29, 2017), 7 Hot 2017 Bathroom Design Trends You Need to Add Style to Your Space (June 13, 2017), Preparing Glaziers To Work With Bulletproof Glass (June 8, 2017), Energize your next daylighting design with Spectra-Grid™ (May 25, 2017), Designed for resiliency and acoustic performance (May 17, 2017), Auburn® custom & pre-engineered skylights (May 1, 2017)
Tectum III & Tectum IIIP Acoustical Roof Deck (September 7, 2017), Tectum Panel Art (August 18, 2017), Accuride Integrated Access Solutions: The New Frontier of Access Control (August 15, 2017), Top NYC architect selects Feeney for notable barn project (July 26, 2017), You Deserve to be Delighted: 10 Essential Elements to Look for in a Security Entrance Manufacturer (July 25, 2017), Finally a Hands Free Solution to Stop Bathroom Mold with the New Enhanced Broan® InVent™ Series (July 14, 2017), Project Spotlight: Work-friendly Daylight (July 13, 2017), Creating the perfectly flat viewing surface (July 11, 2017), 3135EC Eclipse Undermount: Sliding under the radar (July 9, 2017), Colormix® Forecast 2018 (June 14, 2017)
Sto launches impact resistance program (September 4, 2017)
Removable storm shutters & panels (August 30, 2017), Blast protection and pressure relief systems (August 24, 2017), Visual Blog: Kalwall in the Cultural Market (August 22, 2017), Getting Contractors The Right Bullet Resistant Barrier For Their Clients (August 3, 2017), Project Spotlight: Work-friendly Daylight (July 13, 2017), Durable skylight finishes by Linetec (July 4, 2017), Great thermal performance + corrosion resistance = Clima-Tite™ translucent wall systems with fiberglass framing (June 29, 2017), Preparing Glaziers To Work With Bulletproof Glass (June 8, 2017), Energize your next daylighting design with Spectra-Grid™ (May 25, 2017), Designed for resiliency and acoustic performance (May 17, 2017)