architecture - engineering - construction

Great Glazing: Rogers Memorial Hospital Brown Deer
February 8, 2016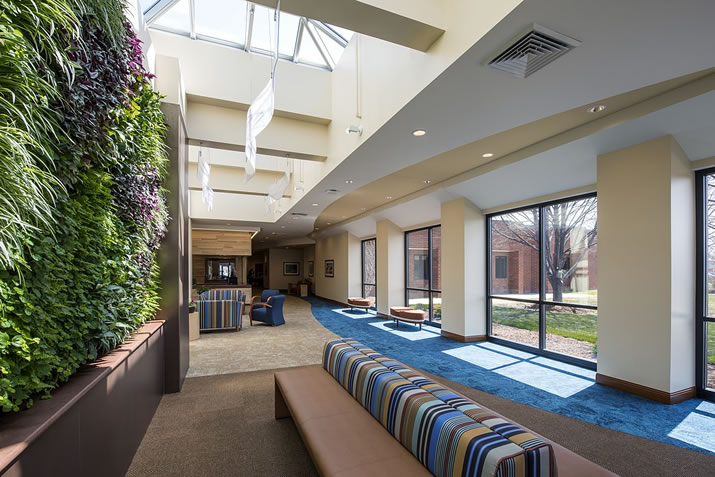 Photos courtesy of TWP Architecture
The basics: Rogers Memorial Hospital–Brown Deer, Wisconsin, celebrated its completed renovation in April 2015. Brown Deer is the first Rogers facility to incorporate biophilia into its design. Biophilia design recognizes the way humans have an emotional connection to nature and to natural forms, aiding a patient's healing process. The new design uses seventy high-impact windows that provide a safe interior as well as natural light and views. The 50,000-square-foot, 56-bed facility now offers inpatient care for children and adults diagnosed with anxiety, depression, addiction and other behavioral care needs.
The players: Architect, TWP Architecture; general contractor, VJS Construction Services; contract glazier, Simmons Building Products; glass manufacturer, PPG Industries, Trulite; glazing systems, window manufacturer: Wausau Window and Wall Systems; glazing systems, finishing, Linetec; metal systems supplier, Manko Window Systems.
The glass and systems: As part of the total renovation, Wausau Window and Wall Systems updated the facility's old windows with its SEAL behavioral care windows, which provide a safe interior as well as the natural light and views that connect patients with their surroundings. Working on a limited budget, the architect also opened the entry with natural light, using storefront Series 2450 from Manko and Trulite's 1-inch laminated insulating glass unit, made up of ¼-inch clear tempered PPG Solarban 60, a 7/16-inch clear anodized silicone spacer, and a 5/16-inch unit comprised of 1/8-inch clear annealed glass, 0.60 mm clear PVB and 1/8-inch clear tempered glass.
Glazing contractor Simmons Building Products installed 70 of Wausau's SEAL 2187-DT interior accessory windows with Solarban glass by PPG. SEAL is an acronym for sound, energy, air and light. According to Wausau, the windows are drop-tested for high impact, supporting safety without requiring screens or bars. They also use an overlap sash design, rather than a flush sash, to make them more resistant to patient tampering and prying. Integral between-glass blinds minimize maintenance, reduce solar heat gain, and offer privacy, without the potential dangers of exposed cords and slats, according to Wausau. Linetec finished the windows' frames with a Dark Bronze anodize finish.
Company: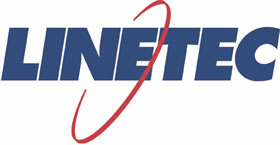 Linetec
Of: glassmagazine.com
Source: http://glassmagazine.com/article/commercial/great-glazing-rogers-memorial-hospital-brown-deer-1614735
---
Tags:
Partnering with Architects to Make BulletProof Beautiful (February 3, 2016), Online Color Selection and Specification Tool (January 11, 2016), Kalwall Featured: Guide Dogs for the Blind New Student Residence (December 30, 2015), Designing Outdoor Public Spaces is Vital to the Future of our Cities (December 28, 2015), Active Design Guidelines for Walkable Communities (December 23, 2015), 3 buildings that balance aesthetics and performance (December 16, 2015), Making History: The National Constitution Center (December 11, 2015), Earn LEED Points With Florence Mailboxes (November 18, 2015), Data Center HVAC Design Considerations (October 26, 2015), Helping to retrofit Bronx Community College (October 5, 2015)
7 Myths about One Level (Curbless) Showers (January 6, 2016), Mid-Century Modern Principles Applicable in Today's Bulletproof Barrier Design (October 30, 2015), They're here! Glass countertops from Innovate Building Solutions (October 14, 2015), Log home meets contemporary (September 16, 2015), Glass 'sky pool' coming to London (August 27, 2015), 7 Cool Uses of Glass for Contemporary Luxury Homes (June 12, 2015)
Partnering with Architects to Make BulletProof Beautiful (February 3, 2016), Kalwall Featured: Guide Dogs for the Blind New Student Residence (December 30, 2015), Optically Clear Aluminum Provides Bulletproof Protection (June 5, 2015), April Showers Bring May Flowers… And Eco-Friendly Smart Glass (May 18, 2015), Suitable for framing: Kalwall brings distinct lighting to award-winning design (May 15, 2015), A World Without Windows (April 24, 2015), How to Choose the Right Type of Vinyl Replacement Windows (March 25, 2015)