architecture - engineering - construction

How Safe Is Your Roof? The facts you need to know about rooftop safety
September 11, 2020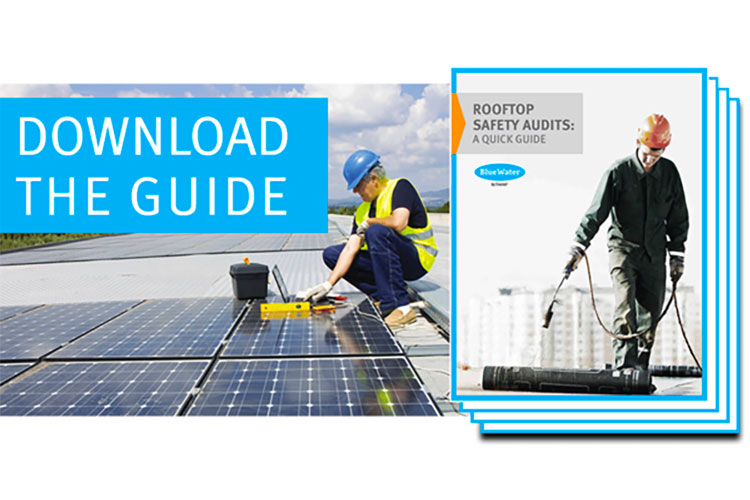 Now more than ever, it is important to protect employees, contractors, and anyone else who accesses your facility's roof. Making rooftop safety a priority at your facility can help reduce the risk of injurious or fatal falls – a major goal for all safety and facility managers in 2019 and beyond. A comprehensive rooftop safety audit can address many of these safety concerns, as well as overall compliance and other OSHA regulatory issues.
Download this guide to learn about the Five Areas of Concern for Rooftop Safety:
1.) Access
2.) Edges
3.) Equipment
4.) Openings
5.) Navigation
In it, you will also find out about the latest OSHA regulations associated with rooftop safety and discover how you can help to mitigate potential risks at your facility.
@BlueWaterMfg #BlueWaterMfg #skylight #osha #safety
Company:
BlueWater Mfg
Product: SafetyRail 2000 Architectural Series
Source: https://www.tractel.com/bluewater/resources/how-safe-is-your-roof
---
Tags:
Feeney Project Showcase: Art Steedle's Container Bar (August 19, 2020), Cable Railing – Unencumbered Views for Your Treasured Spaces (May 29, 2020), Balau Wood Cable Railing (April 24, 2020), 3 Creative Ways to Utilize CableRail in Interiors (April 1, 2020), Three glazing myths debunked - dispelling common concerns about specifying glass railing (January 29, 2020), Permanent building mounted ladder receivers (January 22, 2020), White aluminum cable railing (January 17, 2020), Aluminum Cable Railing (November 11, 2019), 3 Tips to Make Sure Cable Rail Wood Frames Last for Years to Come (October 23, 2019), Feeney Project Showcase: CableRail in Trex Transcends railing (August 16, 2019)
Cranky Portable Winch is the safe (and easy!) way to lift heavy objects (February 28, 2020), Permanent building mounted ladder receivers (January 22, 2020), Roof hatches, smoke vents and fall protection (August 28, 2019), Tectum E & Tectum E-N Acoustical Roof Deck (August 26, 2019), Achieve Sustainability Goals with Hollowcore Roof and Floor Systems (July 5, 2019), SafetyRail 2000 Roof Fall Protection Guardrail System (August 11, 2018), Roof top safety (May 3, 2018), Daylight & Learning (April 20, 2018), Skylight guarding with SRC - Skylight Screens (October 10, 2017), Tectum III & Tectum IIIP Acoustical Roof Deck (September 7, 2017)
Building Peace of Mind with Hurricane Resistant Solutions (September 9, 2020), NC State University Upgrades Security with New Boon Edam Turnstiles (September 7, 2020), 5 Questions With Jim Edgeworth, Residential Sales Director for The BILCO Company (August 31, 2020), Feeney Project Showcase: Art Steedle's Container Bar (August 19, 2020), How façade elements are increasing health, safety, and sustainability in school design (August 14, 2020), See how new antibacterial products squash superbugs (July 6, 2020), Strategies for Fire Prevention in the Workplace (July 3, 2020), Several to one: removable bollards systems - why you might buy more than one receiver per bollard (or vice versa) (June 26, 2020), Cable Railing – Unencumbered Views for Your Treasured Spaces (May 29, 2020), Safe Gate Systems Start with Safe Gate Designs (May 27, 2020)