architecture - engineering - construction

Howe Green Access Cover provides the perfect antidote to access issue at hospital
March 14, 2017
A Howe Green 7500 Series Medium Duty Aluminum Floor Access Cover was recently installed at the Lennox Addington County General Hospital in Napanee, Ontario.
The hospital, which first opened in 1966, provides General Medicine and General Surgery, a 24 hour emergency service and an increasing number of outpatient clinics to the population of Lennox and Addington and the surrounding towns.
Over 270 people are employed at the busy hospital and they provide high quality health care for around 24,000 patients a year. The safety and comfort of patients is paramount.
Howe Green is one of the world's leading manufacturers of fabricated metal floor, wall and ceiling access covers, panels and hatches. Established in 1983 the company has a long pedigree when it comes to supplying access solutions for the healthcare sector.
Notable healthcare projects include the supply of over 100 Visedge Series Flexible Floor Access Covers for the state of the art Southmead Hospital in Bristol and 200 Visedge floor covers for the Queen's Hospital in Romford.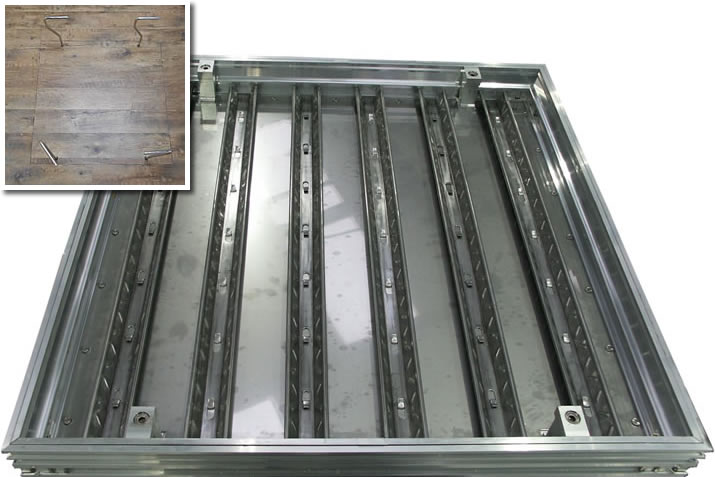 The access challenge:
Ensuring the smooth operation of mechanical and electrical services 24/7 is a challenge in any environment. Within a hospital the demands on providing an ambient temperature for patients, reducing the risk of infections and ensuring that systems are energy efficient adds greater complexity to daily maintenance schedules.
The Building Trades Coordinator Lennox and Addington County General Hospital required easy access to a shaft that concealed mechanical and electrical services running through the underfloor void of the building. With heavy footfall of patients, visitors and staff it was imperative that the access solution was secure but could be easily and quickly removed when required.
After direct discussions with Howe Green's Canadian distributor - FF Systems in Ontario - it was agreed that the 7500 Series was the perfect solution for the challenge in hand.
Why the 7500 Series Medium Duty Access Cover was ideal for this project:
Suitable for heavily trafficked pedestrian areas, cars and light delivery vehicles as it will accept up to a 5 ton pneumatic wheel load
Can be used with all types of hard flooring including terrazzo, ceramic tiles, marble, resin, concrete, wood and parquet floors. In this case the access cover was filled with concrete ready for a wood floor to be laid over the top.
Available in a range of standard size access covers from stock. Where a non-standard size is required this can be manufactured to order to meet the exact specification
The cover provides easy access to the mechanical and electrical services located underneath the floor. It can be safely removed, with the minimum of disruption, using a set of lifting keys
Option for a double seal to provide a tamper proof solution with enhanced levels of security
The cover fits flush into the surrounding wooden floor removing the risk of slips and trips.
Over to the customer for the last word…
"I chose to work with FF Systems because they were able to supply a product that met our specific requirements. The Access Panels are of superior quality and easy to install. I look forward to working with FF Systems in the future." - Bill Harrison, Building Trades Coordinator, Lennox and Addington County General Hospital, Napanee, Ontario
Find out more:
Visit the Howe Green US website or call Howe Green's distributor - FF Systems Inc in the US on 239 689 5334 or for Canada 519 896 0888.
Company: Howe Green US
Source: https://howegreen.us/
---
Tags:
An Introduction to Access Covers (December 12, 2016), Mirror polished stainless steel enclosure top and return grilles at New York City Hospital Lobby (August 26, 2016), E2JS thin line louver used on Reptile House at the Cincinnati Zoo (August 22, 2016), Summer 2016 in the Hamptons (August 19, 2016), A Smart Step-Up from Howe Green (April 26, 2016)
Choosing the right finish for coastal projects (February 24, 2017)
Navigating the wide selection of polymer overlays over concrete substrates (February 2, 2017), The Benefits of Water-Based Concrete Stains (January 2, 2017), What are the Flooring Options for a Food Facility Washdown Area (December 28, 2016), An Introduction to Access Covers (December 12, 2016), Safety standards for slips, trips, and falls (November 30, 2016), Navigating the Wide Selection of Polymer Overlays Over Concrete Substrates (October 31, 2016), Reflector Designer Metallic Epoxy Flooring (October 14, 2016), First Appearances Matter: remove the dirt | absorb the moisture | preserve your floors (August 31, 2016), Mirror polished stainless steel enclosure top and return grilles at New York City Hospital Lobby (August 26, 2016), 4 Reasons you should choose a resurfaced concrete floor (August 10, 2016)