architecture - engineering - construction

Introducing the 2017 Color of the Year
January 20, 2017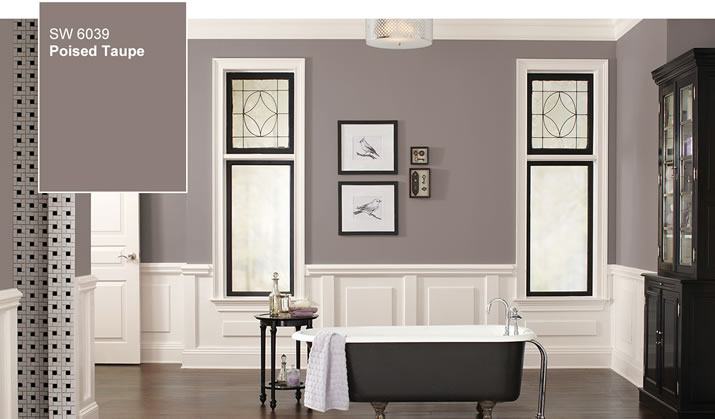 2017 Color of the Year
Sherwin-Williams doesn't usually like to play color favorites, but in this case we can't resist. The color we anticipate defining 2017 is Poised Taupe SW 6039. Here's why: This timeless neutral is modern, classic and a beautiful balance of warm and cool.
The 2016 industry shows revealed a surprising transition from grey to taupe. Both contract and consumer color and products have been focused on grey as the key neutral — although grey is still important, we have seen a significant shift in materials and finish color to warmer expressions of neutral.
Using the Sherwin-Williams ColorSnap® Visualizer, you can explore the Color of the Year, and with the swipe of a finger see it on any wall.
Tag your Poised Taupe Twitter and Instagram posts with #SWCOLORLOVE or upload a photo.
2017 Key color combinations featuring Poised Taupe…
In addition to the "warming up" of neutrals in general, 2017 will see several key colors emerge in combination with taupe.
Cornflower Hues
Faded indigo and lighter cornflower hues pair with modern white and Poised Taupe for a charming palette, reminiscent of the French countryside.

Organic Re-imagined
Vegetal green, citrus green, weathered bronze and mustard yellow pair with Poised Taupe to create a contemporary organic palette — re-imagined for the modern world.

Vintage Pastels
Pastels take on a vintage vibe with dusty ink, amber, Poised Taupe, sage and oxidized yellow.

Wine & Taupe
Deep wine, purple and Poised Taupe bring warmth to the dark tones favored in 2017. Silvery grey and intense teal provide balance and drama to this rich, mysterious palette.

Eroded
Red and coral are vibrant and ore rich when combined with Poised Taupe and dusky rose. There is a natural feel to this palette, reminiscent of silt, clay and red stained bedrock.

Yellow POP
Yellow takes bold direction when paired with black, white, Poised Taupe and deep teal for a super graphic look.

Company:
The Sherwin-Williams Company
Source: https://www.sherwin-williams.com/architects-specifiers-designers/color-forecast/2017-color-forecast/2017-color-of-the-year
---
Tags:
Sherwin-Williams VinylSafe® Paint Colors (January 9, 2017), Don't Make Color Decisions at Sunset (November 2, 2016), Reflector Designer Metallic Epoxy Flooring (October 14, 2016), 4 Reasons you should choose a resurfaced concrete floor (August 10, 2016), Designer John Gidding on Finding Color Inspiration (July 18, 2016), Antimicrobial Protection for Architectural Aluminum (July 16, 2016), Wood grain finishes for aluminum (May 27, 2016), Fleur de Sel (SW 7666) invites comfort and luxury into contemporary Atlanta home (March 18, 2016), 2016 Color Forecast (February 22, 2016), Online Color Selection and Specification Tool (January 11, 2016)
Sherwin-Williams VinylSafe® Paint Colors (January 9, 2017), The Benefits of Water-Based Concrete Stains (January 2, 2017), Don't Make Color Decisions at Sunset (November 2, 2016), Roman Brick: for architects and homeowners aspiring for a unique look (October 26, 2016), 5 Crazy Modern Glass Wall Partition Ideas for a Loft Apartment (October 17, 2016), Color Rendering Index: Why It's important in Outdoor Lighting (September 23, 2016), Delray LED Circles: Uno • Dos • Cylindro I/II/III (September 14, 2016), Red, traditional brick color for traditional architecture (September 7, 2016), 4 Reasons you should choose a resurfaced concrete floor (August 10, 2016), Designer John Gidding on Finding Color Inspiration (July 18, 2016)
Sherwin-Williams VinylSafe® Paint Colors (January 9, 2017), The Benefits of Water-Based Concrete Stains (January 2, 2017), What are the Flooring Options for a Food Facility Washdown Area (December 28, 2016), Navigating the Wide Selection of Polymer Overlays Over Concrete Substrates (October 31, 2016)
Moving Interiors - Automotive Sliding Systems (January 16, 2017), Loss Prevention: Ramping Up Retail Security for the Holidays (December 21, 2016), Tips to Improve Indoor Air Quality This Winter (December 19, 2016), Make rooms quieter with a little help from EchoControl acoustical shading (November 14, 2016), AAG100 Plaster J-Bead™ Curved Linear Grille (November 9, 2016), New Unicel white paper provides guidance for specifying privacy and shading solutions (October 19, 2016), 5 Crazy Modern Glass Wall Partition Ideas for a Loft Apartment (October 17, 2016), Reflector Designer Metallic Epoxy Flooring (October 14, 2016), Interior Acoustical Finalé Wall Panels (October 10, 2016), Register for a FREE Senseon Secure Access webinar: transforming lock and key systems for commercial environments (October 7, 2016)