architecture - engineering - construction

Kawneer Project Profile: Heifer International World Headquarters
November 2, 2017
FROM BROWNFIELD TO SHINING STAR: "LEED"-ING THE WAY IN LITTLE ROCK
A non-profit organization dedicated to relieving global hunger and poverty, Heifer International provides livestock and plants, as well as education in sustainable agriculture, to financially disadvantaged families around the world. Based in Little Rock, Arkansas, the organization was faced with the need for larger headquarters, but wanted the project to remain true to the earth's resources. Heifer identified a long abandoned railroad yard in the city's old warehouse district, an environmentally dirty site known as a brownfield, and made the decision to transform it – the "green" way. One of the first of its kind in the area, the project was designed with careful consideration for the U.S. Green Building Council's Leadership in Energy and Environmental Design (LEED®*) certification standards.
Polk Stanley Rowland Curzon Porter Architects, Ltd., developed the building's design, capturing every opportunity to achieve LEED points and reflect the overall mission. Glazing contractor ACE Glass Company, Inc. and product manufacturer/design engineering team from Kawneer North America were called in to collaborate on the project. Completed in March 2006, the project is expected to receive its LEED certification in 2007.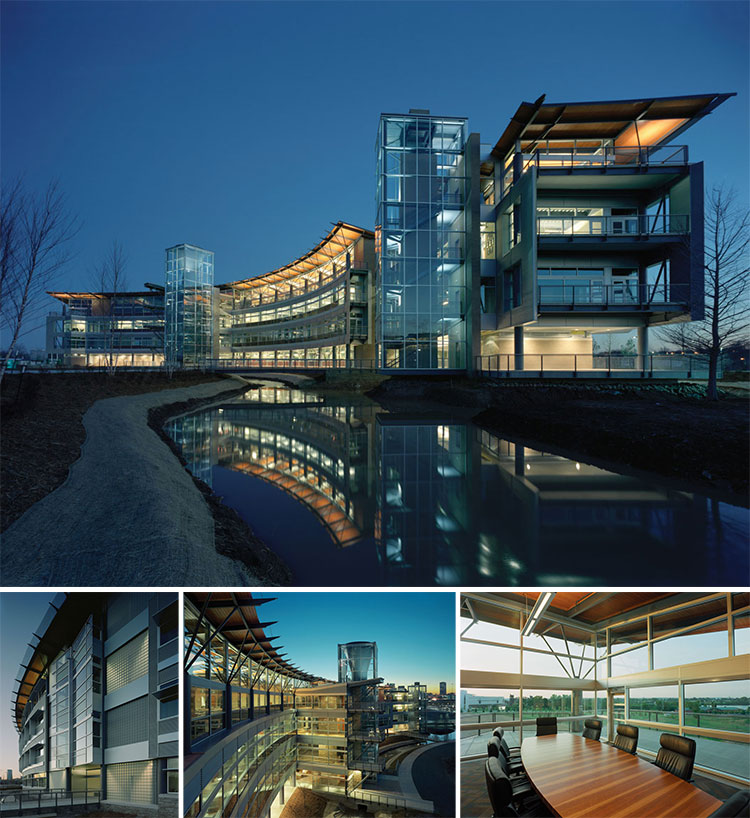 Photography: ©Timothy Hursley
Design Highlights
The curved shape of the building served to take advantage of the solar orientation by stretching in an east/west direction and maximizing sun exposure. To block excessive sunlight, the team integrated sunshades into the exterior, while Kawneer's InLighten™ Light Shelves were installed on the interior of the wall to "bounce" natural light up to the ceiling and reflect it into the building.
Deeper, custom sun shades were created to be hung vertically between the punchouts, a unique design feature that served to be both aesthetically pleasing and functional, as they protect the interior from both east and west sun exposure.
The combination of the building's narrow floor plate and the curtain wall allows natural light to penetrate to the center of every floor, while strategic interior glazing continues the indoor/outdoor aesthetic and keeps individual offices bright and open. Fixed and storefront framing systems, in conjunction with swing and sliding entrances, were used throughout the interior offices and conference rooms. In addition, clean glass, white frost and green glass added a light and modern aesthetic.
Challenges
The complex design required the customization of several existing Kawneer products, and the curved building footprint complicated fabrication.
The increased focus on recycled materials (per the Materials & Resources category under LEED required the coordination of a sizeable order of secondary aluminum billet necessary for the project. In fact, 97 percent of the building materials used for the project contain recycled content.
Featured products
Architect
Polk Stanley Rowland Curzon Porter Architects,
Ltd., Little Rock, Arkansas, USA
Glazing contractor
ACE Glass Co., Inc.
Little Rock, Arkansas, USA
Company:

Kawneer Co., Inc.
Product: Curtain Wall
Source: https://www.kawneer.com/kawneer/north_america/en/products/project_detail.asp?project=heifer_kna&bus=north_america&pc=Commercial_Office_Space
---
Tags:
Mitigating Protests, Smart Mobs and Crime with Manual Revolving Doors (September 6, 2017), Security Entrances Protect Your Bottom Line and More (March 31, 2017), The Original Orange Elevator Smoke Curtain (March 28, 2017), Brass clad & bronze clad doors & frames (January 30, 2017), Mantrap Portal Solutions Eliminate Piggybacking (January 23, 2017), Tunnel Vision: New York City's East Side Access Project (November 21, 2016), What if Someone is Determined to Get into Your Building? (September 12, 2016), GuardDog Self-Closing Gate uses two stainless steel torsion springs so the gate can open in any direction (September 9, 2016), Isabel Bader Center (August 17, 2016), The Sir John A MacDonald Building (June 3, 2016)
Attractive Bulletproof Barrier Design (October 27, 2017), Andamar Lifestyle Center uses revolving doors to combat wind, air infiltration (October 25, 2017), Security Trends: Campus Challenges, Manpower Importance, & Measuring ROI (September 26, 2017), Mitigating Protests, Smart Mobs and Crime with Manual Revolving Doors (September 6, 2017), You Deserve to be Delighted: 10 Essential Elements to Look for in a Security Entrance Manufacturer (July 25, 2017), Howe Green 'raises the bar' at former olympic site (July 18, 2017), Active Shooter Safety: 4 Things Your High Security Entrances Must Have (June 26, 2017), Door Access Control & Security Entrance Integration Techniques (May 24, 2017), Warwick Hotel Rittenhouse Square boasts unique, stylish lobby entrance with revolving door (April 24, 2017), Bulletproof Systems and Accessories for Every Building (April 18, 2017)
Attractive Bulletproof Barrier Design (October 27, 2017), Sto Werkstatt features alternative glass architecture by Space Popular (October 20, 2017), Skylight guarding with SRC - Skylight Screens (October 10, 2017), Using Glass Creatively In Office Interiors (October 2, 2017), Glass Block with Etchings (September 9, 2017), Blast protection and pressure relief systems (August 24, 2017), Getting Contractors The Right Bullet Resistant Barrier For Their Clients (August 3, 2017), SC Railing Company: Offering a View from the Top (July 31, 2017), Durable skylight finishes by Linetec (July 4, 2017), Great thermal performance + corrosion resistance = Clima-Tite™ translucent wall systems with fiberglass framing (June 29, 2017)
Draper takes new angle to solve glare and heat gain (October 30, 2017), Sustainable Single-Family House (October 5, 2017), How health factors into green building rating systems: LEED v4 (September 13, 2017), Green: The Color that Became a Building Philosophy (September 5, 2017), SC Railing Company: Offering a View from the Top (July 31, 2017), Auburn® custom & pre-engineered skylights (May 1, 2017), KINETICWALL wins 2017 Architizer A+ Award (April 19, 2017), Use of louvers-between-glass can contribute up to 31 LEED certification credits (April 5, 2017), The Original Orange Elevator Smoke Curtain (March 28, 2017), Sun Control Sunshades (January 5, 2017)
Slate, Portland's new, LEED Gold, mixed-use, transit-oriented development features Linetec's paint, anodize and thermal improvement services (November 1, 2017), Andamar Lifestyle Center uses revolving doors to combat wind, air infiltration (October 25, 2017), 5 Innovative Public Square Design Ideas (September 29, 2017), Achieving Sustainability and Luxury in a Multi-Family Project (September 22, 2017), How health factors into green building rating systems: LEED v4 (September 13, 2017), Mitigating Protests, Smart Mobs and Crime with Manual Revolving Doors (September 6, 2017), Green: The Color that Became a Building Philosophy (September 5, 2017), Global warming: how architects & building owners can prepare the world (July 27, 2017), What the New Urban Agenda means for architects (July 21, 2017), Maglin Moves Manhattan (July 6, 2017)
Translucent Panels | Chesapeake Boathouse, Oklahoma City (October 31, 2017), LumiSplash™ Decorative Laminates with LED Edge Lighting (October 23, 2017), Which Metal Ceiling Tile Finish Is Right For You? (October 11, 2017), Sustainable Single-Family House (October 5, 2017), New facility at Dupage Airport in Chicago features Extech's systems (September 21, 2017), Design A Better Shaftwall System (August 29, 2017), Blast protection and pressure relief systems (August 24, 2017), Tectum Panel Art (August 18, 2017), Global warming: how architects & building owners can prepare the world (July 27, 2017), 5 Little Known Facts about High Gloss Acrylic Wall Panels (July 24, 2017)