architecture - engineering - construction

Keeping the castle cosy with Howe Green access covers
September 11, 2017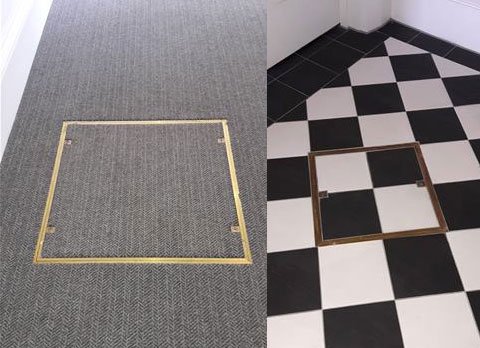 Floor access covers at Lews Castle - the Isle of Lewis
Lews Castle, on the Isle of Lewis in the Outer Hebrides has an interesting past. It was built between 1844 and 1851 for Sir James Matheson, who made his fortune from the Chinese opium trade. Designed by Glasgow architect Charles Wilson the Mock Tudor Castle was intended as a country house for Sir Matheson.
In 1918 industrialist William Lever bought the castle and gave it to the people of Stornoway parish in 1923. During the Second World War the castle was used as hospital and then as a college and a school before being declared unsafe and closed down for twenty five years.
The Castle reopened in July 2016 following a £19 million refurbishment. The Category-A listed building is now a museum and cultural centre owned by the local council - Comhairle nan Eilean Siar, and a wedding venue and five star accommodation operated through Natural Retreats.
The council awarded the major refurbishment contract to the Scotland Division of GRAHAM Construction. Their remit included the repair and restoration of the interior of the ground and upper floors of the Castle, the construction of a new museum and cultural centre and centre café.
The Light Duty 5000 Series Aluminium Floor Access Covers from Howe Green were specified to provide access to the underfloor services, located in the corridors on the first floor of the Castle. Sixteen covers were supplied, in various standard sizes. The covers were specified with the option of a brass show edge. They were installed by GRAHAM Construction and then infilled with carpet or ceramic tiles, depending on their location.
The Howe Green 5000 Series offers a pedestrian loading and is suitable for pedestrian footfall, wheeled trolleys and sack trucks.
The brass show edge with matching lifting points, which are anchored to the inner frame, give an even higher level of aesthetic appeal than the standard aluminium show edge. The brass finish fits perfectly with the historic surroundings of the Castle. The show edge is continuously secured which means there are no fasteners to rust or break. The seamless fit with the floor finish reduces the risk of slips and trips.
The Light Duty 5000 Series Aluminium Floor Access Cover can be supplied with a double seal and a top edge seal to help prevent dirt and water ingress. There is also an option to have a 1 hour fire rating to BS 476: Part 20: 1987 if required.
When there is a chill in the air the team at Lews Castle know they have the best chance of keeping the Castle cosy as the floor access covers provide easy access to the central heating. Should any maintenance be required the covers can be removed safely, quickly and easily with the use of lifting keys, keeping disruption to the running of this premier tourist attraction to a minimum.
Company: Howe Green US
---
Tags:
Custom Ornamental Bronze Grilles (August 4, 2017), Blackened Steel for Architectural Design (July 19, 2017), Howe Green 'raises the bar' at former olympic site (July 18, 2017), Swedish hospital 'takes a chance' on Howe Green (June 21, 2017), Howe Green supply 'specials' for renovation of Nationalmuseum of Art, Stockholm (May 9, 2017), Custom Period-Matched Perforated Grilles (April 26, 2017), Nystrom Launches 1 Inch Pan Floor Door (April 21, 2017), Concealed Access Doors, a high-end architectural panel (March 24, 2017), Howe Green Access Cover provides the perfect antidote to access issue at hospital (March 14, 2017), An Introduction to Access Covers (December 12, 2016)
Concrete Resurfacing (August 23, 2017), Slipnot® provides slip resistance and aesthetic display for Times Square spotlight on Broadway project (August 7, 2017), Howe Green 'raises the bar' at former olympic site (July 18, 2017), Stenciled Concrete for your Pool decks, patios and driveways (July 11, 2017), ADA compliant aluminum walkway provides safe public tours at Harpoon Brewery (July 5, 2017), Floor Marking by Color (June 30, 2017), Swedish hospital 'takes a chance' on Howe Green (June 21, 2017), 7 Hot 2017 Bathroom Design Trends You Need to Add Style to Your Space (June 13, 2017), Slip resistant aluminum plank installed on Hilton's helipad (June 8, 2017), HERMETIC Industrial Flooring (May 22, 2017)