architecture - engineering - construction

KINETICWALL wins 2017 Architizer A+ Award
April 19, 2017
EXTECH is incredibly honored to announce that the KINETICWALL dynamic facade system was chosen as the winner of the Architizer A+ Awards Jury prize! With entries from over 100 countries, the KINETICWALL was chosen as the best product in the Building Envelopes & Cladding category by a jury of designers, artists, architects, and business professionals. The KINETICWALL and all other winners will be honored as part of NYCxDESIGN week at the A+Awards Gala on May 11, 2017 in New York City.
We are thrilled that so many luminaries from the design and architecture communities considered the KINETICWALL a worthy competitor among so many great products. For it to be chosen as the winner in its category is truly an honor. If you would like to learn more about the KINETICWALL, you can visit the KINETICWALL product page, read the case study on the Logan Airport Parking Expansion, or contact us.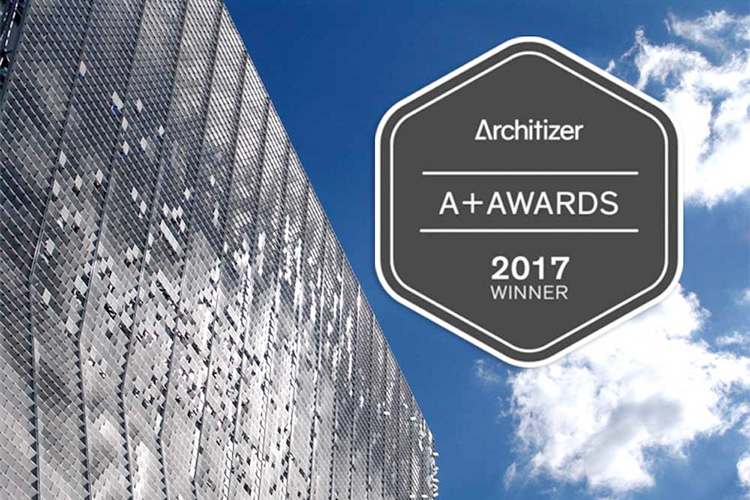 EXTECH's KINETICWALL is a dynamic moving building façade that creates an eye-catching aesthetic. Made of 6-inch flappers attached to stainless steel rods, the KINETICWALL responds to wind currents and undulates to create the look of rolling waves. The wall is customizable and can be designed to accommodate square or curved polycarbonate, glass, aluminum, or steel flappers. It is structurally designed to withstand hurricane-force winds and torrential rainfall, yet it is light enough to enable easy installation, air flow, and visibility from the inside. The KINETICWALL alsodeflects sunlight, thus preventing solar heat gain, and the spacers between the flappers remove the chance for collateral noise.
KINETICWALL can be used on small- and large-scale façades. It's a popular design choice for a wide range of uses, including cultural institutions, transit facilities, and artistic installations. Due to its aesthetic qualities, the wall can help municipalities save money on Arts in Transit and percent-for-art compliance. KINETICWALL is a state-of-the-art yet economical way to create breathtaking, beautiful designs.
Further benefits and details
Dynamic flappers move with the wind, creating an eye-catching aesthetic that lends itself to 'smart design'
Due to its aesthetic qualities, the wall can help save money on Arts in Transit and percent-for-art compliance
Customizable; can incorporate a variety of materials including polycarbonate, glass, aluminum, and steel
Can be used on small and large-scale façades
Light-weight flappers allow for easy installation
Designed to withstand hurricane force winds and rainfall
Facilitates easy air flow for ventilation
Permits interior visibility
Deflects the sun, preventing solar heat gain
Spacers between flappers prevent collateral noise
LEED credits available for 100% recyclable aluminum and stainless steel flappers and framing
Manufactured in the U.S.A.
Company: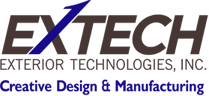 EXTECH/Exterior Technologies, Inc.
Product: KINETICWALL™ Dynamic Facade
Source: https://extechinc.com/kineticwall-wins-2017-architizer-a-award/
---
Tags:
Bicycle security solutions (April 14, 2017), Striking the Right Color Balance in ALR Screens (April 10, 2017), Guard Houses (April 3, 2017), New AIA Certified Course on Resilient Design (March 6, 2017), Global changes in construction: Kalwall's insights from BAU (March 1, 2017), Ventilation for you the music fan: Brilliant audio performance concealed behind your fan grille (February 27, 2017), Choosing the right finish for coastal projects (February 24, 2017), Backyard 2.0: 2017 Deck and Railings Forecast (February 8, 2017), Navigating the wide selection of polymer overlays over concrete substrates (February 2, 2017), Brass clad & bronze clad doors & frames (January 30, 2017)
Use of louvers-between-glass can contribute up to 31 LEED certification credits (April 5, 2017), The Original Orange Elevator Smoke Curtain (March 28, 2017), Sun Control Sunshades (January 5, 2017), Ruskin's Zone Control Solutions Brochure (October 5, 2016), Free Webinar Louver Selection & Application Using Ruskin's LEADS Software, 2nd Wednesday of every month (August 1, 2016), Green Building Tips: How To Create Eco-Friendly Landscaping (April 25, 2016), Earn LEED Points With Florence Mailboxes (November 18, 2015), LEED-ing The Way in Sustainable Building (November 6, 2015), Stadium Design Sustainability (November 4, 2015)
New critical environment damper series from Ruskin® withstands coastal and corrosive applications (April 11, 2017), Louvers Play Key Role in Passive Air Management (December 14, 2016)