architecture - engineering - construction

Linear motion track systems and how they help you
January 29, 2018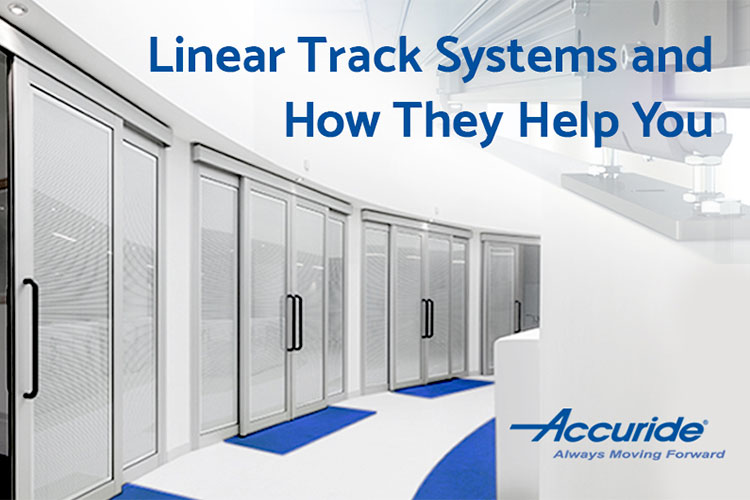 Linear Motion Track Systems: 115RC & 116RC
Linear track systems are making a big splash in residential and commercial applications. That's because linear tracks bring movement to a bevy of creative applications, making environments more space-efficient and easier to handle.
What is a Linear Track System?
A linear motion track system allows you to move an application, like a panel or even a sliding door, back-and-forth along a rail. There are two main components:
A carriage, also known as a cartridge or cassette
A track, also known as a rail
In systems like the 115RC, the cartridge uses an innovative design—recirculating ball bearings that offset the weight of an application. This allows a user to slide an application (in the 115RC's case, one up to 265 lbs.) with ease.
In more dramatic instances, as with the heavy-duty 116RC, a user can pull heavy-duty applications of nearly 800 lbs. almost effortlessly. This was the case with a British Children's Hospital.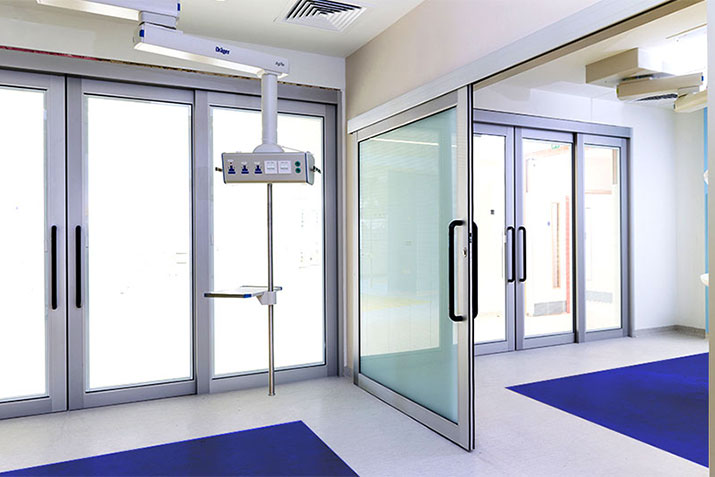 An image of an Accuride 116RC used on a large sliding door inside a hospital. The 116RC linear track system supports such heavy-duty applications thanks to a 793 lb. load rating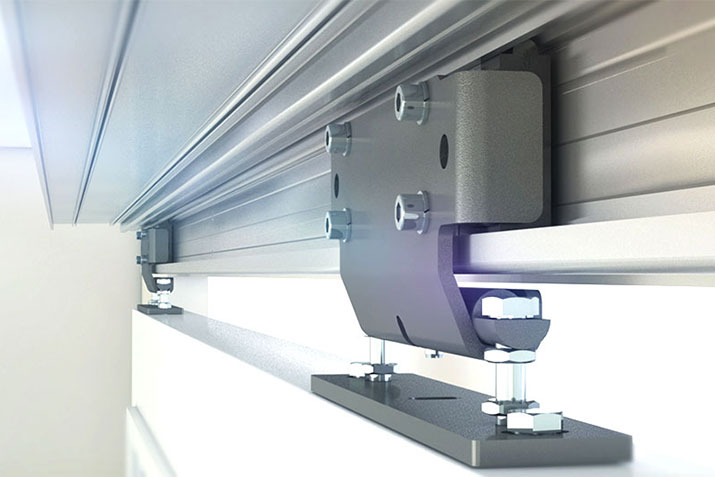 A close-up of a 116RC mounted onto a large sliding inside of a children's hospital. The 116RC requires less than 5 lbs. of pull-force, making it compliant with the Americans with Disabilities Act.
Usually, both parts are made from light-weight materials, often aluminum with some use of polymers. These materials are also corrosion-resistant, making them useful for outdoor, moist, and other tough environments. This corrosion-resistance also means there's little need for maintenance.
Linear track systems also support multiple mounting arrangements, including side-, flat-, and vertical-mounting.
Linear Movement Solutions in Action
Thanks to their lightness, load capacity, corrosion-resistance, and precision movement, you can find linear motion track systems in many industries: aviation, medical, logistical, and commercial transportation are just a few.
Some specific industrial applications include:
automotive assembly
tool changer system
medical sample machines
food packaging
parts loaders and unloaders
Linear track systems aren't just for commercial and industrial use. There's a burgeoning use for them in homes, especially micro-living spaces. Linear tracks can allow residents to move walls, panels, and certain furniture, creating transformable living spaces.
A Summary of Linear Track Systems' Benefits
Accuride linear track systems give users many benefits:
Easy installation
Low-resistance linear movement
ADA-compliance (116RC)
Corrosion-resistant, low-maintenance, light components
Max load capacities from 265 (115RC) to 793 lbs. (116RC)
For more helpful information on linear motion systems, stay tuned to Accuride.
Company:

Accuride International
Product: Linear Track Systems
Source: https://www.accuride.com/blog/products/heavy-duty-linear-track-commercial-advantages/
---
Tags:
From west to east with Howe Green access covers (January 4, 2018), Four Cross-Departmental Benefits of Electronic Access Control (October 13, 2017), Accuride Integrated Access Solutions: The New Frontier of Access Control (August 15, 2017)
Color underfoot: new design possibilities with concrete (January 17, 2018), 7 Things to Consider When Designing a Commercial Interior using Glass Walls (January 9, 2018), From west to east with Howe Green access covers (January 4, 2018), 5 Cutting-edge ideas to use 3D textured designs in your home today (January 2, 2018), A Gateway To A Translucent Space (December 15, 2017), High gloss acrylic wall panels - back painted glass alternative (November 30, 2017), Modern & Seamless Custom Flooring Systems (November 14, 2017), Now from Armstrong ceilings: Tectum wall & ceiling panels (November 9, 2017), New! West Elm Fall/Winter 2017 Paint Palette (November 8, 2017), Andamar Lifestyle Center uses revolving doors to combat wind, air infiltration (October 25, 2017)