architecture - engineering - construction

Major announces new Auburn® skylight option
November 25, 2016
Major Industries, in conjunction with Greenbuild 2016, announced the release of a new line of Auburn® single slope skylights. These new high-performance glass skylights feature thermal strut technology for enhanced thermal performance, including better condensation resistance. These new Auburn® skylights are available in a variety of custom sizes and configurations, with custom finish options and more, and will also soon be available to purchase online at shopmajorskylights.com in select standard sizes.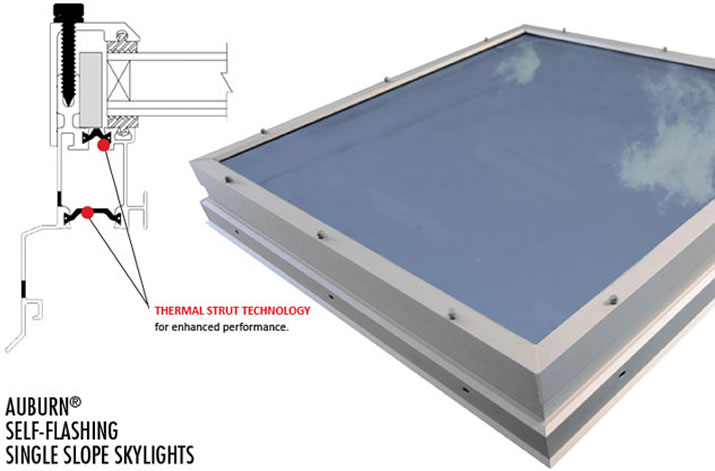 Easy to install high performance glass skylights
Auburn® glass single slope skylights have always been a dependable, low-maintenance daylighting solution, but Major Industries has enhanced these versatile skylights with thermal strut technology for enhanced thermal performance and improved condensation resistance. Now you can get the best of both worlds - energy-saving daylighting and a glass skylight with performance designed to handle any environment.
Auburn® self-flashing single slope skylights are available with a variety of glass configurations and numerous finish color options from anodized to Kynar®.
Features & benefits
THERMAL STRUT TECHNOLOGY provides improved thermal performance and condensation resistance
DESIGNED for smaller openings up to 25 square feet
TESTED to ASTM E283/330/331 standards
.27 - .29 center of glass u-factor with SHGC of .22-.39 (varies with glazing selection - check with Major for additional options)
PRE-ASSEMBLED options available for quicker lead times and simple installation
Company: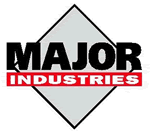 Major Industries Inc.
Product: Auburn® Quick Ship™ Single Slope Glass Skylights
Source: http://majorskylights.com/2016/10/major-announces-new-auburn-skylight-option/
---
Tags:
Don't Make Color Decisions at Sunset (November 2, 2016), Roman Brick: for architects and homeowners aspiring for a unique look (October 26, 2016), Kelly Edwards' Tiny Home: Shipping container turned elegant living space with rooftop deck (October 21, 2016), Battery Life: introducing a new way to energize your outdoor space (October 12, 2016), Images in Concrete: Reckli Artico® (October 7, 2016), The future of insulated wall panels has arrived (September 28, 2016), Color Rendering Index: Why It's important in Outdoor Lighting (September 23, 2016), Make your buildings look good with uniquely designed polycarbonate products for building exteriors (September 19, 2016), Red, traditional brick color for traditional architecture (September 7, 2016), Armortex Waterjet Cutting (August 24, 2016)
Make your buildings look good with uniquely designed polycarbonate products for building exteriors (September 19, 2016), Delray LED Circles: Uno • Dos • Cylindro I/II/III (September 14, 2016), Battic Door Solar Powered Attic Fans (September 5, 2016), AIA and Autodesk Introduce New Feature to Automate 2030 Commitment Reporting Data (August 15, 2016), Darlington upgrades good for business in Burlington (July 6, 2016), Continuous Insulation (ci) Systems (June 27, 2016), The Role of LEDs in Outdoor Lighting Design (June 27, 2016), Cut solar energy getting into buildings by up to 92% - stop it before it hits the glazing (June 17, 2016), May is Electrical Safety Month: Know How to Protect Workers from Electrical Hazards (May 20, 2016), Icynene Spray Foam: Water absorption comparison to other insulations (May 4, 2016)
Rigorous Testing Standards Ensure Effective Security (November 16, 2016), Ace Hotel New Orleans restores historic Art Deco exterior and updates performance with Winco Windows finished by Linetec (October 14, 2016), Isabel Bader Center (August 17, 2016), Peace-of-Mind for Rural Utility Offices - Bulletproof barrier security tips & news (August 8, 2016), The Sir John A MacDonald Building (June 3, 2016), School Security and Access Control for Architects (May 9, 2016), Premium Ballistic Frames Offer Huge Boosts in Sustainability and Multi-Threat Risk Mitigation (April 12, 2016), Guardian 275® translucent skylights provide a wide range of color, thermal performance and specialty application options (April 6, 2016), Great Glazing: Rogers Memorial Hospital Brown Deer (February 8, 2016), Partnering with Architects to Make BulletProof Beautiful (February 3, 2016)