architecture - engineering - construction

Make your buildings look good with uniquely designed polycarbonate products for building exteriors
September 19, 2016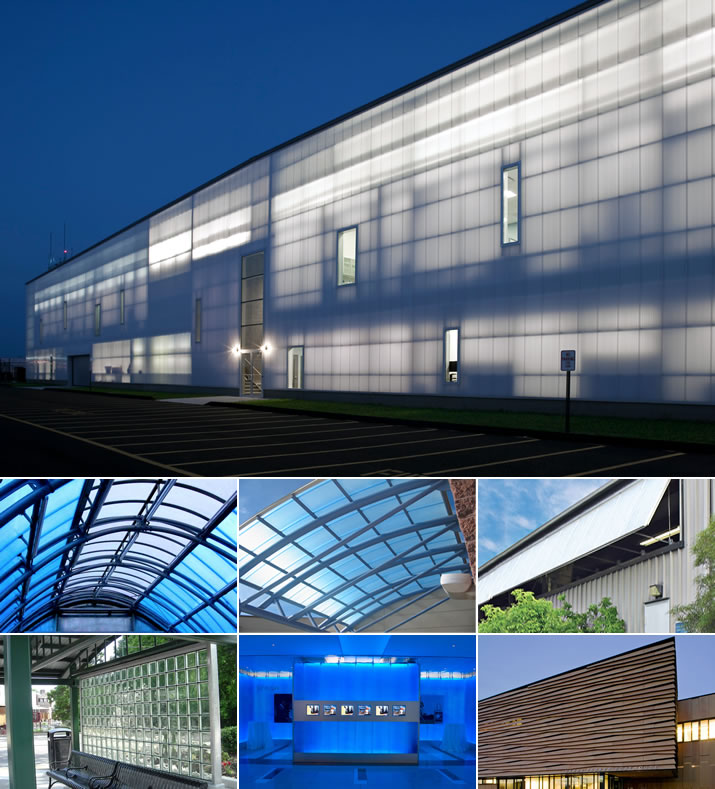 Translucent Walls, Skylights, Canopies, Windows, Mortarless glass block, Interiors, Custom Facades, Porcelain Systems
Cellular Polycarbonate Specialists
EXTECH specializes in the use of cellular polycarbonate for its host of benefits including daylighting, energy savings, superior impact resistance and insulation properties.
We provide a variety of translucent wall and interior panels, windows, skylights, and canopies for industrial and commercial clients. We also provide mortarless glass block systems and porcelain walls for use in outdoor rain/windscreens or interior applications, both of these products are extremely resistant to vandalism.
All of our products are designed for ease of installation and maintenance, including 10 year manufacturer warranties. Our group of dedicated staff who "like to build things" are also happy to provide custom facade work based on over 35 years of award-winning engineering excellence.
Our Product Lines
Polycarbonate walls
Polycarbonate windows and skylights for industrial or architectural use. Our skylights are capable of incomparable spans, without leaks.
Mortarless glass block and porcelain walls, perfect for windscreens, transit stations/shelters
Custom facades and building envelope
We make you AND your buildings look good
with our uniquely designed polycarbonate products for building exteriors
The Many Uses and Benefits of Cellular Polycarbonate
Diffused daylighting saves on energy costs, prevents glare and provides optimum visibility
High Levels of Impact Resistance
Lightweight material demands less structural support and requires less energy to operate when used as doors
Highly insulating with values up to U-.25 (R-4) for 40 mm thick panels
100% Recyclable panels and aluminum framing is LEED Credit friendly
Panels can be cold formed to a radius, unlike glass
Easy maintenance and cleaning
10 Year Manufacturer Warranties
The most advanced aluminum perimeter framing systems in the industry in a wide range of finishes
Air/water/structural testing
Company: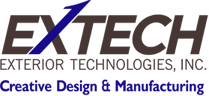 EXTECH/Exterior Technologies, Inc.
Source: http://www.extechinc.com/polycarbonate-products.html
---
Tags:
Red, traditional brick color for traditional architecture (September 7, 2016), Armortex Waterjet Cutting (August 24, 2016), Structural steel services for the building and construction sector (July 20, 2016), Download True Home Comfort. Right onto your IOS or Android device with the new Icynene Homeowner App! (June 29, 2016), Where Champions Train: Kalwall® Lights Up Broncos' Indoor Facility (May 16, 2016), How to "Future-Proof" Your Bathroom (May 13, 2016), 3 Reasons to Insulate Your Crawlspace with Spray Foam Insulation (March 30, 2016), "At Penetron, we're always talking about the weather" (March 23, 2016), Masonry stains can make historic restoration easier (February 24, 2016), Prefab is expanding and growing in popularity (February 12, 2016)
Red, traditional brick color for traditional architecture (September 7, 2016), Armortex Waterjet Cutting (August 24, 2016), Summer 2016 in the Hamptons (August 19, 2016), AIA and Autodesk Introduce New Feature to Automate 2030 Commitment Reporting Data (August 15, 2016), The Feng Shui of Kalwall (July 11, 2016), Blackout & mesh shades in the same window? Dual Roller Shades are the solution! (July 5, 2016), Evolution Of Revolving Door Security: Teaching Old Doors New Tricks (July 4, 2016), Balancing Bulletproof Security and Design (June 21, 2016), Cut solar energy getting into buildings by up to 92% - stop it before it hits the glazing (June 17, 2016), Architects create tactical urbanism with AIA Design Competition (June 1, 2016)
Delray LED Circles: Uno • Dos • Cylindro I/II/III (September 14, 2016), Battic Door Solar Powered Attic Fans (September 5, 2016), AIA and Autodesk Introduce New Feature to Automate 2030 Commitment Reporting Data (August 15, 2016), Darlington upgrades good for business in Burlington (July 6, 2016), Continuous Insulation (ci) Systems (June 27, 2016), The Role of LEDs in Outdoor Lighting Design (June 27, 2016), Cut solar energy getting into buildings by up to 92% - stop it before it hits the glazing (June 17, 2016), May is Electrical Safety Month: Know How to Protect Workers from Electrical Hazards (May 20, 2016), Icynene Spray Foam: Water absorption comparison to other insulations (May 4, 2016), Understanding Home Energy Audits (January 27, 2016)
Download True Home Comfort. Right onto your IOS or Android device with the new Icynene Homeowner App! (June 29, 2016), Continuous Insulation (ci) Systems (June 27, 2016), Spray Foam Insulation In A Humid Region (May 30, 2016), Icynene Spray Foam: Water absorption comparison to other insulations (May 4, 2016), 3 Reasons to Insulate Your Crawlspace with Spray Foam Insulation (March 30, 2016), Is Your Home At Risk Of Ice Dams? (February 26, 2016), Understanding Home Energy Audits (January 27, 2016), Free TotalFlash takeoff service (December 29, 2015), 3 buildings that balance aesthetics and performance (December 16, 2015), Specialty systems improve on standing architecture (November 27, 2015)
Delray LED Circles: Uno • Dos • Cylindro I/II/III (September 14, 2016), The Role of LEDs in Outdoor Lighting Design (June 27, 2016), Turn your backyard into a haven (June 15, 2016), The Rise of Outdoor Lighting: Enhancing Aesthetics and Extending Entertainment (May 26, 2016), How To Upgrade Light Poles With Decorative Bases (May 19, 2016), Another Award-Winner: Verti-kal™ and the John Fry Sports Park Pavilion (April 22, 2016), Broan NuTone invents new mosquito barriers for decks (April 13, 2016), Maglin has collaborated with Philips Lumec to offer a design-integrated line of sustainable site furniture (February 17, 2016), Kalwall Featured: Guide Dogs for the Blind New Student Residence (December 30, 2015), 10 Major Benefits To Installing LED Tree Ring Lighting (December 9, 2015)
Glass Shower & Tub Enclosures by Fleurco (September 2, 2016), Architects Inspiration Handbook for Glass applications in commercial interiors (August 29, 2016), The Feng Shui of Kalwall (July 11, 2016), Restaurant Ceiling Tiles (July 1, 2016), Continuous Insulation (ci) Systems (June 27, 2016), Hurricane Roof Equipment Screens (June 10, 2016), Where Champions Train: Kalwall® Lights Up Broncos' Indoor Facility (May 16, 2016), Another Award-Winner: Verti-kal™ and the John Fry Sports Park Pavilion (April 22, 2016), Guardian 275® translucent skylights provide a wide range of color, thermal performance and specialty application options (April 6, 2016), Decorative Panels & Screens (April 4, 2016)